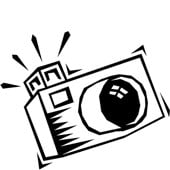 Are you looking for a mobile phone with a better camera? Then you have lots of choices today. Presently, the majority of the world market for mobile phones is dominated by Nokia. But Sony Ericsson, Samsung, and Motorola aren't far behind either. Nowadays mobile cameras can capture images as clearly as digital cameras. So now you needn't carry a digital camera at all on your tour as your phone does everything for you. Previously the quality of the images shot by these camera phones wasn't always good, but nowadays with Mega Pixels you can print and share your moments with your near ones.
The resolution of the mobile camera differs from phone to phone. Mobiles are getting tinier but their resolutions are getting larger and larger. The higher the resolution better is the picture. The highest resolution available today is 12 Mega Pixels, i.e. you can shoot 4000 x 3000 dimensions (in pixels) photos. Save them in your computer and crop down smaller pictures. In fact, the video resolution of these phones is similar to that of handy cams. The widest available camera phones today have 2 and 3.2 Mega Pixels.
If you are looking for a perfect camera phone, you can choose from these.
Nokia N79:
This one is slim and attractive, just 4.3 x 1.9 x 0.5 inches. With a 5 MP camera, you can capture all your precious moments on your phone. It is a Symbian smartphone that also has 3G, Bluetooth, GPS, and WiFi features. With a Dual camera, you can use your phone for video conferencing too. It has a QVGA display and supports up to 16 million colors. It is priced at around $380.
Sony Ericsson K850i:
It is the finest available camera phone by Sony Ericsson available today. A 5 Mega Pixel camera with 16X digital zoom, this fetches you the best quality pictures. Along with these, it has an automatic focus adjustment and a flashlight for night shots which makes the quality of images better than any other phone. Sized 1.9 x 0.4 x 4 inches, and complete with a TFT display with 262,000 colors, EDGE, and better sound quality, it's going to rock your world!! It is priced at around $350.
Samsung Omnia (SCH- i910):
It is a Windows Mobile 6.1 Prof. Smart Phone with a camera quality of 5 MP. The touch screen and incredible looks make it all the more attractive. It has an inbuilt 128 MB RAM memory, WiFi, Bluetooth, and GPS. Dimensions are 2.24 x 0.52 x 4.4 inches. With a TFT display of 3.2 inches and 262,000 colors, you can experience the best clarity in images and videos. It is priced at around $200.
Nokia 5800 Xpress Music:
This one is the latest that Nokia has launched in the market. With a 3.2 Mega Pixels camera quality and a complete 3.2-inch touch screen, you will now find everything at your fingertips. Play landscape videos and then share them online effortlessly. The video resolutions are also very sound and clear. A hi-fi clear sound and a 3.5G support make it more attractive. It is tagged around $300.