Electronic Electoral Photo Identity Card or e-EPIC has been formally launched by the Election commission of India on National Voters' Day, i.e., 25th January 2021, which happens to be the eleventh national voter's day.
The Event
In a statement on its website, the ECI said that the Union Minister for Law and Justice, Information and Technology, and communications and Electronics, Ravi Shankar Prasad will soon be distributing Electoral Photo Identity Cards or e-EPICs to five of the new voters. All the other identity proofs like the Aadhaar Card, the PAN card, and the driving license are already available in digital formats.
This digitization of the voter cards will play a very significant role in the upcoming vote polling in the states of Tamil Nadu, Kerala, West Bengal, Assam, and Puducherry.
Digital Voter ID Card/Electronic Electoral Photo Identity Card
The electronic Electoral Photo Identity card will be available as a non-editable and secured portable document format or PDF version and will be having a QR code with relevant images and other demographic details like part number and serial number etc.


The e-EPIC document file can be downloaded using a computer or a mobile and can be stored digitally. This service is an additional issue of physical IDs for fresh registrations.
Who are Eligible for e-EPIC?
The initiative for the e-EPIC is launched on a two-phase basis, wherein the first phase, which is to be operable from January 25th to 31st; all the new voter applications who have registered their mobile numbers in Form-6 will be able to download by mobile number authentication. However, the mobile numbers need to be unique and not previously registered by the ECI electoral rolls.


The second phase will be starting from February 1 as per the ECI and will be open for the general voters.
How to Download a Digital Voter ID Card?
The given links can be used for downloading;
Voter Portal: https://voterportal.eci.gov.in/
NVP: https://nvsp.in/
Voter Helpline Mobile App Android: https://play.google.com/store/apps/details?id=com.eci.citizen
iOS: https://apps.apple.com/in/app/voter-helpline/id1456535004
e-EPIC File Format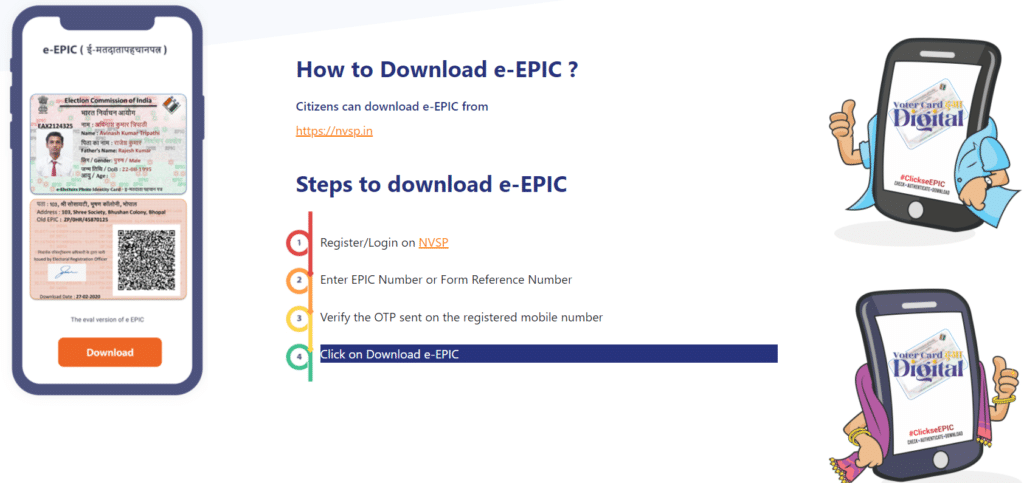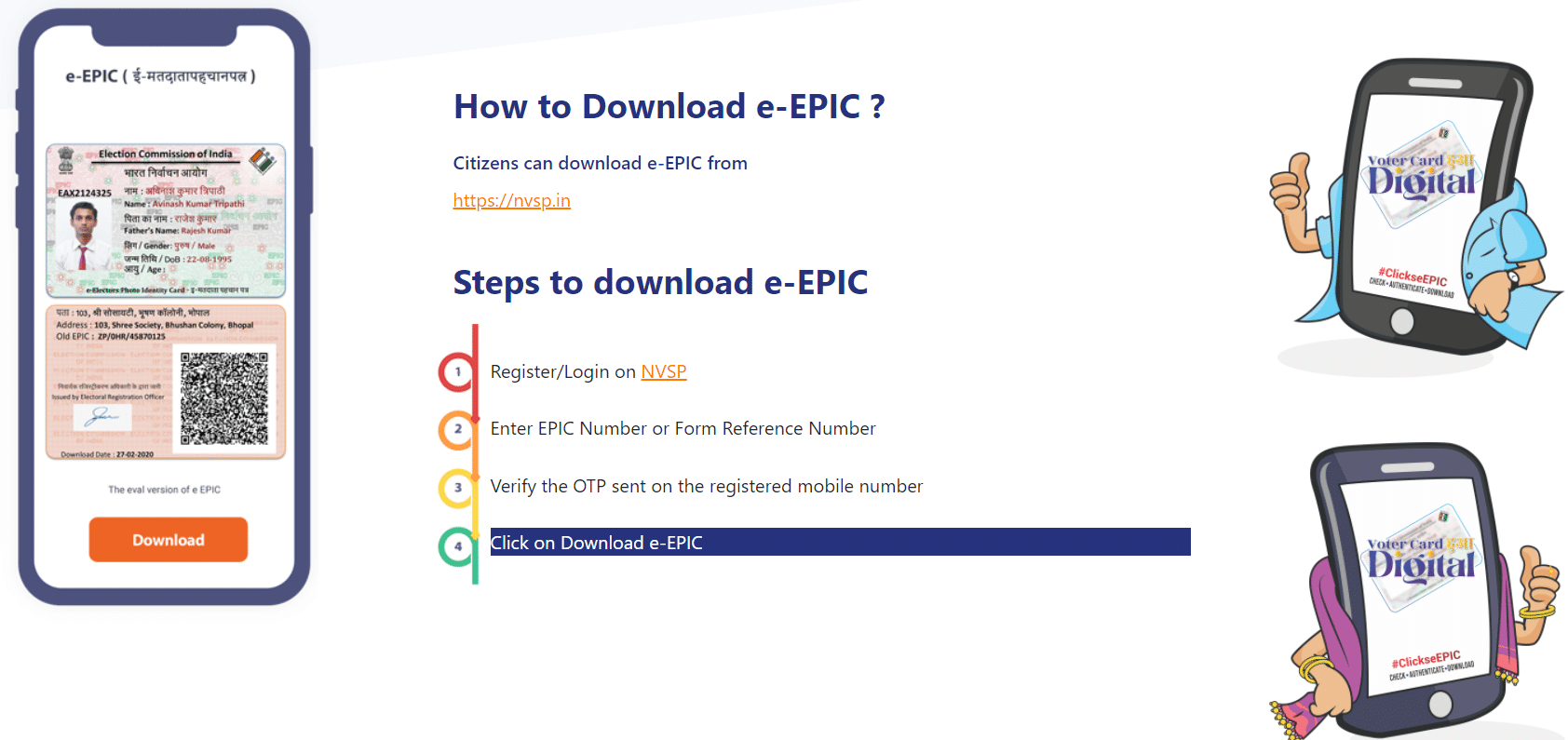 The e-EPIC will be available in PDF format.
Steps to Download Digital Voter ID Card
The mobile numbers that are registered need to login/register on https://voterportal.eci.gov.in/ and select download e-EPIC in the menu navigation, enter the Form reference or EPIC number and verify OTP, and download.
For unregistered mobile numbers, first, enroll the number and complete the e-KYC, undergo face liveness verification, update KYC with mobile number, and download e-EPIC.