The Satara Hill Half Marathon, an annual event inaugurated in 2012, transforms Maharashtra into a vibrant stage where the thrill of running harmoniously meets the breathtaking beauty of nature. This remarkable sporting spectacle has been steadily gaining momentum, solidifying its position as India's third-largest Half Marathon. It has also achieved an esteemed Guinness World Records accolade for "Most people in a mountain run – single mountain." Such is its renown among marathon enthusiasts from Mumbai and Pune that hotel prices in Satara surge three to four times their standard rates during those two nights due to limited availability.
The event is not just a race; it's a celebration of athleticism, a communion with the environment, and a testament to the unwavering human spirit.
Initially offering a range of categories spanning from 21.1 kilometers to 3 kilometers, the race has now evolved to focus exclusively on the half marathon distance.
The Scenic Routes of Satara Hill Half Marathon
Located amid the Western Ghats, Satara offers a marathon route that comes tantalizingly close to the renowned Kaas Plateau, adorned with its stunning floral beauty. Given the annual race's timing in August-September during the rainy season, the clouds provide a welcome shield from the sun. Rain showers participants, and the picturesque landscape captivates their senses. As participants assemble at the starting line, a palpable blend of anticipation and excitement fills the air.
The Route
The course presents a formidable challenge, featuring an ascent of roughly 420 meters. The start line is at an elevation of 678 meters above sea level, reaching its zenith at 1059 meters halfway through, followed by a descent post U-turn. Those with experience in running or trekking comprehend the distinction between running on level ground and tackling inclines. In the case of the 21-kilometer race, you must conquer a 10.5-kilometer uphill climb and then descend to complete the course.
Planning
The starting signal for the Satara Hill Half Marathon was given on September 3rd. My usual marathon preparations involve careful advance planning, but this time, due to an injury, I couldn't prepare as thoroughly. My intention was to resume training in July, giving me two solid months to prepare. However, I only managed to cover 50 kilometers in July and 90 kilometers in August. I incorporated uphill running into my training routine and adhered to the mileage guidance provided by my coach, Shayne. I found myself less prepared than usual, and I approached the marathon without setting a specific time goal.
Travel to Satara
Friday, a group of twelve individuals from our running group embarked on a journey to Satara. The agenda included a visit to the remarkable Kaas Plateau, leading to five members opting for exploration in Satara, while the remaining seven had signed up for the Satara Hill Half Marathon. Later in the day, we enjoyed the enchanting beauty of Kaas Plateau, and as the evening descended, we made our way back to the hotel. Our program for the following morning featured a brief excursion to Chalkewadi.
Pre Race Day
Our coach advised us to complete a 30-minute run Saturday morning, a task most of our running group undertook. However, I chose to abstain due to back pain that had developed during the extended drive from Mumbai to Satara and our visit to Kaas Plateau.
Since we had scheduled a half-day trip to Chalkewadi, my friends in the group graciously took the wheel, allowing me to rest and alleviate my back pain. In the afternoon, we had plans to watch the India vs. Pakistan cricket match and unwind for the remainder of the day. Later in the evening, my wife gave me a soothing back massage, which provided me with significant relief.
Our friends arranged to give us a ride, eliminating the need for us to search for parking. This allowed us to leave a bit later, giving us extra time for pre-run warm-up. After finalizing our morning travel plans, we called it a day.
Launching into the Unknown
We rose at 4:00 am, intending to depart by 5:15 am. The flag-off point was roughly 20 kilometers from our hotel. Our friend provided transportation to the venue, and upon arrival, we made our way to a suitable gathering spot to commence our warm-up routine.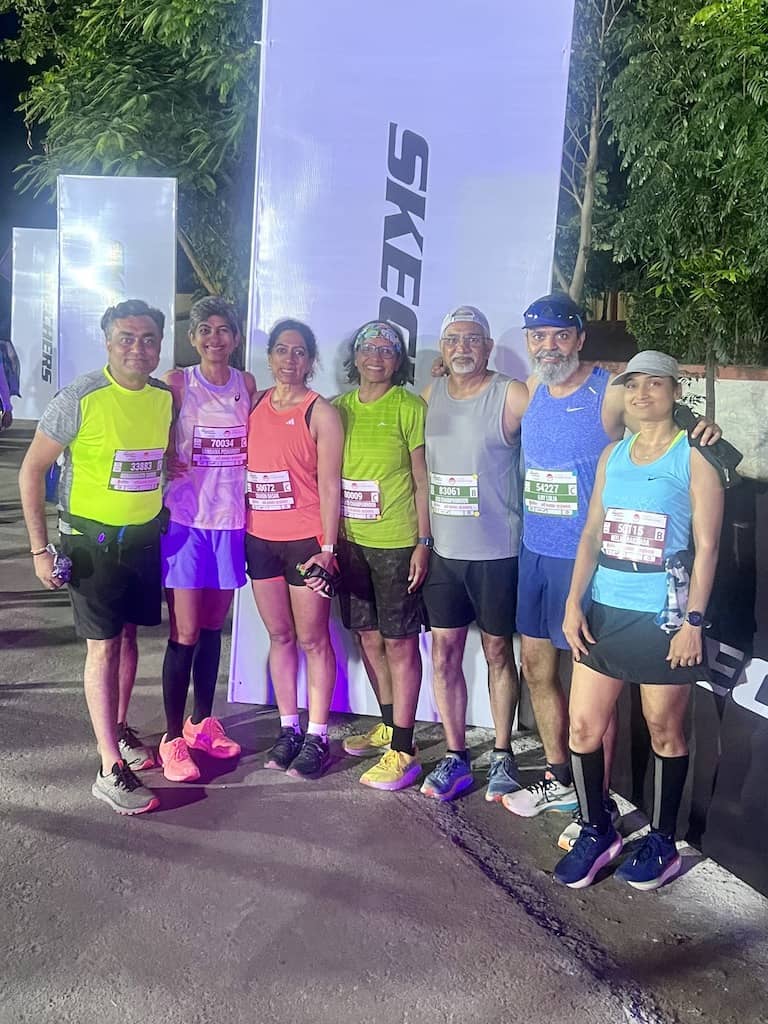 Encountering my friends Sanjay and Rohit, they emphasized the importance of not delaying after the flag-off since this marathon follows Gun time, not Bib time. The event's flag-off was scheduled for 6:30 am.
During the warm-up session, I relayed this information to my group, and we proceeded to our designated lanes to start the marathon. In my lane, I encountered my cycling buddies Vishal and Paresh, who were also placed in the same lane as me.
Moments before the flag-off, we were uplifted by the rendition of the national anthem, infusing us with a surge of energy.
After the flag-off, I moved toward the starting line, following the crowd. I began running at 6:33 am. My friend Sanjay, who had completed this marathon impressively last year, had shared insights about the route, enhancing my familiarity with it.
My intention was to maintain a continuous pace throughout the race, a goal I successfully achieved, pausing only at the water stations to ensure I remained adequately hydrated.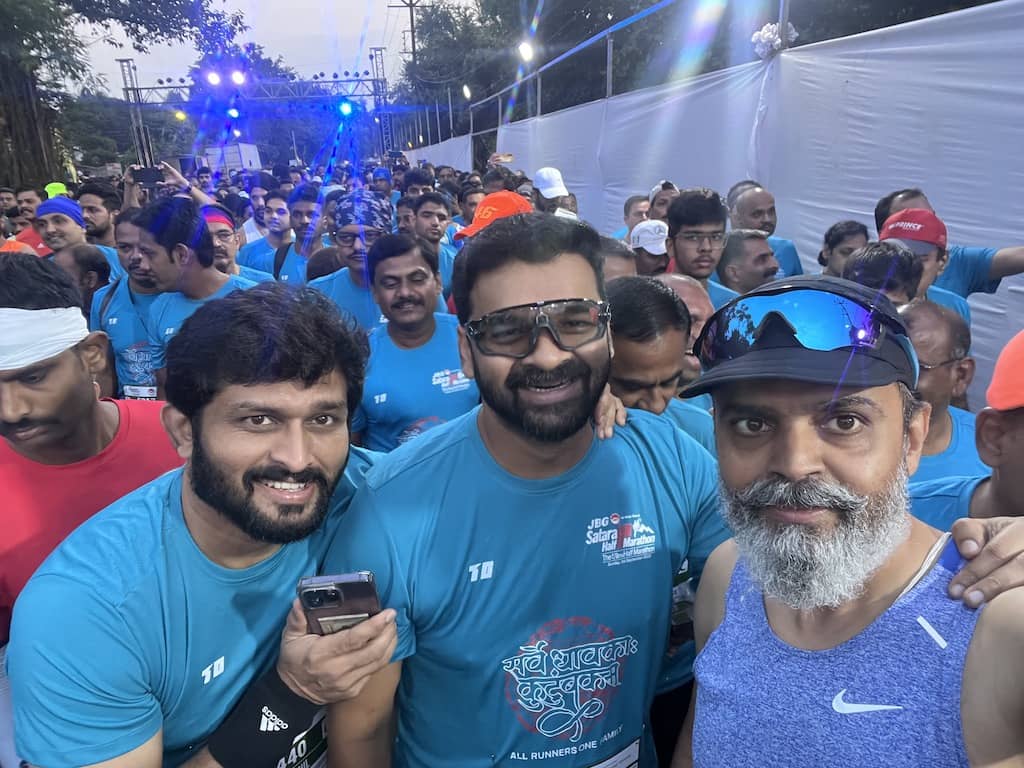 I initiated the race with a modest pace for the first kilometer and gradually accelerated. Being aware of the incline between the third and eighth kilometers, I adjusted my strategy. My initial three kilometers were completed at a pace of 7:31, 7:09, and 6:30 per kilometer. Afterward, I modified my approach to ensure I maintained a consistent running rhythm, even if it meant a slower pace. This tactic paid off as my pace naturally increased during the 8th and 9th kilometers. However, the 10th kilometer featured an ascent that caused my pace to decrease.
At the 10.5-kilometer mark, the U-turn point was indicated, and from there, I gave my best effort to achieve a better finish time. The post-10.5-kilometer stretch was predominantly downhill, but I remained cautious around wet road areas.
Community and Camaraderie
While the marathon is undoubtedly a test of physical endurance, it's also an opportunity for community bonding. The streets come alive with the cheers and encouragement of the spectators lining the route. Local residents often set up impromptu refreshment stalls, offering water and snacks to runners.
I also managed to talk to my fellow runners, cheering them on the way. I also met my group runners cheering them on as well. The motivation always helps while running as it gives a slight push. I also ran with two fellow runners on different occasions as they were listening to music on their phone and I tagged along with them to listen to the music and enjoy the wonderful view of Satara mountains.
I received a salt capsule from Vishal, a friend of mine, at start line which I kept and planned to use if at I got cramps, however I did not feel the urge or using it until I reached 18th km where I felt little stiffness of my left feet, however I had finished maximum of downhill and was about to run on less gradient surface, that actually work and my stiffness was relieved without taking salt capsule. I managed to keep the same pace. As usual I always sprint at the last km, pacing at under 6/km.
The Finish Line and Beyond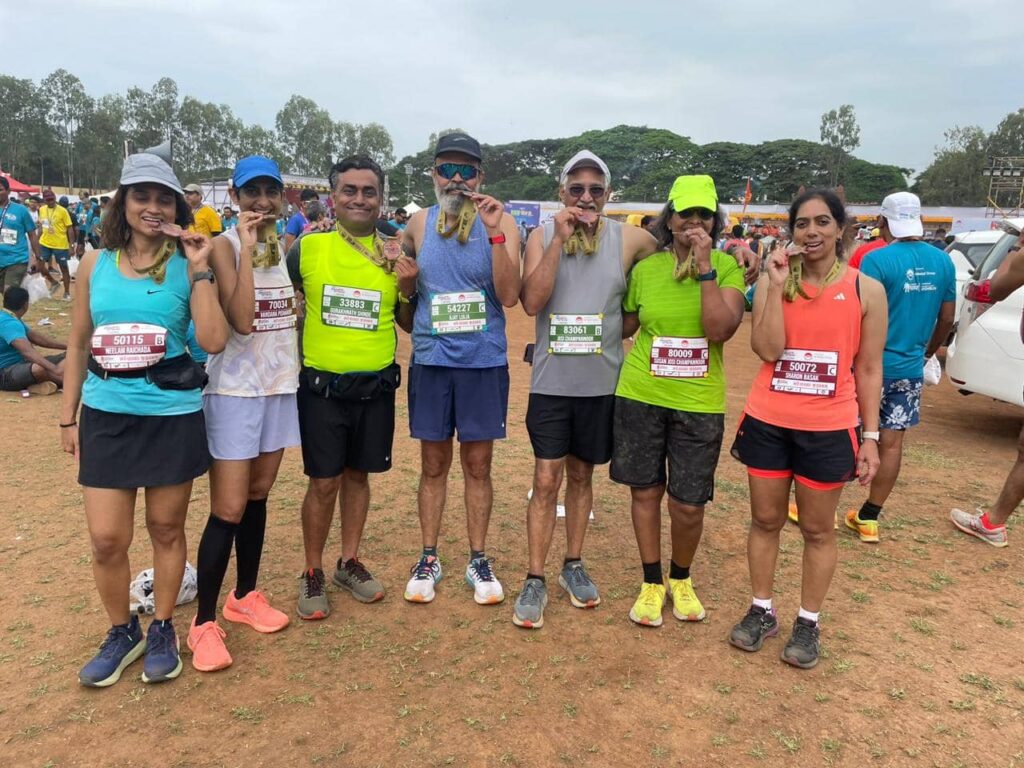 Crossing the finish line at the Satara Hill Half Marathon stands as a truly remarkable achievement. As runners conquer the demanding course and are awarded their medals, a profound sense of contentment and victory envelops them. However, this is just the beginning of the journey. The enduring memories of this exceptional experience continue to inspire, drawing many participants back year after year.
I completed my half marathon in 2 hours and 35 minutes. I felt immense satisfaction not only with my time but also for finishing the race without any injury. Afterward, I reunited with my fellow runners from our group and commemorated our achievements with photos featuring our well-earned medals. We shared our race experiences while enjoying the refreshments provided by the event organizers before making our way back to the hotel.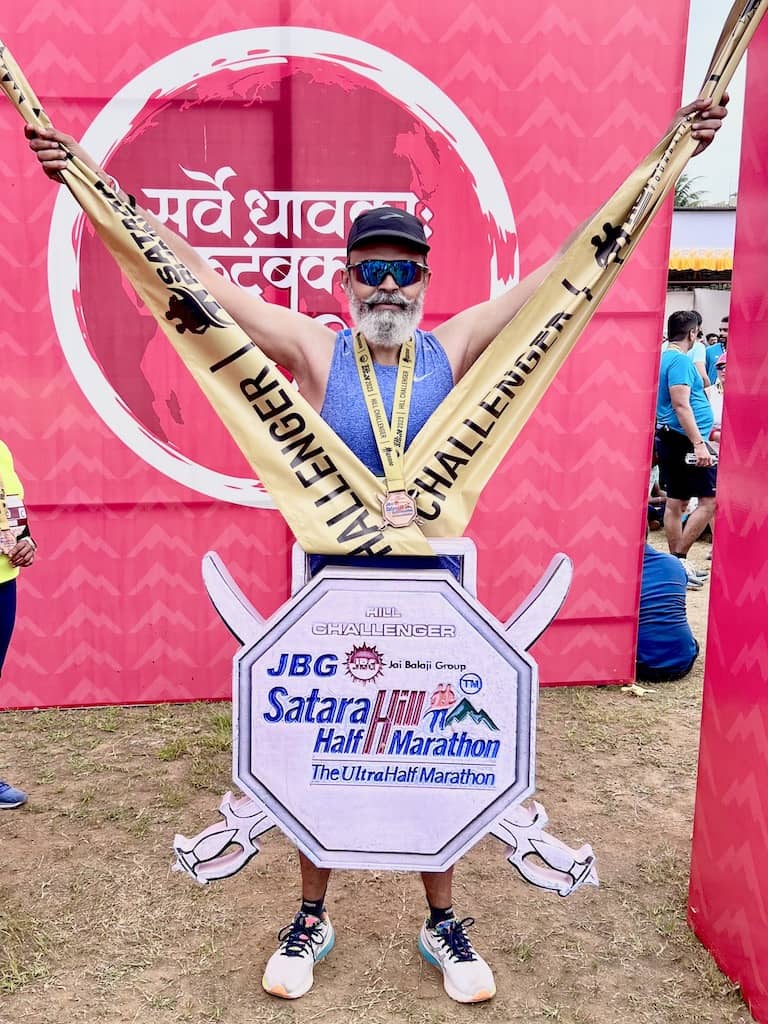 Beyond the Race
The Satara Hill Half Marathon is not just about competition; it's also about giving back. Many editions of the event have seen initiatives to raise awareness about social and environmental issues. Whether it's promoting a healthy lifestyle, supporting local causes, or advocating for environmental conservation, this marathon goes beyond the finish line.
In Conclusion
The Satara Hill Half Marathon is a celebration of human potential, a communion with nature, and a testament to the power of community. It's a reminder that even amidst the hustle and bustle of modern life, there are still moments when we can connect with our inner selves and with the beauty that surrounds us.
So, whether you're an avid runner seeking a new challenge or simply someone who appreciates the splendor of nature, the Satara Hill Half Marathon beckons. It's an invitation to lace up your running shoes, embrace the hills, and embark on a journey of physical and spiritual discovery.