Some say people are born athletes. Well, I'm surely not one of them.

As a child I used to play all sorts of sports like cricket, basketball, football, badminton, etc –  In short, I was a jack of all trades, master of none.

Years passed and I got a job that took all my activities away. For more than 20 years I did not do any activity. One fine day I enrolled myself in a gym to stay fit. However, even this activity didn't last long enough.

A couple of years back I started going to the gym again and went a minimum of three times a week.

Running
I always wanted to participate in the Standard Chartered Mumbai International Marathon (Now known as Tata Mumbai Marathon), but never got time to train myself for running. To qualify, one should at least complete a marathon with the required timing and a website link to a timing certificate. 

First Running Event
In 2017, my friend was planning for Tridhaatu Monsoon 10KRun 2017. I requested him to book 5K for me. I thought that would be a good start for running. Surprisingly, my friend booked 10K and told me not to worry and that he would accompany me to finish the marathon.

On the race day, I started with a slow jog, run and walk. I gave my best and completed my run with a timing of 1:23:28 . I didn't know if that timing was good or bad, but I was satisfied and happy that I managed to complete the run without any injuries.

I did a couple of marathons and my timing went on improving. In Aug 2018, I registered for the Tata Mumbai Marathon (TMM) for 21K and luckily I could qualify with my previous GSC Spirit of Sport 10.0 run where my timing was 1:23:45.

Now that I had booked a half marathon I was always in a fix about how and where to start my training, I enrolled myself in a Run Club near my house, F3 (Fast Feet Fitness) led by Shayne Dcosta. He trained me well and I successfully completed my first ever half marathon on 20th Jan 2019 with a timing of 2:39:20 mins.

After that, there was no looking back and I started training myself to work and improve my timing. I did many marathons in 2019, mainly 10kms, and did two half marathons. I also booked myself for TMM 2020 which was planned for 19th Jan 2020.

I started practicing for TMM and continued my F3 run club, where I was trained 4 times a week. During the training, we used to mainly work on the core, legs and do some runs along with variations of Interval Run, Tempo Run, and Fartlek Training. I used to also run some days for about 5kms. 
However, I started running seriously in August and made sure I ran a minimum of 100 km every month. 

In Jan I started running more kilometers almost every day. I ran for about 5 to 7kms. I also did 10K at The Powai Run: 2020 on 5th Jan and completed with timing of 01:03:23, with all my practice I could never go below 60 mins.

Problem
On 15th Jan I did a leg workout in the Gym and on 16th Jan while my run training I got a lower back catch. I could not run due to pain. My pain aggravated and I could not even sit or stand properly.
Now that TMM was just a few days away i.e 19th Jan, I was skeptical that I could run a half marathon. I took a rest and kept doing physio exercises. I felt better on the 17th afternoon but still, I was getting shocks while sitting and standing. On Sat, the 18th Morning, I went for my practice at the F3 Run Club just to see if I am able to run or not. I tried running and I felt a slight pain so I started walking and I don't put pressure on my back. 

Post run we decided on how to commute to the venue, we were five of us for the half marathon and three for the 10K run. Josi planned to take his car to a point where TMM had arranged busses to drop him at the venue.

I had reset all my parameters for TMM and my new target was to just finish the marathon.

Even on Sat, I rested. I always prepare my running clothes and attach a bib to my t-shirt so it is easy in the morning. I did the same thing today as well. I had an early dinner and slept by 9:00 pm.

The Race Day – Sun, 19th Jan
I woke up at 2:25 am and got ready to leave by 3:15 am. I reached the meeting point and we drove to  Mahalaxmi, from there we took a bus to Worli Dairy and reached the venue at 4:30 am. The time for the race flag-off was 5:15 am.

We entered the gates and found a place where we did stretching (which we always do before every run) and headed towards the start line.

I started my run super slow focusing on my back and making sure I don't get a pull. I entered the sea link by this time I had finished 1km, I told myself "1km done and no pain", I still ran slow and I was ascending on sealink, by the time I  finished running on sealink I had completed about 9.6K at the pace of about 6:46/km without any pain in my back. At this point, something stuck in my mind and I mentioned 'No Pain No Gain' and started singing the song 'No Pain No Gain' by Scorpions.

I picked up my pace a little and kept running, I made sure to keep running and not to walk at all, if need be go slow on my pace since there was an ascending route on Pedder Road post 14.5 km

I started walking after I crossed Haji Ali as my mind was set on walking on the slope so there is no effect on my back. I walked about 20 to 30 meters and I asked myself, if I was tired or if there was back pain, or if there were muscle cramps. The answer was a big NO. I took off from there and to my surprise, I finished the Pedder Road climb and flyover, at an 8:05/km pace, without a single halt. Even after that, I kept running. 

I walked for a few meters again when I was about 2 km away from the finish line. I pushed myself saying "only two to go", at this stage I remembered a popular saying 

The elephant has escaped and only the tail remains.

This means, To express that work is left incomplete when nearly brought to a finish.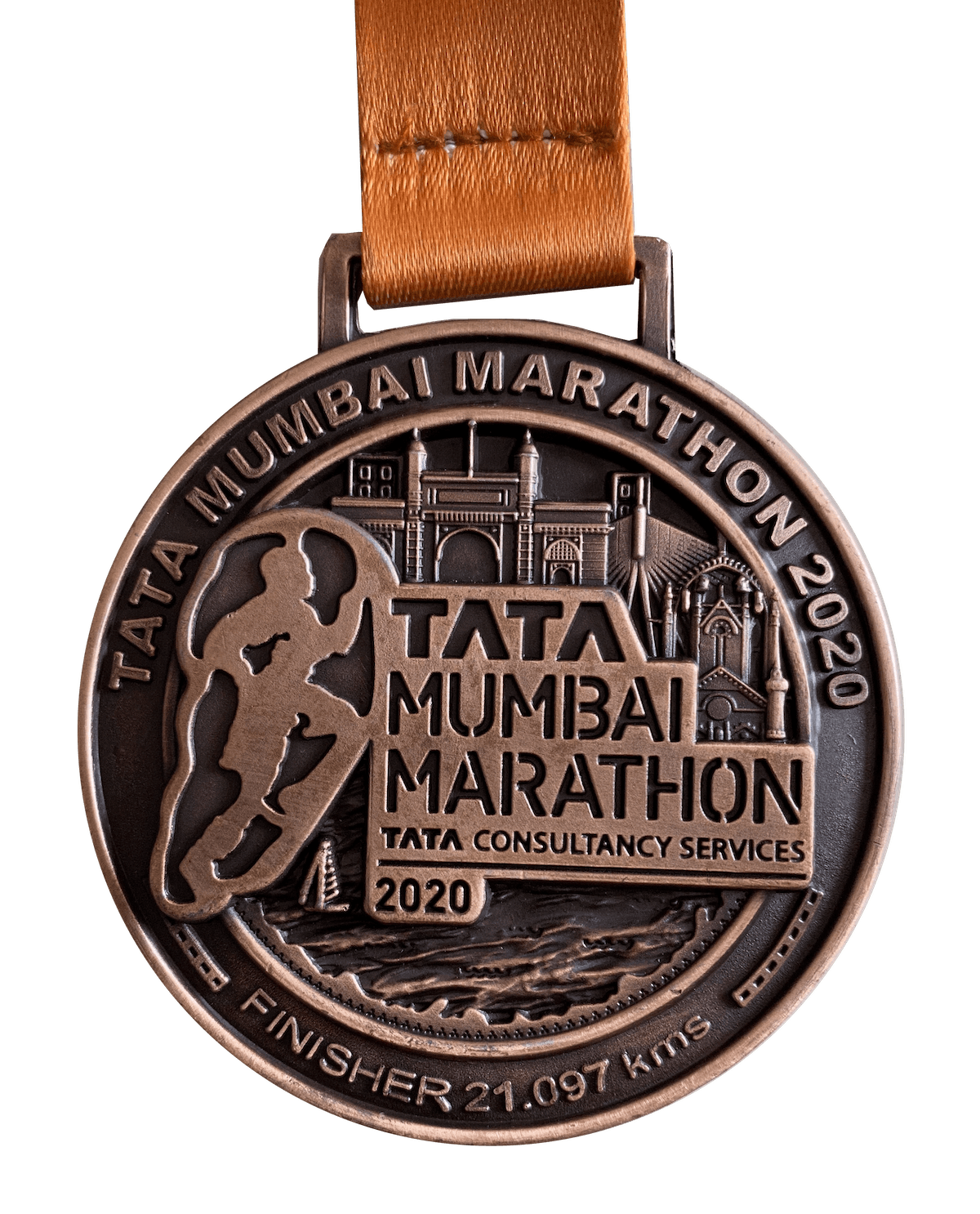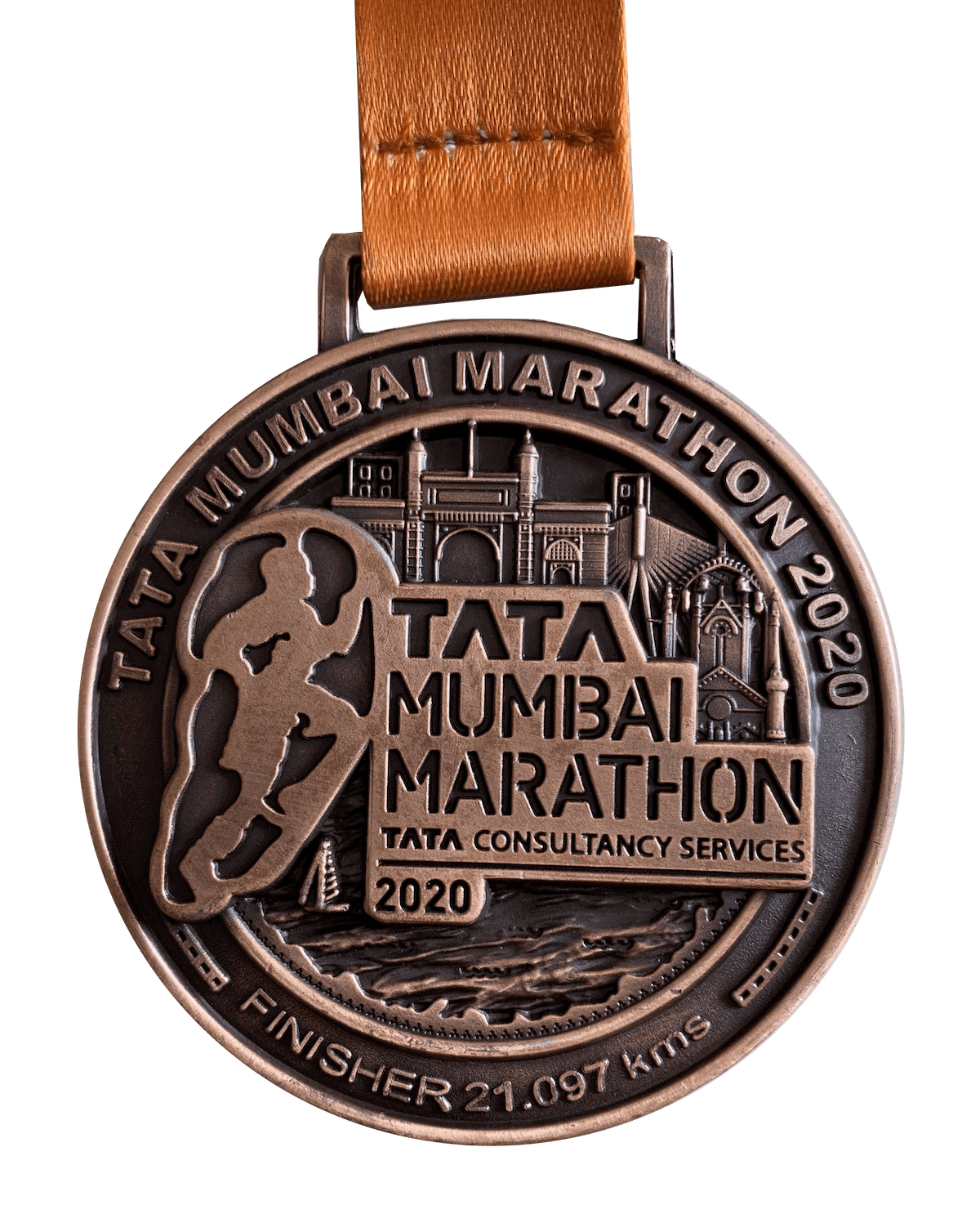 I started running again at a 6:46/km pace and did a sprint at the last kilometer with a pace of 6:01/km. 

I finished the half marathon with a timing of 2:28:29, this was the best timing I could achieve despite my recent recovery from back pain

My learnings from marathons:

Keep yourself away from any intensive workout/games to avoid injuries at least a week before the race
Work more on stretches and do easy runs
Hydrate properly beforehand, at least two days prior
Load carbs a day prior
Know the Course in advance, including the elevations
Lastly! Enjoy IT