As India awaits 5th August 2020 for history to be made at Ayodhya, non-resident Indians in the US are also eager to display their fervor towards the celebration. In a never-before act, New York City's Times Square will be decked in images of Lord Rama and 3-dimensional portraits of the proposed Ayodhya Temple all day long. The American India Public Affairs Committee's President Jagdish Sehwani announced on Wednesday that arrangements for the same are in place at the Square.
Foundation Stone laid in Ayodhya, Celebrations at Times Square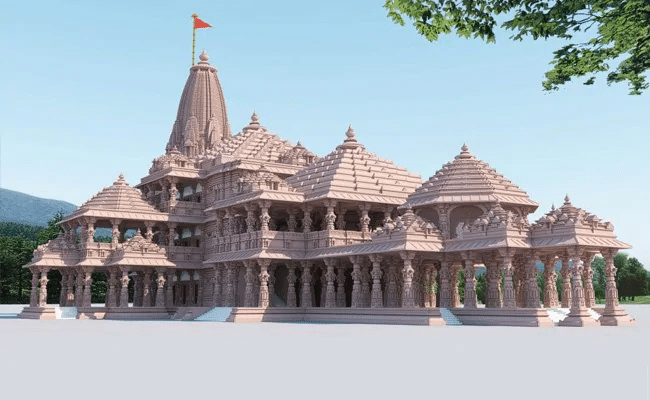 The Prime Minister of India Narendra Modi has been invited to lay the foundation stone for the construction of the Ram Temple at Ayodhya. On the same day, halfway across the world, Sehwani was keen to give the historic moment a befitting celebration. And what better way, than at Times Square – the iconic landmark identified by people across the world.
Billboards and LED's
Giant billboards at New York's Times Square will be beaming 3D models of the proposed temple and images of Lord Rama. Two of the largest continuous outdoor displays – Nasdaq's giant screen and a humungous 17000 sq. ft. LED display screen that wraps around the building – are among the most significant billboards being leased for this extraordinary event. These kinds of billboards can be seen abundantly at Times Square, making it the most unique aspect of the venue.
On August 5th, from 8 am to 10 pm, textual images of 'Jai Shri Ram' will be displayed in English and Hindi on several of these billboards, along with portraits of Lord Rama, 3D images of the Temple model and actual images of PM Modi laying that foundation stone.
All Praise for Prime Minister Narendra Modi
Sehwani applauds the efforts of PM Modi in achieving this unimaginable feat. He says this construction of Ayodhya's Ram Temple brings a dream to life for Hindus across the globe. Six years, he never thought this would be possible and praised Modi's leadership in making it happen. He says this was the only befitting commemoration he could think of. Sehwani is, of course, backed by tremendous support from the sponsors and the community.
In February, PM Modi announced the creation of the Shri Ram Janmabhoomi Teertha Kshetra Trust. Invited by the Trust, Modi will have the honor of laying the foundation stone. Sehwani said Indian community members would gather at Times Square to partake in the celebrations and give out sweets.