This BRM 100 was planned for 20th Dec 2020 and I was excited as I was planning to ride my friend's MTB, Trek Superfly 7. I had never ridden MTB for a long distance and wanted to experience this BRM 100.
I got the cycle and got it serviced at Chainpullers, Pawan serviced it and gave me my bike in a couple of hours.
I was so excited I got the cycle on Sat 19th Dec in the evening at 4ish. I came home and started setting up the cycle. Moved my Garmin sensors and Knog lights holders from my Cannondale Synapse 105 Road bike to Trek MTB. I Lubed it well, also attached a saddle pouch (normally I carry an extra tube and repair kit in that), and finally stuck the rider tag.
The Ride day, Sunday 20th December
I woke up at 3:50 and got ready, went through my checklist, and left at 4:25 at a meeting place where a few riders were waiting, Rohan was on his Honda Activa to support his wife Pallavi. She was doing her first 100km.
My excitement ended about 2kms when I got a puncture on the rear wheel, it seems the tire had cracks. I had ridden the bike before but had no issues.
I had two options: either fix the puncture and move ahead or come back home and take the Road bike.
I made a quick decision to move back home, I took my bike on Rohan's activity back home and started shifting things.
I felt like the situation you must have noticed in Formula 1, Pitstop. My wife started getting tools from the house and got an extra water bottle as I had two cages in the road bike, while Rohan helped me move the saddle bag and added rider tags. While this was going on I moved my Garmin Sensors and lights. In the end did a tire air pressure check.
My road bike was ready in 10 mins clock, thanks to my wife and Rohan who were my saviors for the ride.
I left the house at 5:10 am and the flag-off was at 6:00 am, I started riding fast to reach the venue as I had to do my bike check and get my Brevet card stamped.
I reached at 5:30 am, well in time. First thing, got my bike checked and stamped my brevet card. Post that I started chatting with my fellow riders.
Get Set Go – First 50kms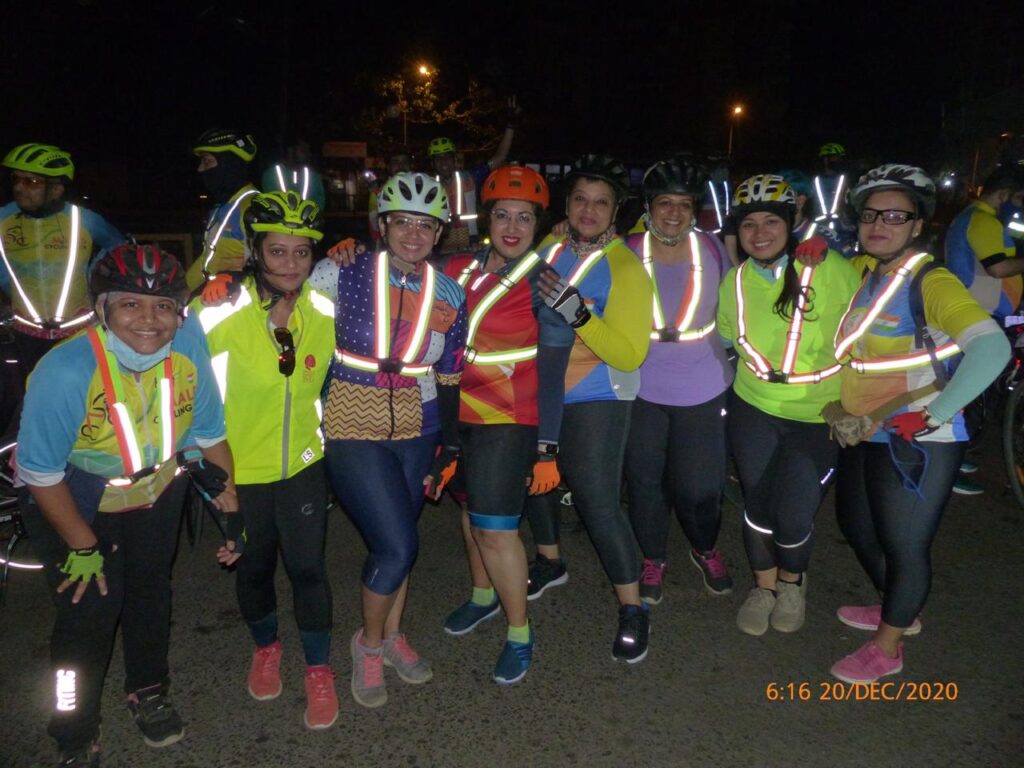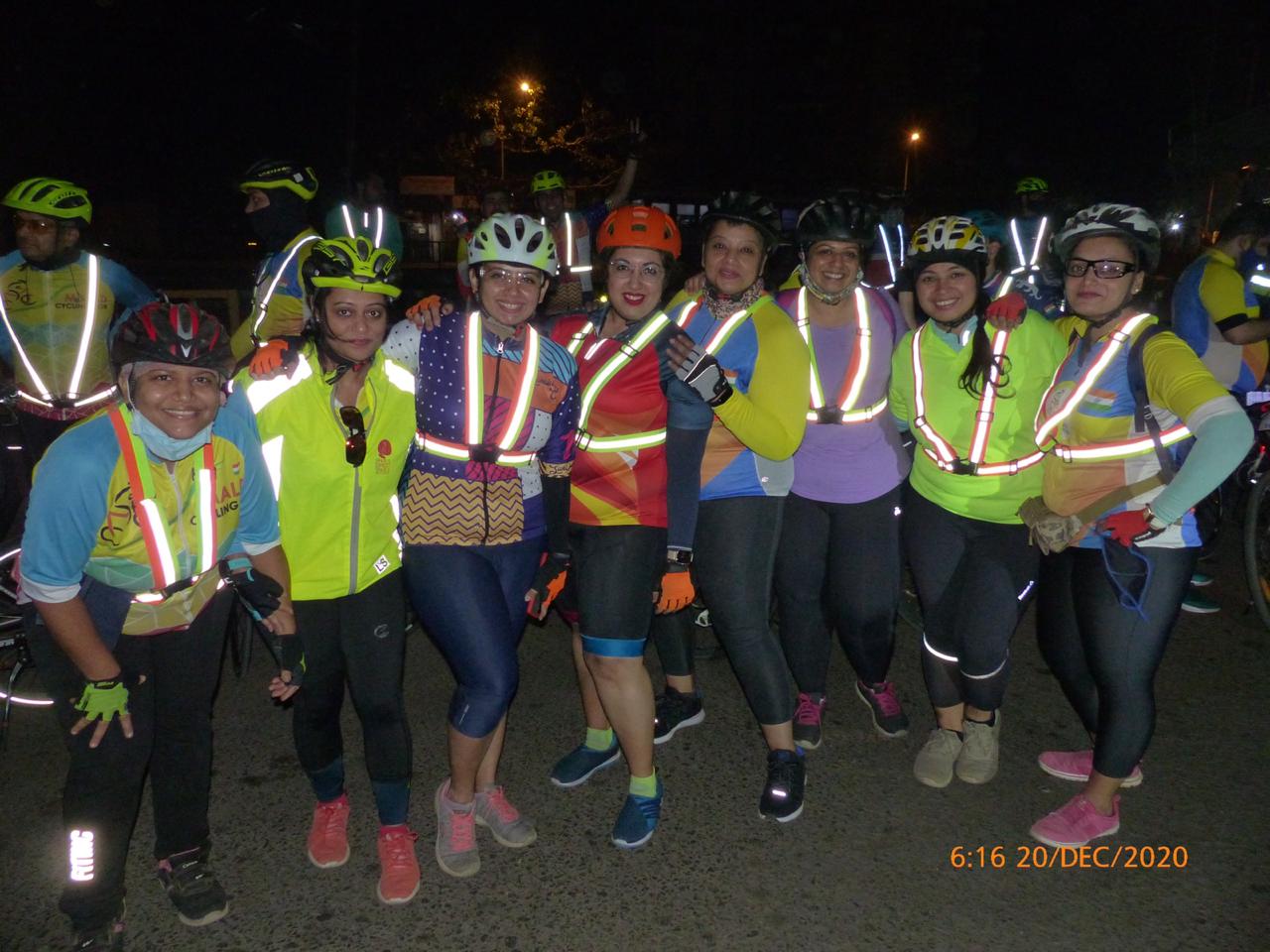 The ride started at 6:00 am, I had the plan to ride easy and help fellow riders. We had many first-timer BRM 100 riders. This BRM 100 was special for my club Malad Cycling Club (MCC) as we had many female riders from MCC.
I started slow for about 500 meters and my legs started acting and I took pace. The weather was really good and my pace grew better and started riding at an average of 29kmph. I thought of stopping at 15 km for all riders to cheer them on. However, I stopped at about 20kms post-Vasai climbs as that is the point where most riders are tired and stop. I met mostly all the riders at that point.
I started riding with fellow riders and had a quick chat with Vishal, Mehul, Dinesh, and Dillon who were riding with their spouses.
We had refreshments arranged at 25kms by the Cycling For All Club, here again, I met all my fellow riders.
Post this point I started riding at a good pace and around 46kms I had a front tire puncture, this was the time I remembered my first puncture in the morning.
I quickly started fixing it. One good thing I did was put a new tube into the saddle bag. I found a 2mm glass piece in the tire, removed that, and quickly replaced the tube. I also discovered that the air pump handle was broken, this tool took a little time to fill the air. I manage to get 55 PSI. I was up and running in 7 mins.
I managed to reach 8:45 at the control point where I first took the air pump arranged by the club and got air pressure in the tire at 80 PSI. I took 2:45 hours to complete 51kms
Here I had a chat with my fellow riders, took some snaps, and started my journey at 9:15 am back to the start point.
Final 50kms
I rode back at a good pace and finished the ride in about 2 hours with just two quick breaks. I had an issue post-fountain as there is a climb and I got cramps in both thighs. This is due to a lack of water as it is winter and I had less water. I stood for 5 mins, did some stretching and massage on my tights, and started riding. This was the first time I moved my front gear from 2 to 1. I always ride in 2nd gear.
Again, one thing I registered was to keep sipping water while riding.
I am really happy to know all the first-time riders finished their BRM 100, this is what I call the power of groups.