I booked my BNP Ultra 50.0, 25kms marathon in December'19 since I wanted to go the extra mile compared to a Half Marathon.
I had my Tata Mumbai Marathon planned for 19-Jan-2020 and I was preparing for the same, I also wanted to start practicing running on slopes since BNP Ultra 50.0 was in Borivali National Park or SGNP, where there are two slopes Gandhi Tekri and Kanheri Caves. So, practicing on the slope was important.
I successfully completed my Tata Mumbai Marathon 2020 (02:28:29) with better timing compared to TMM 2019 (02:39:21). Now that TMM was completed successfully, now was the time to practice for BNP Ultra 50.0 planned on 22nd Feb 2020.
With this marathon, I had booked for 10K at Parinee Juhu Half Marathon which was initially planned for 9th Feb 2020 and later they rescheduled Marathon to 23rd Feb 2020, which happened to be exactly the next day after BNP Ultra 50.0.
I took the challenge which came on my way and planned to do both, however, I was in two minds if I can do it or not. I got motivation from my buddy in Cycling / Running club Kartik Mistry. Kartik also booked both events to run back-to-back Marathons.
A day before BNP Ultra 50.0 (Fri, 21st Feb)
As usual, I had an early dinner and loaded myself with carbs, made my running gear ready, set my alarm, and did some study on the route for the marathon. This was my first 25K and I wanted to keep the run slow so that I could complete the run without any injuries.
The Race Day (Sat, 22nd Feb) – Loop 1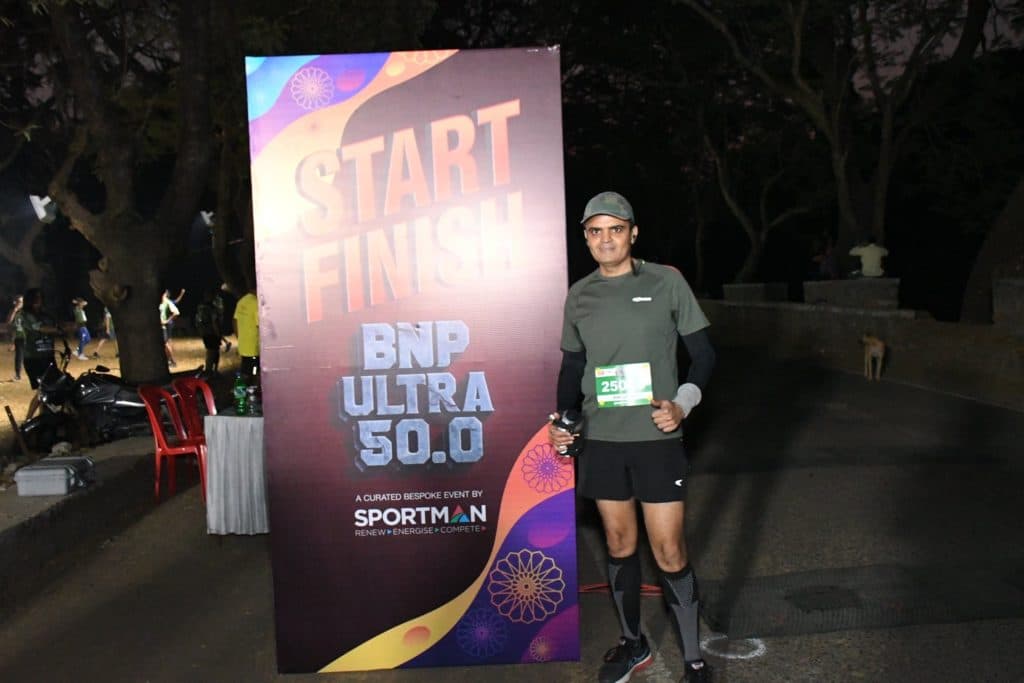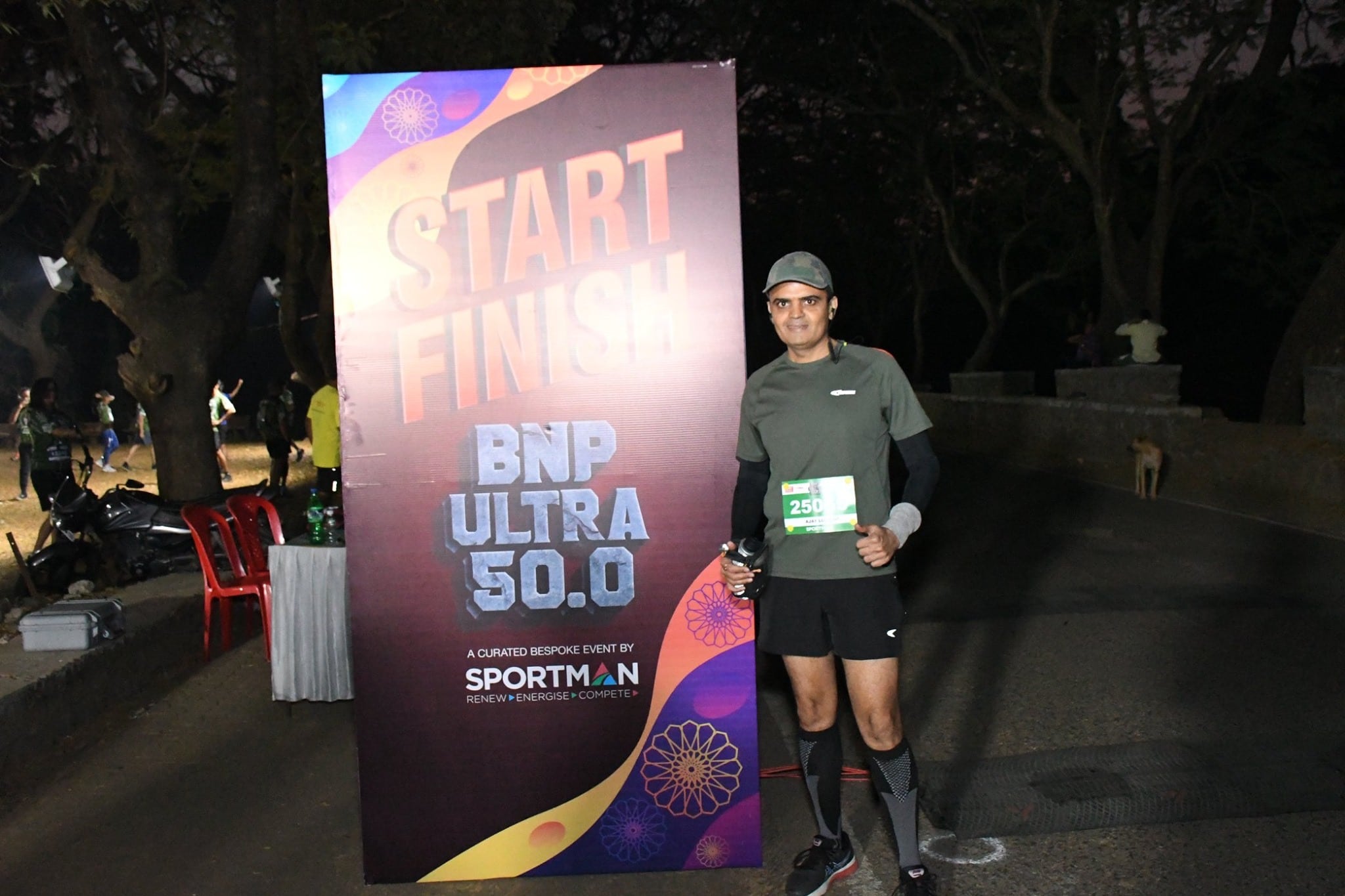 Reporting time was at 6:00 am and flag-off was at 7:00 am, I reached the venue at 6:25 am and as usual, did a warm-up and some coordination workout. Marathons normally are planned late in BNP as early morning the area is too dark and there are potholes on the road. By 6:30 am sunrises and there is some light to navigate easily.
Now was the time to stand at the start line and I stood along with Kartik and we were chatting in general. The run started exactly at 7:00 am and we were on our way to complete 25Kms. I had set a target of completing the marathon in 3 hours looking at my TMM timing where I did 21kms in 2:28.
I was running slow at the pace of 6:45/km, one thing that was going on my mind was to complete the run without getting any injury or muscle sourness as there was one more marathon lined up the next day.
The run was good until 5:00 km at this point I had climbed the Kanheri Caves slope. While returning back the slope I picked up the pace and touched 4:50/km and while controlling my pace on descending, I got pull in my left knee and I started getting a little pain while running. Post slope I still maintained the pace of around 6:45/km until I reached Gandhi Tekri, post that knee pain increased and I could not run well, my pace dropped from 6:45/km to 7:30/km.
Without carrying much about my pace as my target was to complete the race in under 3 hours. I kept running/walking/running and started cheering fellow runners. While motivating others I learned that you yourself get motivated.
Loop 2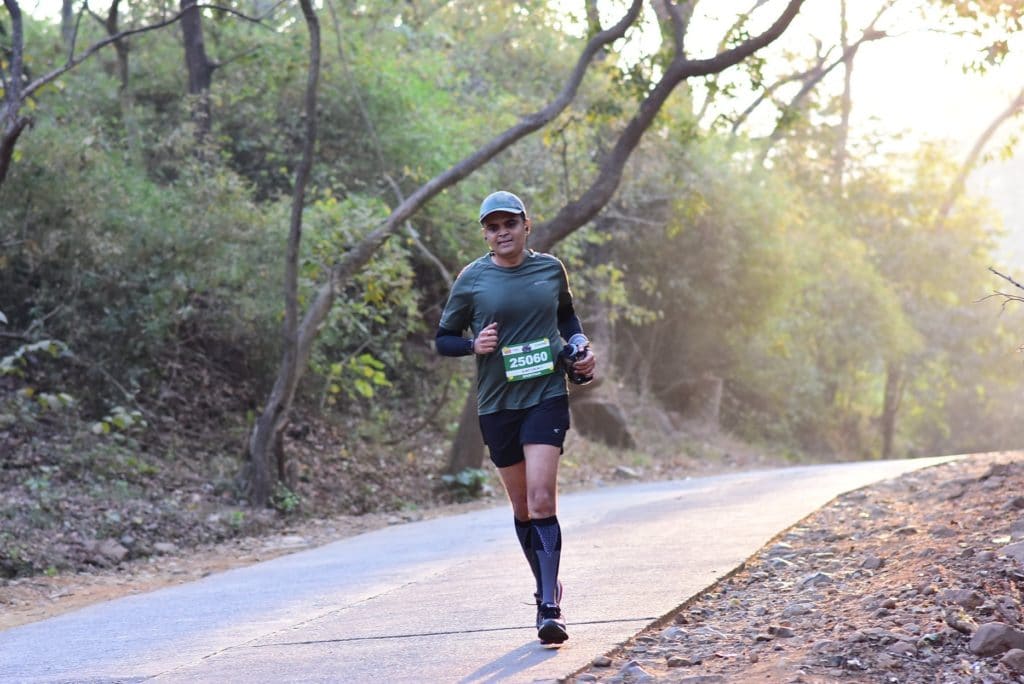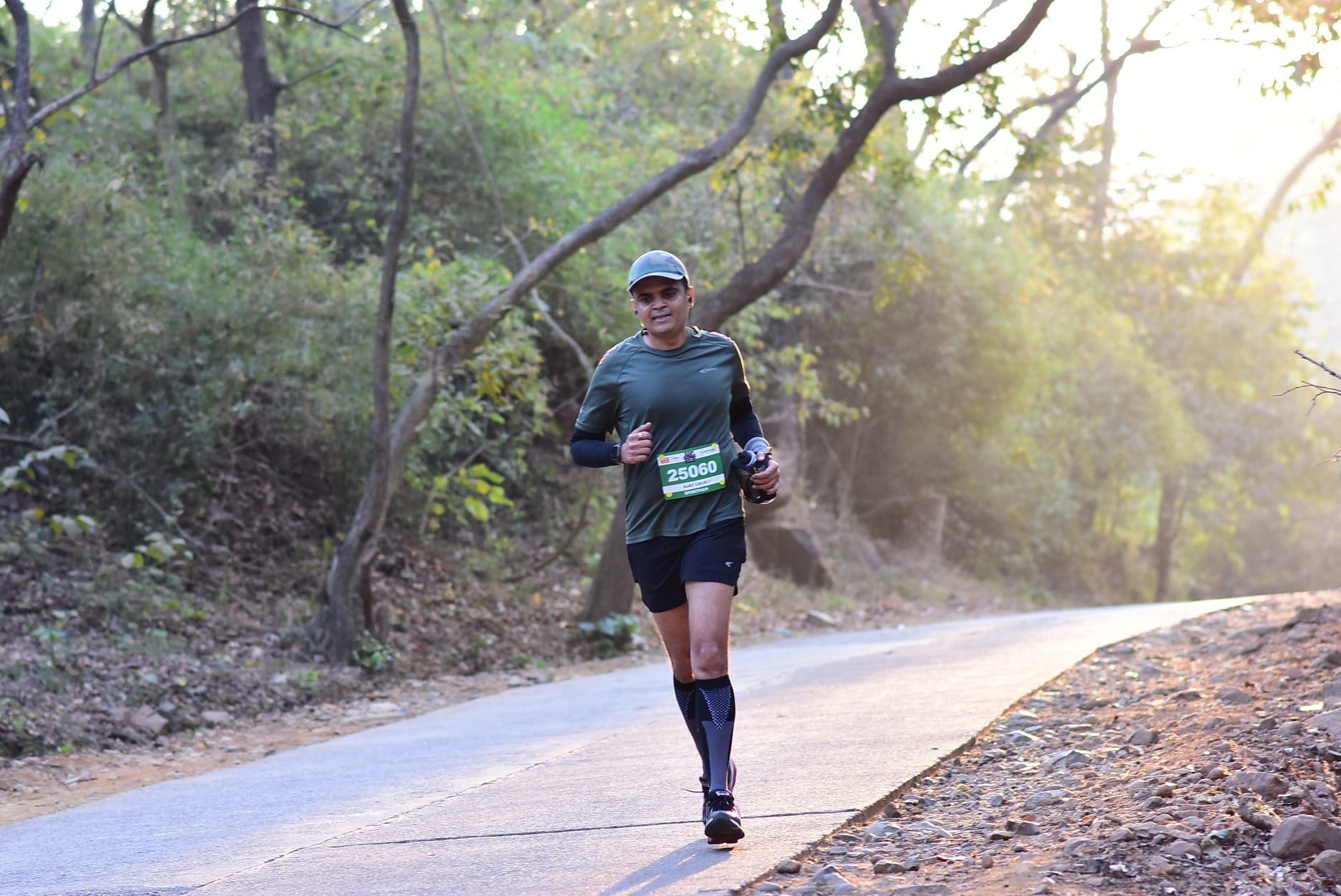 The First loop of 12.5kms was completed in 01:23:25 and started my journey to the second loop. Now my pain had increased a little more. I had no problem walking at all, however, I was getting pain while running so I started a brisk walk and did a short run keeping in mind that I had once more run planned the very next day.
At Kanheri Caves I walked almost the entire slope and can down with a slow run/walk. Post Kanheri Caves I pretty much walked. I saw the time and I realized that I was running late for the targeted time of 3 hours.
The marathon was not marked properly, when we finished the run we had clocked 23.8km. Most people complained about this issue to the organizers.
With all the pain and not putting stress, I managed to complete my run at 03:06:30 HRS. Click here to view my race statistics.
As I always say, every marathon teaches a new lesson, and my learning from this Marathon was:
Do not change pace too frequently. My page on every 1KM was different which is one more reason to hamper the run.
Slopes… Need more training on slopes to avoid injuries.