The Tata Mumbai Marathon is one of the most coveted races for runners in India. There are countless runners in TMM every year. The 2023 edition of this year's race saw a record 55,000 runners.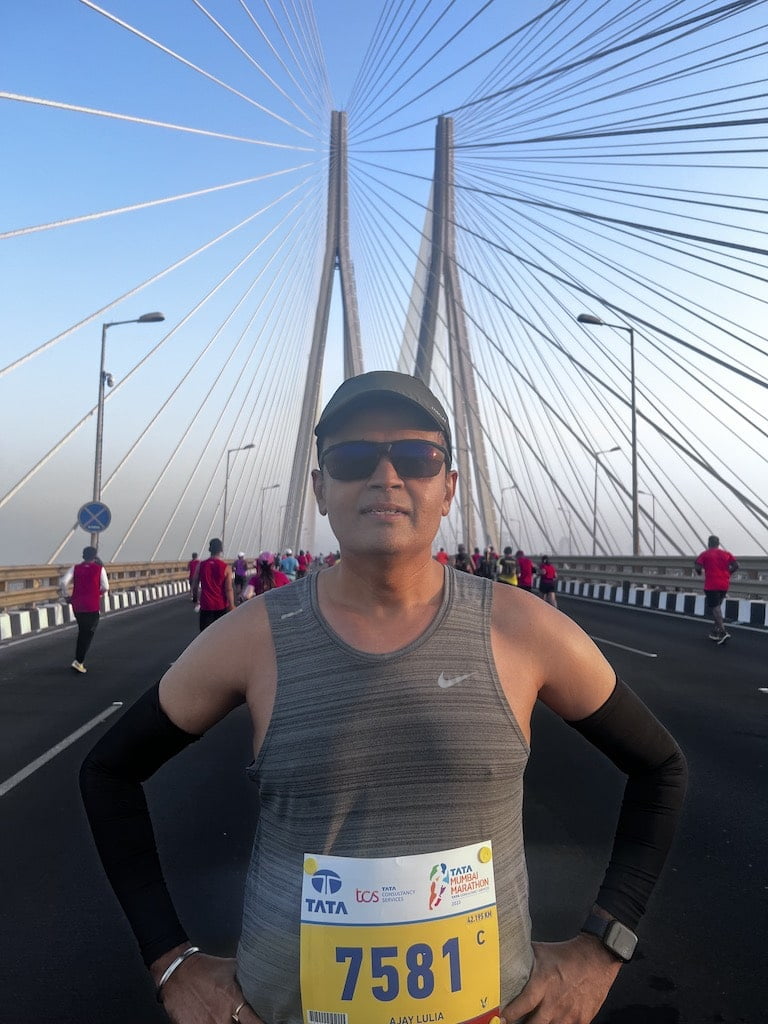 For this Marathon, runners from around the world come to Mumbai. Mumbai is a popular destination for runners from all across India. I discovered that some people just visit TMM to run on Sea Link. Running on Sea Link is a completely different experience because of the view of the sea and the beautiful early-morning sun. Many runners pause to take photos along the Sea Link; I did the same because the scenery was breathtaking.
The Training
Before the marathon, runners put in a lot of preparation time, and many of them also reassess the course to see how they did.
After making the event booking, I too began receiving training. I was unsure when I made the reservation for the event whether I should sign up for a Marathon or the Half Marathon once more. I knew that if I wanted to complete a Marathon, I would need to put in a lot more preparation because the same Half Marathon training would not be effective.
I had around five months to train for a marathon, but I really got going in November when I started timing my long runs. My coach advised me to run large distances, and my friend Sanjay Sharma, a professional runner who had just completed the Comrades Marathon, advised me to run at least one 30 km and one 35 km in addition to my usual short and long runs.
I gave it my best effort to train and get ready for TMM.
Pre Race Day
I stretched after a 30-minute run with my F3 Running Group. After my morning workout, I unwinded at home while continuing to stay hydrated with water and an electrolyte drink. I began my carb loading as normal by eating pasta and dal khichdi. By 7:30, I had my setup complete, and by 8:10, I had retired to bed.
The D-Day – Tata Mumbai Marathon
At 2:00 a.m., I rose and got ready. I left my home to board a train from Malad at 3:22 in the morning. This was a special local train that Tata Mumbai Marathon set up to make it simple for runners to get to the event location.
We arrived at Churchgate and made the about 10-minute walk to the starting location from there. At the starting line, we each stood in our assigned lane. In Lane C, I was positioned. In Lane C, I was joined by another friend from the Malad Cycling Club. Shailesh Kumbhar is a skilled runner in addition to having completed a few triathlons.
Shilesh was with me as the marathon began. Up until the 10th km, we were moving along at a good 6:50 per km pace. At that point, I began to get little right knee pain, and our pace dropped to 8:00 per km. I was able to run slowly thanks in large part to Shailesh's kind assistance. We walked side by side for 22 kilometers before I had Shailesh move ahead because he was making good progress and I didn't want him to compromise on his timing.
In spite of the agony, I ran and walked, and to my surprise, at Shivaji Park, where I had just completed 27 kilometers, I ran into one of my cycling club pals, Mehul Parmar. I had the sense that he was well ahead of me, however even though he was slow as he was experiencing ankle pain. We stayed together until the 37th kilometer.
We primarily walked instead of running. At Peddar Road, we made the entire ascent on foot. After that, Mehul wanted to run more than just walk, and I wasn't in the right shape to do so. I encouraged him to advance and complete the Marathon in under six hours. Mehul started 10 minutes behind me because he was in Lane D while I was in Lane C. We had 40 minutes remaining to finish the marathon in under 6 hours. There were just 5 kilometers left to run. Mehul had the opportunity to finish the Tata Mumbai Marathon in less than six hours.
Mehul unwillingly moved ahead and finished his Tata Mumbai Marathon at 5:59.
Having taken a salt capsule at the 35th kilometer, I felt a little less in agony as I passed the Babulnath shrine. I also began to run and walk.
I thought of my long-distance runner friend Pushpa Bhatt, who serves as a role model for many other runners. She met me at Haji Ali and simply stated, "Do 200m/100m," and moved ahead with her run.
I took her advice and set out, finishing my first marathon in 6:14.
Conclusion
Half of the battle was already won when I made my booking with Tata Mumbai Marathon, so the rest was practice, then the run.
This FM helped me to be more disciplined with strength training and long runs because I felt like I didn't perform well in practice. FM is a serious running, but with the training, I was able to get in over the past few months, I was able to finish without injuries.
So, if you or anyone else is considering running a MARATHON, just concentrate on your strength training and start making long-run plans starting today.
Something important things:
Plan your activities.
Focus on running.
Proper warm-up before and cool down after every run.
Clock mileage during the last 3 months.
Few 30 to 35 km runs in the last two months.
Most importantly, plan your diet and protein intake.
Last but not least, listen to your body.