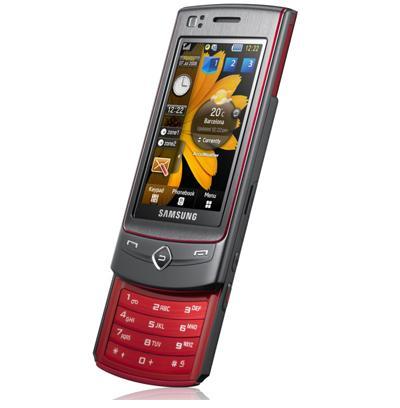 Samsung has newly launched an outstanding phone, the Samsung Tocco S8300 Ultra touch Phone. With a superb camera resolution of 8 Megapixels, it is hoped that this phone is going to bring a revolution in the present mobile market. This phone is only 12.8mm thick and it has a widescreen O LED display in fact it is the biggest screen for mobile available today. Having a touch screen has really made it more appealing and more attractive to consumers and present-day youth who run after the latest gadgets in the market, especially Mobile Phones.
Key Features:
A Slider Style Phone
A big screen with a touch sensor
2.8-inch wide display
A resolution of (240 x 480)
8 Mega Pixel Camera
Video Recording at 30 fps
Supports mostly used formats like DviX, H.263, H.264, MPEG4, and many other formats for video
Modest Camera including Face integrated with & Smile Detection
RDS FM radio
3G/HSDPA/UMTS/EDGE/GPRS Internet connectivity for the best Browsing
XHTML along with HTML Browser
Stereo Music Player with MP3, AAC, and WMA supports
GPS integrated with AGPS function.
Bluetooth Stereo A2DP connectivity
80MB Phone memory with memory card slot (extendable up to 16GB)
The mobile being reviewed is 5mm thin. In fact, it is slimmer than Nokia N96. This phone with a 2.8" OLED screen has 16 million color resolution and 'Active Matrix Organic Light Emitting Diodes' ( i.e. AMOLED) that gives you an amazing experience while fiddling with image and video playbacks. A 30 fps recording never lets a single moment go hazy. It captures even the fastest objects that you would like to capture.
The 8 Megapixel camera itself demonstrates the image quality. This camera even does not let you down as it integrates itself with a full autofocus feature. The dual integrated flash shoots the best of the images in the darkest of corners. Ever wondered about having a digital camera without the FD technology? Here comes this gadget bringing you face detection technology which is not even monitored by most digital camera manufacturers. If you are used to fiddling with various cell phones, you must have noticed that most Sony phones do not offer you Bluetooth A2DP connectivity. Well, this product from Samsung bundles this protocol into it. Sharing videos, pictures, and music have never been so easier. Just select your file and send it to your pals. That's all. You can even accept several Bluetooth connections together.
Now, let's come to the most common features without which a phone stays away from being a personal device. Messaging, Phonebook, organizer call log, Document viewer, etc. are the most common personal features that everyone uses. Clock, Loud Speaker, Voice Dialling, Calculator, Calendar, and every feature you need are all present in this phone. The Samsung S8300 comes with an interactive multimedia messaging feature with text, pictures, and video clips. With the Edge and 3G technology, browsing is at the speed of the wind. So, what are you waiting for? Don't you want to lay your hands on this unique gadget?