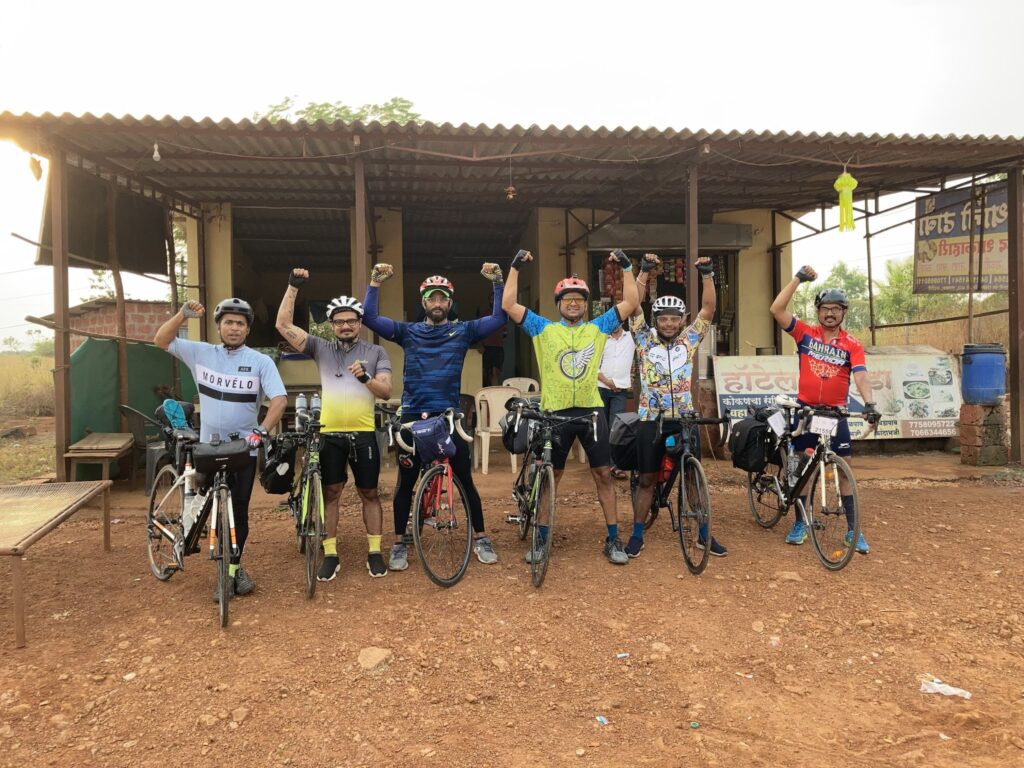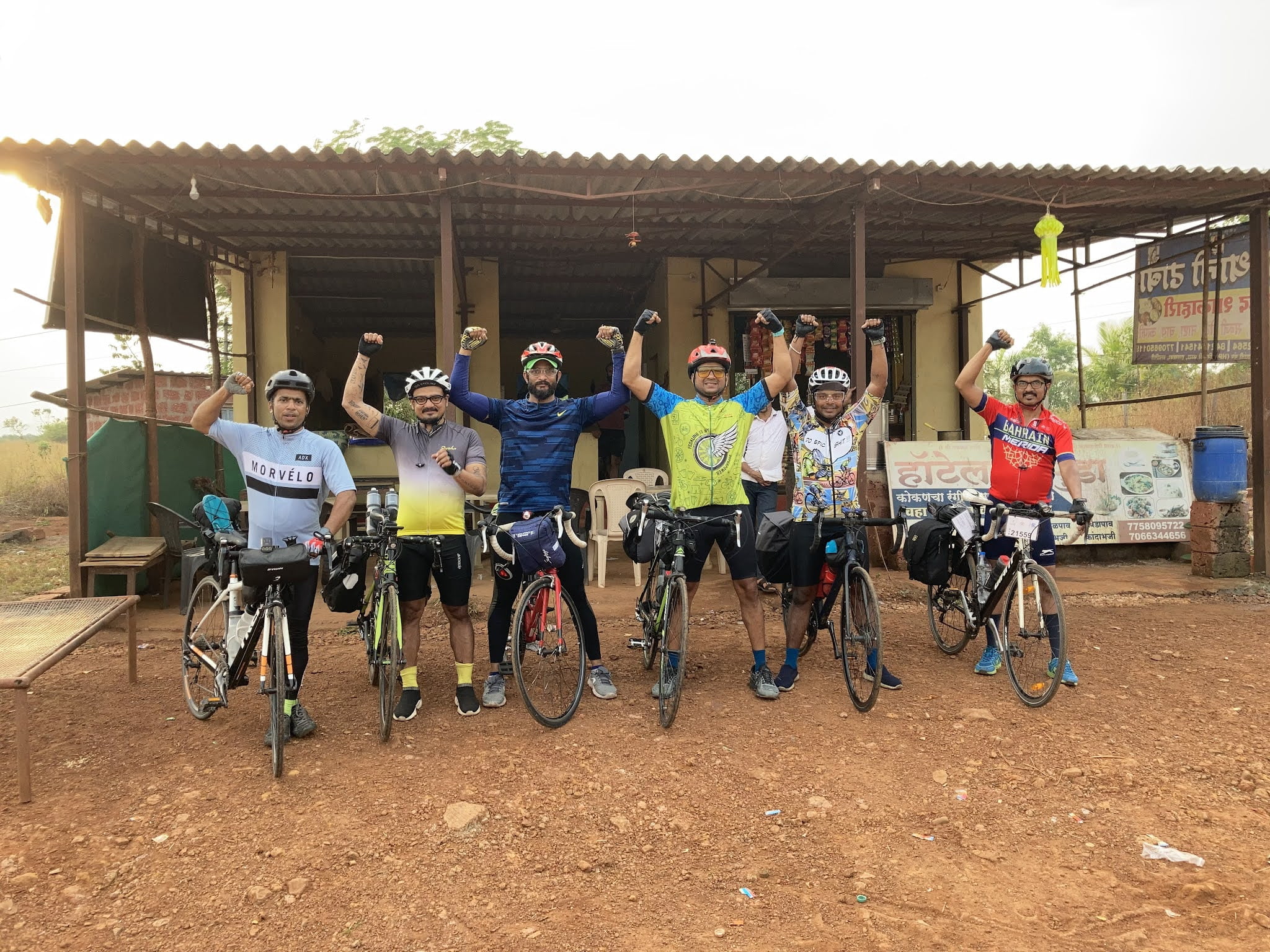 The week was full of excitement for us. Road wise. The entire route is unbelievably beautiful but also veeeery hilly, not to say mountainous.

We would have loved to have a support vehicle, hired mechanic, prearranged places to stay, and no luggage carried on a bicycle. Who wouldn't? At the same time, we wanted to experience the challenges and problems faced during the tour and enjoy them. We decided to do a self-support ride and so in advance, we couriered the cycle bags to Goa at our friend's place. Over the years, little by little, we accumulated some of the gear required for bicycle touring. All we needed to do was load up the pannier bags and cast them off.

Keep your palm face down on the table. Now imagine climbing up each finger, then down into the cleft in between, and up again over the next finger. That's how our route was – it was relentless uphill, downhill. Every time you descend to sea level and find a bridge, ferry, or beach, you know there is an ascent waiting, not far away. Each segment of elevation gain is not significant compared to the height and size of hills elsewhere in India. What plays with your mind is the relentlessness of the up-down mix, which serves as an idiom for the trip. It should also be mentioned that there are some sharp, stiff inclines served without notice and sometimes, served with notice, which the urban ego then shapes into a competitive tussle.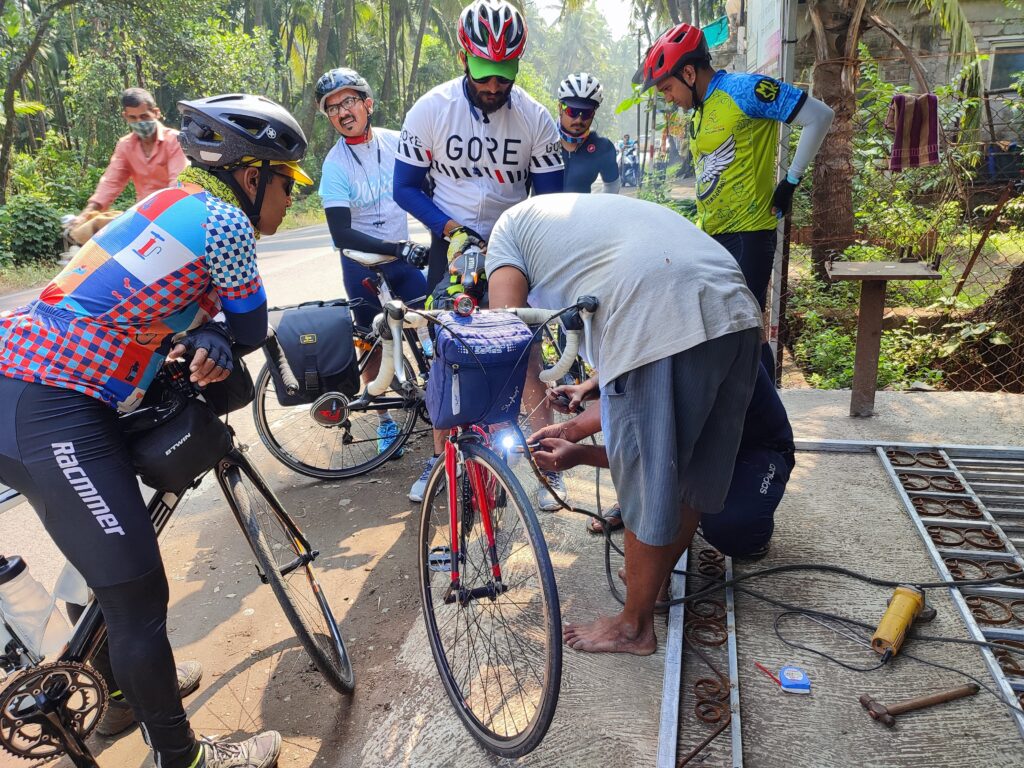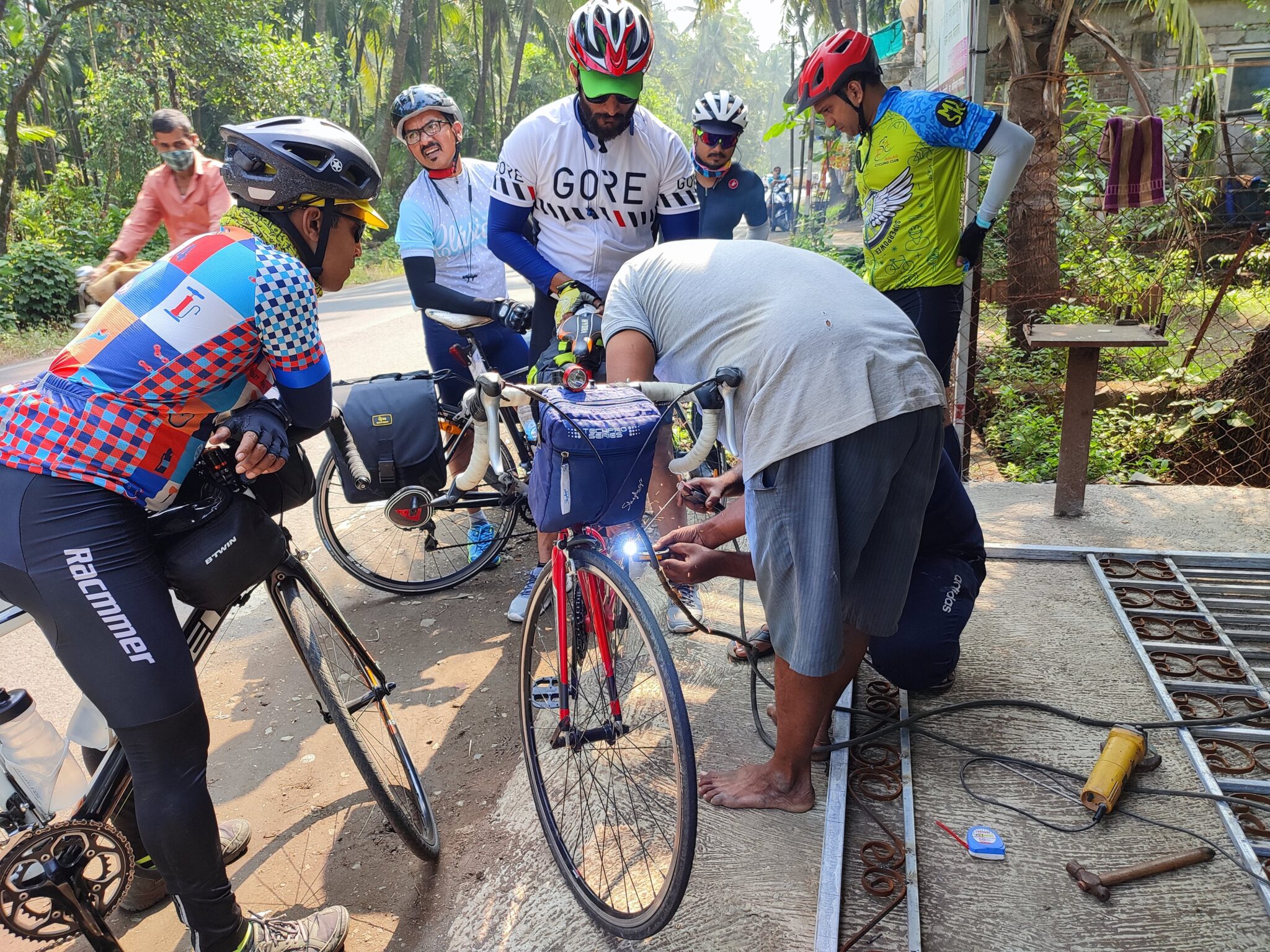 Day 1 08th Nov 2021 (Mumbai – Alibaug – Murud – Dighe – Srivardhan)

We started our journey from Kandivali by local train at 4.00 am, got down at Marine lines station, and cycled to Gateway of India. The first ferry starts at 6.15 to Mandwa Jetty and we were on time, it took almost 1 hour and 15 mins and reached around 7.30 am. We started riding immediately and took our first break at Alibaug to have breakfast. At Murud we had our first problem. Devendra's left pedal came out (a day before he installed new pedals.) mechanic must not have installed the pedals properly and while installing he spoiled the thredings of the crank. So only option remaining was to replace the crank and not the pedal. We first started looking for a welding shop to permanently fix the pedal but it didn't work out as the pedals were made of cast Iron. Finally, we got 1 cycle shop that replaced a pedal with a nut and bolt in this we lost 2 hours. We again started cycling. At 2.40 pm we took lunch at Murud with awesome food. Till Murud it was a plain road with hardly any incline and our next 60 km to Shrivardhan roads were bad with a good amount of incline and equally bad decline. By the time we were done with one problem Sougat's pannier started touching the rear wheel and it was making him uncomfortable to ride. After stopping many times in between one stop we decided to remove his pannier and fix it again and it took us more than an hour to properly fix it. We again had to take a ferry from Agardanda to Dighi. By the time we reached Dighe, it was pitch dark and we had to ride another 15 – 20 km in the night, At one stage Jagdish was ahead riding alone and his lights automatically went off, it was so dark, and in the forest area. Nothing he could do but for us, when we met him we saw he was literally sweating and we could easily see the fear on his face.

While we were very close to our destination Dillon had a bad fall in one of the declines and his back got scratched luckily (He got up on his own and said he was OK and we were relieved) it was not that serious and we continued to ride). But when I saw them in the hotel his back was swollen and there were some deep wounds. I decided not to react, or else he would have panicked. Finally, we reached Shrivardhan around 8 at the night. That night we went to the hotel immediately expecting to have an early dinner and take proper sleep. But unfortunately, the dinner was served around 10.30 because of poor service, and all slept by 11.30. Overall we had a bad day starting to overcome so many hurdles but all were very excited for the new day.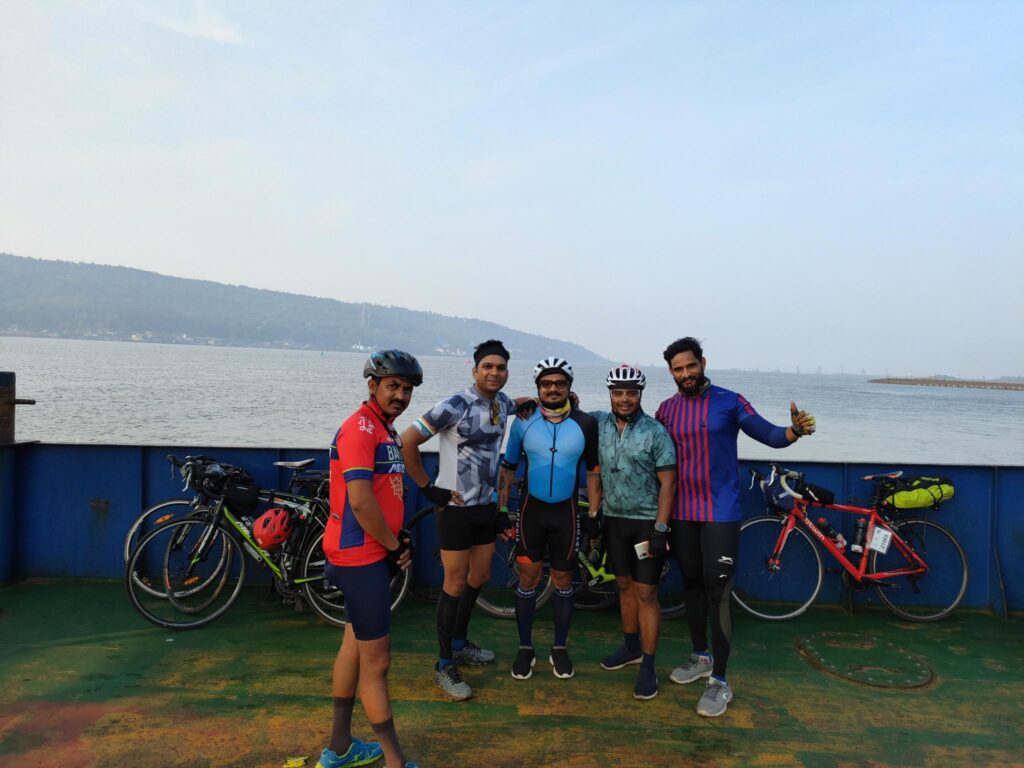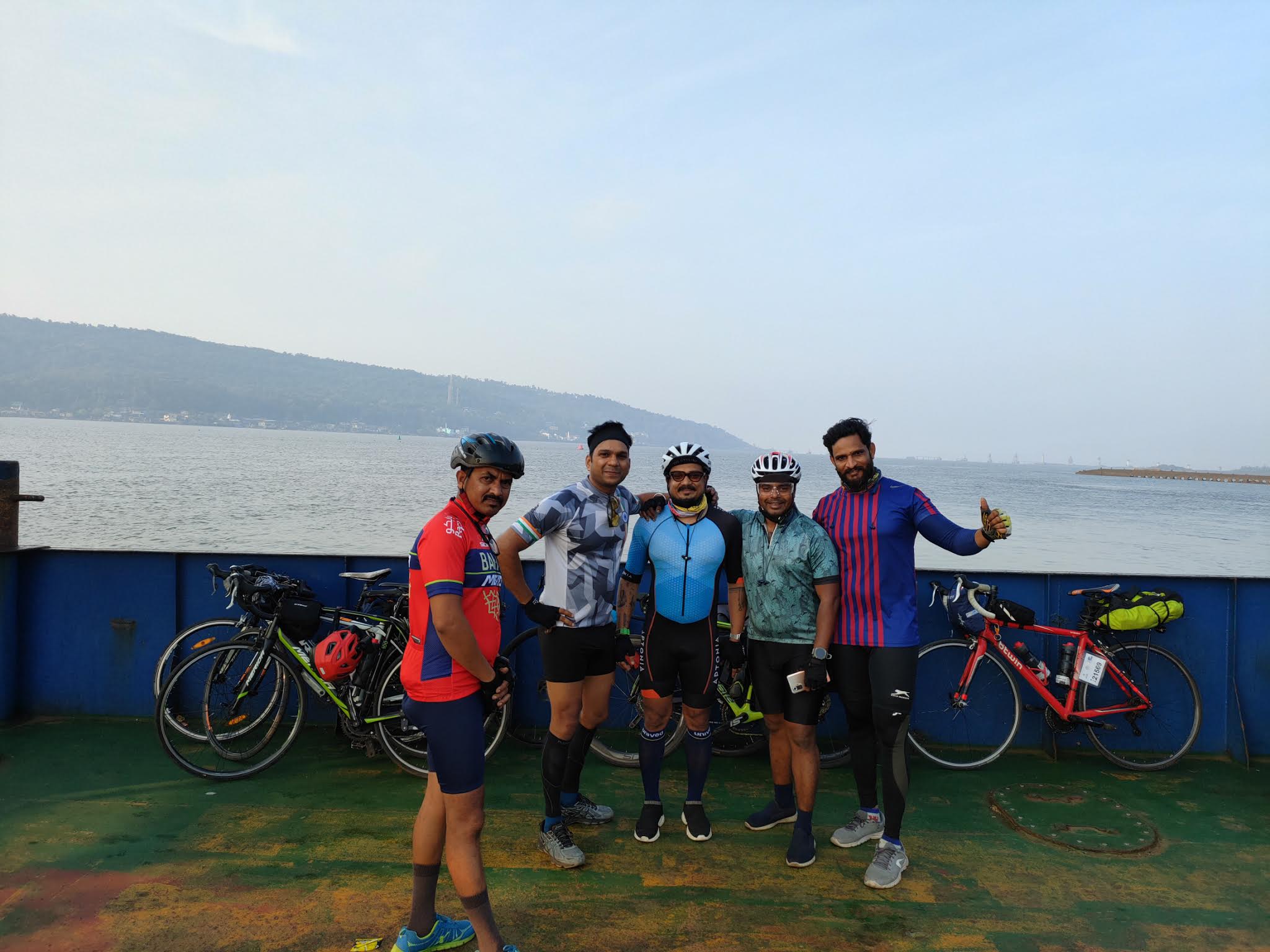 Day 2 Shrivardhan – Kelshi – Anjarle – Harne – Ladghar – Guhagar

We started our ride at 6.30 in the morning, this was the toughest day of our tour with maximum elevation routes and equally bad roads or no roads. We reached Bagmandla at 8.10 and took a ferry. It was very scenic and beautiful with mountains on one side and an ocean on the other side. It took us 30 mins to reach Vesavi Koliwada. As we decided we will have Morning breakfast either in Vesavi or Bagmandla as the ferry is every 1 hour. So after the ferry ride to Vesavi, we had breakfast at a small eatery shop owned by an old uncle at the jetty. He served us Vada Pav and Maggi with a lot of love.

We started. Our next stop was at Panchali. This was the toughest road with a lot of elevation. Now it was time to enter the beaches of Konkan first we explored Kelshi Beach, By the time we reached Anjarle sun was on top of the head, and in this very hot and humid we rode almost 2 – 3 km aside the sea almost a wow factor of the route riding on the mountain and sea on the right. By 2.30 we decided to have Lunch at Anjarle, a home-based restaurant served by family. By the way, the thali we had – was yet another case of delicious Konkan food. Immediately after lunch, we started our ride and on our way, we visited Harne beach, Karde Beach, and Ladghar beach. They are all so beautiful and untouched. At Karde beach we saw many many birds nesting on the shore. It was like watching a discovery channel with naked eyes. The last ferry from Dabol to Anjanwel is at 9.00 Pm but we were ahead of time and 5…15 We were at Dabhol (Here also the ferry is at every 1 hour). The ferry was at 5.30 and we were getting a little late to get into the ferry as Jagdish had taken a loo break and all had to wait for him somehow we managed to take the same ferry and it dropped us at the other end and from here we had a big climb of almost 2 – 3 km to reach Anjanvel which was 5 km but since there was no arrangement to stay we rode another 10 km and reach Guhaghar. Here we met another group of cyclists who were going from Pune to Goa through the Coastal route in 6 days. We couldn't talk much with them by the time we freshened up and met. They had already taken their dinner and set for sleep. We had Khichdi and curd for Dinner and went to sleep.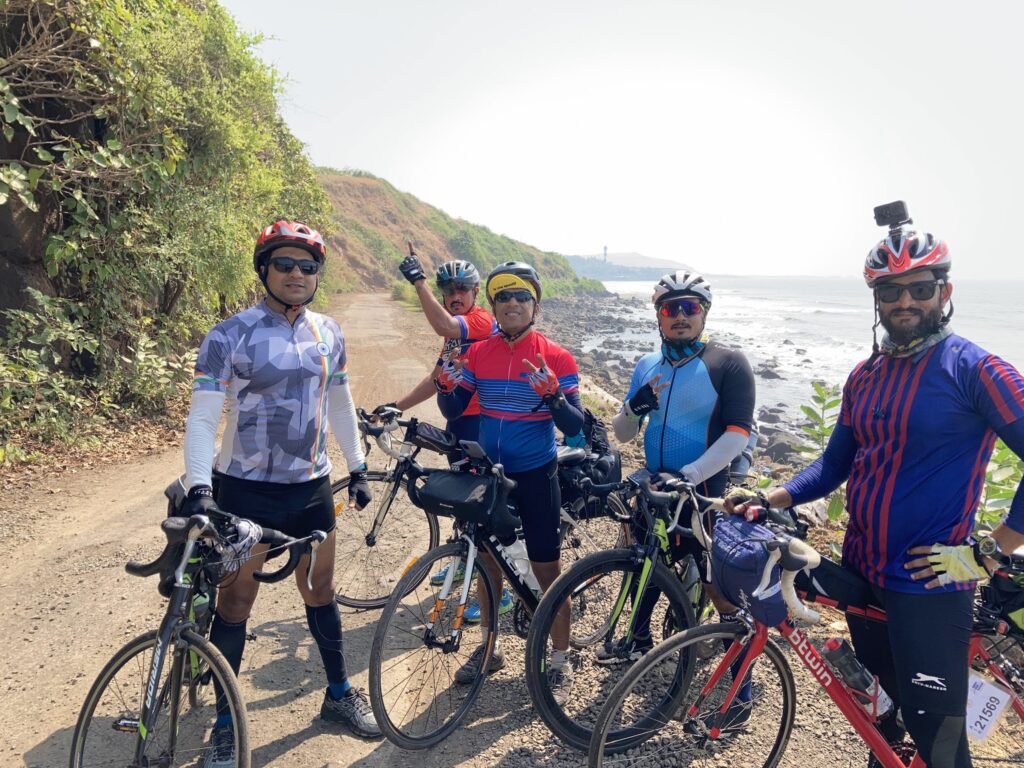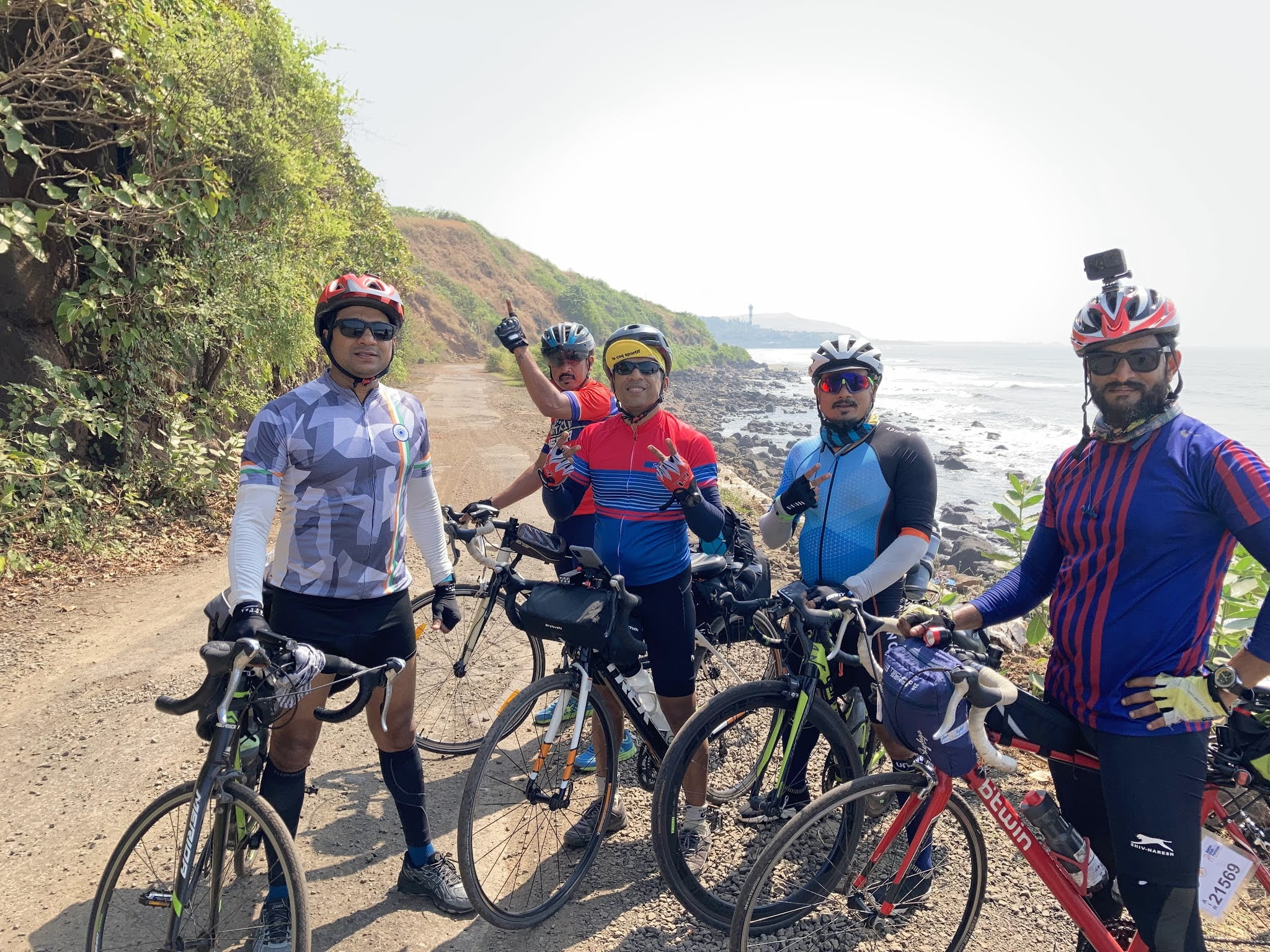 Day 3 Guhagar – Jaigad – Ganpatipule -Ratnagiri – Pawas

We all had proper sleep yesterday and it was so refreshing to start and everyone was ready by 6.40 am. We thought after two continuous days of riding we would be tired but we had energy like day one. By this time we have overcome the fear of inclination and with the slogan "Incline Zindabad we started our day" we decide that we will ride for another 40 km and take breakfast at Tavsal (here also the ferry is every hour). Our day started with a big climb of at least 3 – 4 KM but since the road was good we covered it quite fast then further for the next 40 km it was rolling but now the roads were getting better. We Reached just 15 mins before the next ferry time and had our breakfast of Misal Pav and Vada in 10 mins at the jetty, literally we took a cycle in 1 hand and hot tea on the other hand and ran to catch the ferry. The ferry took us to Jaigad it's again a port with some big companies having their manufacturing units. From Jaigad our next stop was Ganpatipule we were there around 10.30 am since there was a long queue we took Mukh Darshan from the beachside. It was a good long break and we hydrated ourselves well. By 3.00 we were at Ratnagiri and everyone decided to have Khichdi and curd for lunch everyone took a rest till 4.30 and we started our journey to Pawas it was a straight road of 15 Km and everyone was crazily riding at 27 – 30 average speed and we reached our last stop in no time. Today was an easy day and we completed the ride before sunset. The hotel owner who was also a cyclist suggested that the coastal road ahead was very bad and that it will take a minimum of 3 days to reach Goa, So after a mutual decision, we decided to take the expressway connecting from Rajapur (Mango City). In the evening Devendra realized that his front wheel brake pad was touching the tire so we checked the tire and found out that his tire was completely worn out and one side of the tire became transparent. Luckily he had taken a spare tire and we quickly changed the tire. It was time to sleep early today.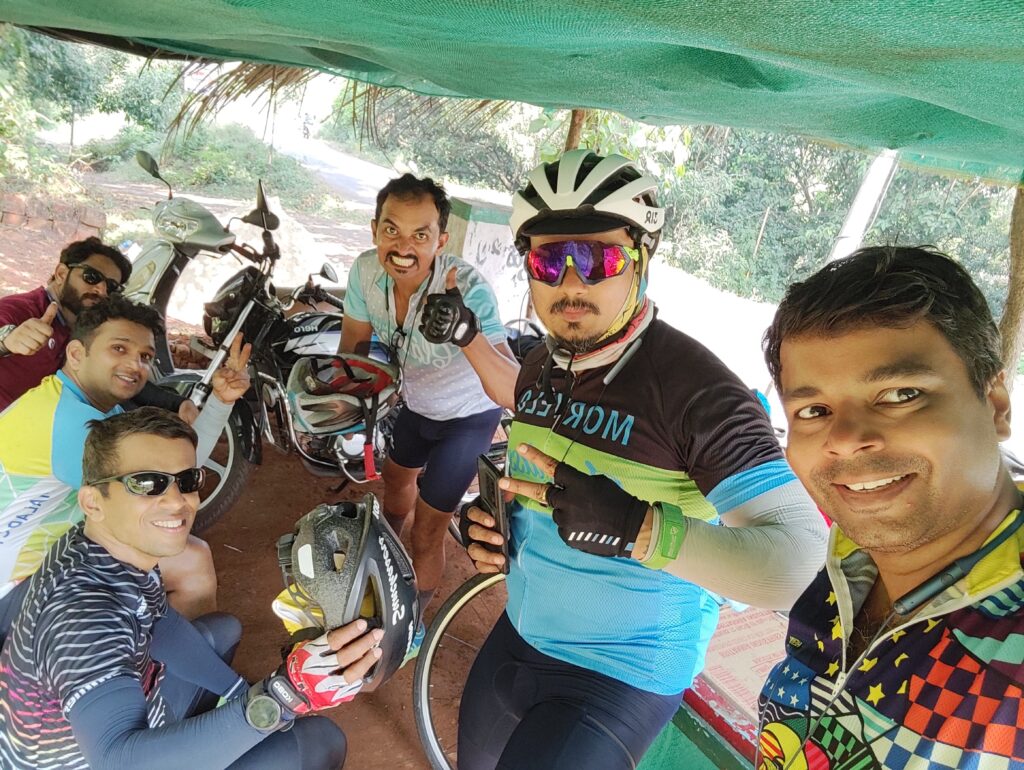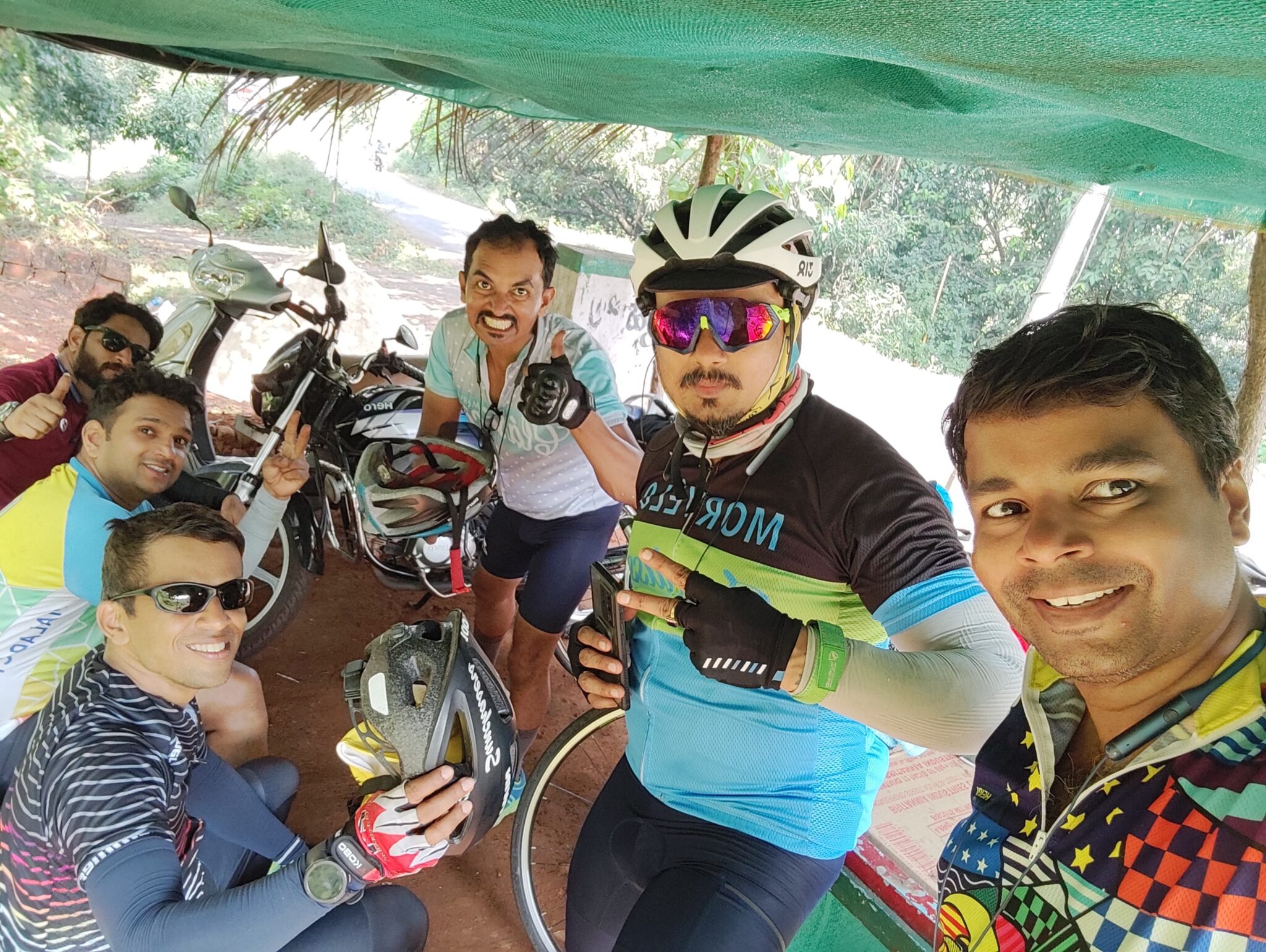 Day 4 Pawas – Rajapur – Kankavli

As day 4 arrived we started to show signs of fatigue and tiredness. Some of us had very bad rashes in the groin area, so to avoid further damage we had to bandage the wounds with Kinesiology tape. These rashes must have come due to the unbranded shorts we must have worn or may be due to continuous cycling. A lesson learned is never to compromise on the quality of the garments you wear on long rides. It was a puncture Day today, in the morning we discovered that the tire we changed was flat. So immediately before while others getting reddy DK and Sougat changed the tube and the cycle was ready.
We started the day with a very bad climb, literally, we had to walk down in the end to reach the climb. The road ahead was also very bad and for almost 10 – 15 mins we had to cycle on the side of the road in a muddy lane. Once we came to the main road we were lucky to see the pair of Fox crossing the road. Everyone stumbled to see them but in a fraction of a minute, they disappeared into the jungle. For the next 40 km, we were having a rolling road with some decent climbs in between and we were going very smoothly. At Adivare 30 Km from Pawas, we had breakfast. It was a good small eatery but the taste of Misal will remain forever. Soon after breakfast, we started riding, and immediately in 10 – 15 mins of our ride, we had our first puncher. Dillon was drifting just behind Vinod in one of the descents and his cycle went into a pothole and his front wheel got punctured. He was 2nd time lucky he didn't fall this time as he was at a decent speed. A new challenge was thrown again at us we had to repair the puncture of GatorSkin Hardshell. Triban 520 comes with tubeless tire rims and therefore the tire got stuck in the rim and was not ready to lose. From a nearby house, Dillon managed to get soap water and after spraying it on the tube tire started loosening up and now we were able to remove the tire from the rim. It took almost an hour to repair the puncher and we started our journey. Around 12.30 we reached Rajapur everyone was dehydrated and happy for our next journey on the straight expressway till Panaji. We took our hydration and started our further journey but happiness was short-lived as immediately after joining the expressway we had an incline of 2.5 – 3 km. Just riding a few mins Sougat's 1st wheel spoke broke, He had recently upgraded his wheel from Alloy to Carbon, and considering the roads we travel we were lucky it didn't get damaged earlier. Vinod had stuck the broken spoke with other spokes and we started our ride. Just 5 Km from Kankavli Devendra's front wheel got punctured. He was well-equipped and in the middle of the highway in complete darkness, we repaired and started our Journey. Vinod was well ahead of us waiting at Kankavli and happened to meet Kailash Sawant from Kanak Riders (Cycling club in Kankavli) and soon Yogesh, a colleague of Kailash joined them. They first took us to the local cycle shop to see if we can repair the broken spoke of Sougat's rear wheel but the mechanic said he can only do it tomorrow morning. So then they took us to a nearby hotel and helped us to negotiate and made a good arrangement. In the night, Kanak Riders decided to join us for the morning ride and we decided to meet at 6.00 am near our hotel. We had our dinner while watching a Semi Final match between Pakistan and Australia and celebrated losing to Australia.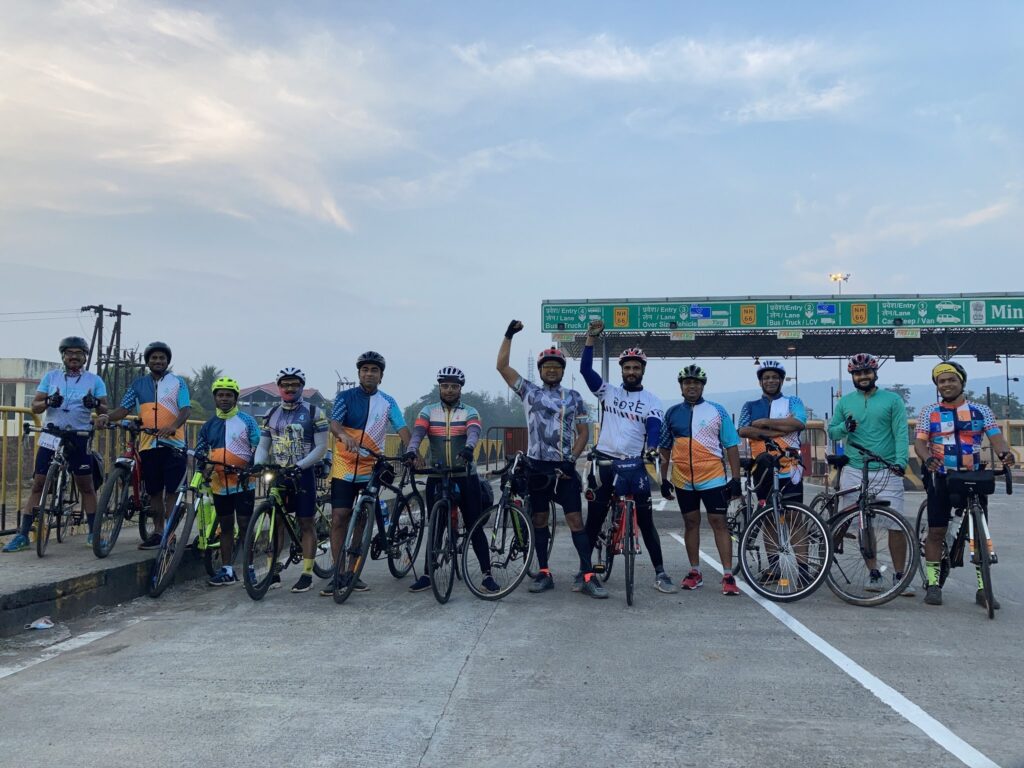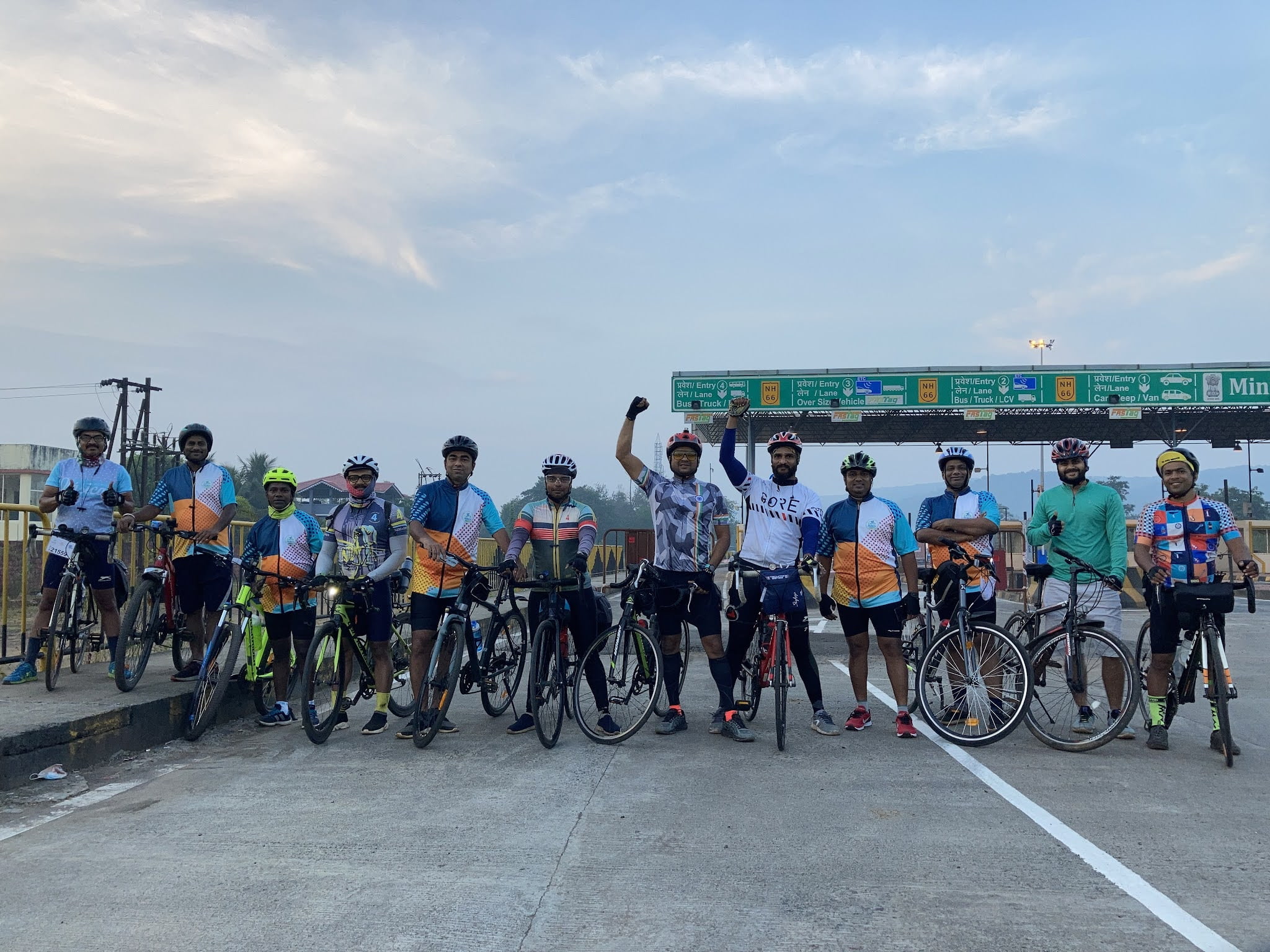 Day 5 – Kankavli – Kudal – Banda – Calangute (Goa)

We all were set for the ride at 5.55 am near the hotel and Kailash and Yogesh joined us soon. In the entire journey, this was the first time we were having a morning team to start the ride and in no time around 14 – 15 riders from the group joined us. We started our ride-sharing a lot of information with each other. They rode for 15 Km till the toll. We took good pictures and gave us a sendoff. Again we are left on our own for the rest of our journey. We rode for a few minutes and Sougat's 2nd spoke of the wheel got broken. We again used the bandage to stick the spoke on the other spokes. Soon after DK's Pedal Nut, which was replaced on the first day, also got broke. It was still 9.00 am and shops were still not open. Vinod tied his shoes with the pedal with his own shoelace and almost for 5 – 6 Km, DK rode with 1 pedal. Meanwhile, Jagdish managed to speak with one shop owner and he immediately came to open the shop and helped us with a new bolt and Nut. Vinod got us some Bananas and Chivda to break our fast. Soon we replaced the bolt and nuts and started our journey. While we continued to ride and covered almost 65 Km and reached Banda, Sougat's rear wheel started giving up and his 3rd Spoke came out.
Now we decided that there was no point for Sougat to continue the ride and further riding will damage the entire carbon wheel. Dillon went back to get a Rickshaw and managed to get one that agreed to take us to Banda, a border between Maharashtra and Goa. We all reached Banda and booked a car for Sougat to take him to Calangute, But after some time I also decided to join Sougat and put my bike in the car. Vinod, Dillon, Jagdish, and DK further completed the ride and joined us at the hotel in Calangute.


Cycling to Goa is a once-in-a-lifetime experience. One must not take it lightly and train adequately to successfully complete the ride. Especially if you are doing it unsupported. More than the climbs, the entire journey is mesmerizing because of the incredible views of this coastal route and landscape. It makes you humble and disciplined.