Within days of PUBG being illegal in Bharat, the mobile recreation trade was on their foot to search for another to the gamers. What surprised us is the speed at which India became 'Aatma Nirbhar' in terms of the mobile game, with its very own version – FAU-G.  The royale battle game is supported by patron Akshay Kumar, who is known for his patriotism.
What is FAU-G?
FAU-G is a game developed along the lines of PUBG. However, there is more to it, as the game is an attempt to make the players aware of the sacrifices made by the Indian soldiers.
Akshay Kumar Launches FAU-G
Soon after India banned another set of 117 Chinese mobile apps including PUBG, Akshay Kumar took to Twitter to announce the launch of FAU-G. He described it as an action game with multiplayer. In his tweet, he renders his support to PM's Aatma Nirbhar movement.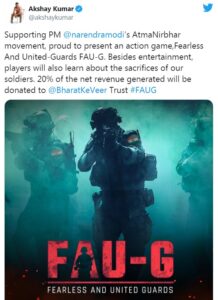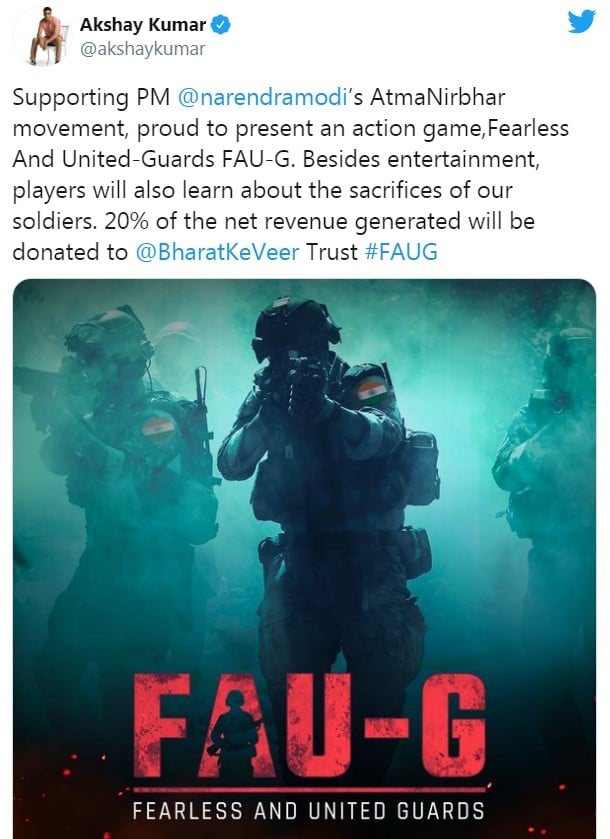 FAU-G is PUBG Duplicate?
There is no doubt that FAU-G resembles PUBG in design and format and even as far as the name goes. The idea is definitely to woo PUBG players and make them feel at home with the Indian variant FAU-G'. Apart from this, it is designed to give a taste of patriotism to the players. With armbands of Indian flags clearing featuring in the poster, there is no doubt that FAU-G is going to invoke sentiments of patriotism and heroism in the players.
20% FAU-G Earnings to be Donated to Bharat Ke Veer Trust
20% earnings from FAU-G will go towards Bharat Ke Veer Trust, which is known for donating to soldiers.
FAU-G Trends on Twitter (Fauji Game Release Date)
Ever since Akshay Kumar's tweet, FAU-G has been trending on Twitter. The reactions range from supporting FAU-G to memes poking fun at Akshay Kumar and more. The only surprising element here is the speed at which FAU-G is launched.  Looks like FAU-G had been shaping up much before the ban.
Free Online Battle Games
Apart from FAU-G, there are several other free online games such as Fortnite, Garena Free Fire, Call of Duty, Knives Out, Battlelands Royale and more.
For those who with a patriotic heart, FAU-G may be worth a try.