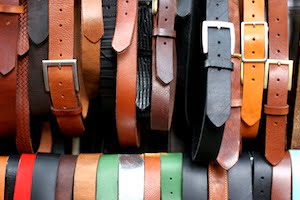 Are you searching the stores for the best belt for yourself? This article aims to help you with the process by enlightening you about the various popular designs and materials for making belts and other tips to let you choose the right belt.
Remember that the right belt for the dress that you will be wearing will be very important in establishing your style statement for the evening. Choose one carefully by following these tips:
The Belt Skin
Choosing the best skin is a very important step and a tricky one. There are numerous belt skins available in the market and you must choose one carefully. While choosing a belt skin it is very important that you do your best to avoid getting cheated with cheaper materials.
1. Calf Skin
Calfskin is one of the most popular materials for making belts owing to its smooth texture and versatility. Don't be dampened by the wide-scale popularity of calfskin belts. They are very comfortable and very much in vogue with the latest in the world of fashion.
2. Ostrich
This is one of the most exotic leathers that are used for making a belt. Owing to the feather pores of the ostrich, they have uneven terrains with craggy features. Be ready to shell out a few extra hundred of money if you choose a belt from ostrich leather. These birds are not easy to catch and the effort needs to be paid for adequately.
3. Lizard
Lizard, crocodile, and alligator skins are the most exotic forms of leather when it comes to making belts and you will be paying through your nose for obtaining one of these. The pattern of small dense marks on the body is a unique pattern of this belt. The look of this belt is of an extremely posh and exotic nature.
Size
It is very important that you get the size measurement right while you are out buying a belt. The last thing you want to do is discard a belt after paying a fortune for it just because it doesn't fit you. Take the size of the pant that you wear and fits perfectly and increase that size by 1 inch. This is the thumb rule for determining the size of the belt that you will need.
Don't Over Indulge
Don't go overboard with your spending behind a belt. Remember that a belt is a mere accessory and it can no way replace the necessity of a good suit or an amazing pair of shoes. The last thing you want to do is sport an expensive belt with a cheap and badly tailored suit. Splurge in your clothing and choose a mid-range upscale belt unless you are sitting on a pile of money.
Remember to match your belt properly with the outfit before setting your foot outside. Ill-matched belts are considered to be visual pollutants!