As usual, when you tell someone that you are doing BRM, the first question by default is 'What is BRM'?
So for all those who don't know about BRM – Brevets de Randonneurs Mondiaux are rides called Brevets, that are of fixed distances and should be completed within specified time limits. More information can be found at Audax India
So I booked my Brevet 200 again and was excited about this BRM, my plan was to do the BRM at average speed without getting any injuries (as I have lower back pain and spondylosis). Since my last BRM (BRM 300, which I DNF) I had the same back pain and post that started working on the back to make it stronger.
I booked my BRM 200 well in advance and started practicing for the event. I normally do about 50 to 100kms per week so I know I can sit on the saddle for 4 to 5 hours without any issues. The big question was, how to keep pedaling post that.
I did BRM 100kms in March 2020 and finished it with 03h 48m (my PB). Since this time I was doing 200kms, my objective was to finish the first 100kms (halfway) in 4 1/2 hours max so I have a good amount of time while returning back.
Fri 2nd Oct 2020 (Warmup ride)
I did an event Pedal Strong 3.0 – Virtual Cycling Challenge for 50kms on 2nd Oct, a warm-up ride to Uttan (one of my favorite routes).
Sat 3rd Oct 2020 (One day prior to the Event)
This is the day normally I keep myself relaxed, so I take proper rest and keep hydrating myself throughout the day. I had my gears sorted and charged my equipment. In the evening I had food by 8:00 pm mainly carbs and slept by 10:00 pm post setting a 3:45 am alarm, however, the enthusiasm was so high that I got up before my alarm could go off, i.e. 3:40 am.
Brevet 200 – The D-Day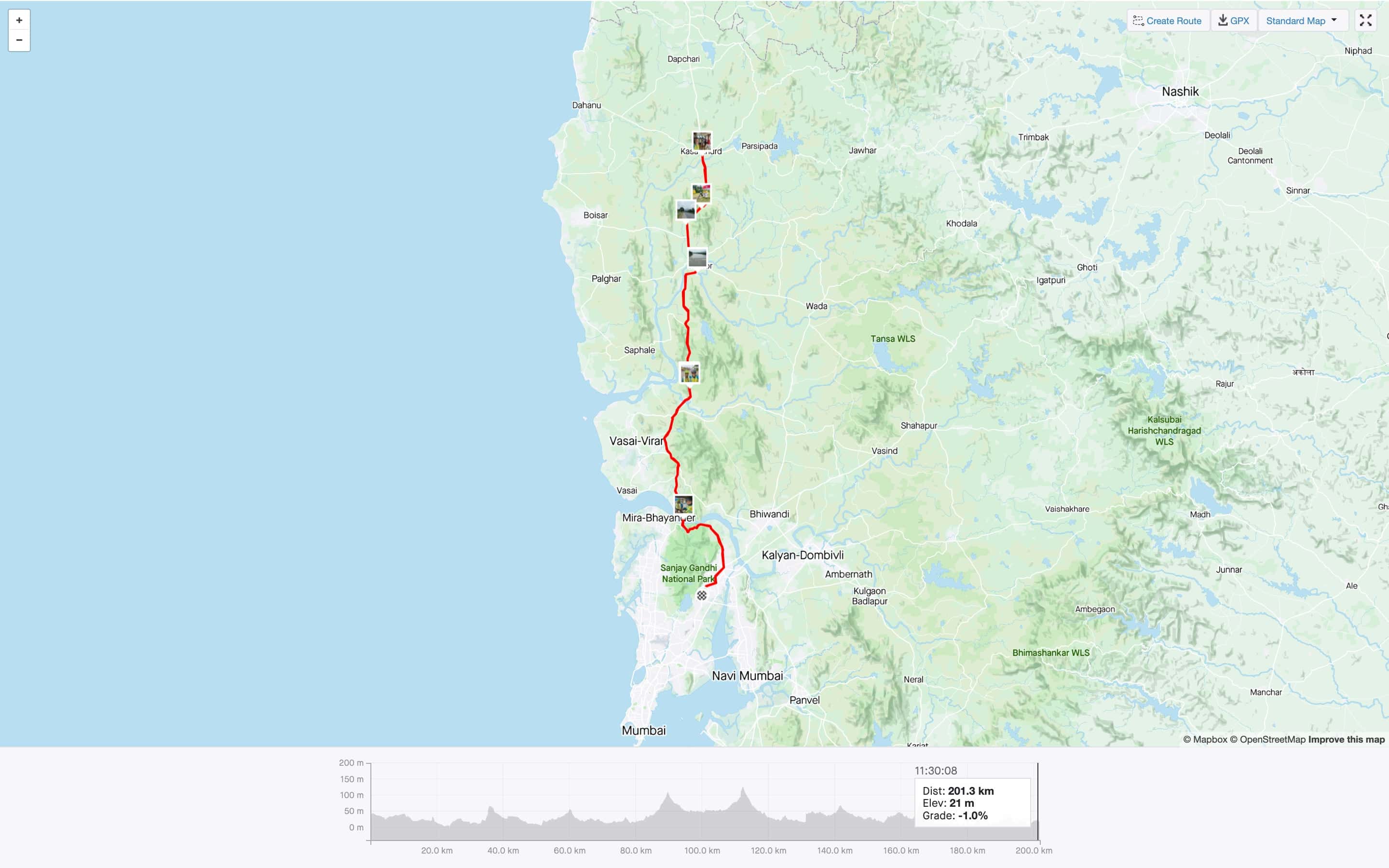 I could hear thundering, there was a forecast of showers and it was true this time. However, there was no rain until I started from my house.
I had little carbs in the morning and started setting up my equipment to load it in my car. I took my car to the starting point which is about 23 kms from my house. Sukumar, one of the riders, and my friend joined me in my car. I usually carry one pair of t-shirts and track pants, so I can change post-ride, however this time I also took an extra mask ;).
We put our cycles in the car and headed to the event start point. The moment we were on our way it started raining cats and dogs, we witnessed water logging on the way, and my thought started tickling me for BRM (one question was, DNS again?). We reached late since it was raining heavily.
It was still raining heavily and post we reached it, I and Sukumar looked at each other and questioned ourselves
So Now What!?
We told each other, "let's do it" and moved out of the car, assembled our cycles, and headed to the start point.
The event started at 6:02 am post and all the cycles had a mandatory equipment check (as per the AIR rules). We started our journey in the rain which lasted for about 2 hours.
The roads were bad from the Start until Ghodbunder road. I knew that the road from fountain hotel to Virar was good as I had done a few 100kms before the event along with my club (Malad Cycling Club).
I reached NH48 and crossed Vasai Creek (about 23kms) by 7:00 am, I halted for chai, and Sukumar who followed me also joined me for Chai, we had chai and planned to proceed, that's when I noticed a puncture in the rear wheel (we already wasted time in drinking tea and now more time went fixing the puncture, I could manage to do it quickly as I had Sukumar's help). I quickly replaced the tube and started checking for any object that might have stuck in tire. I found a small (about 2mm) glass piece in the tire.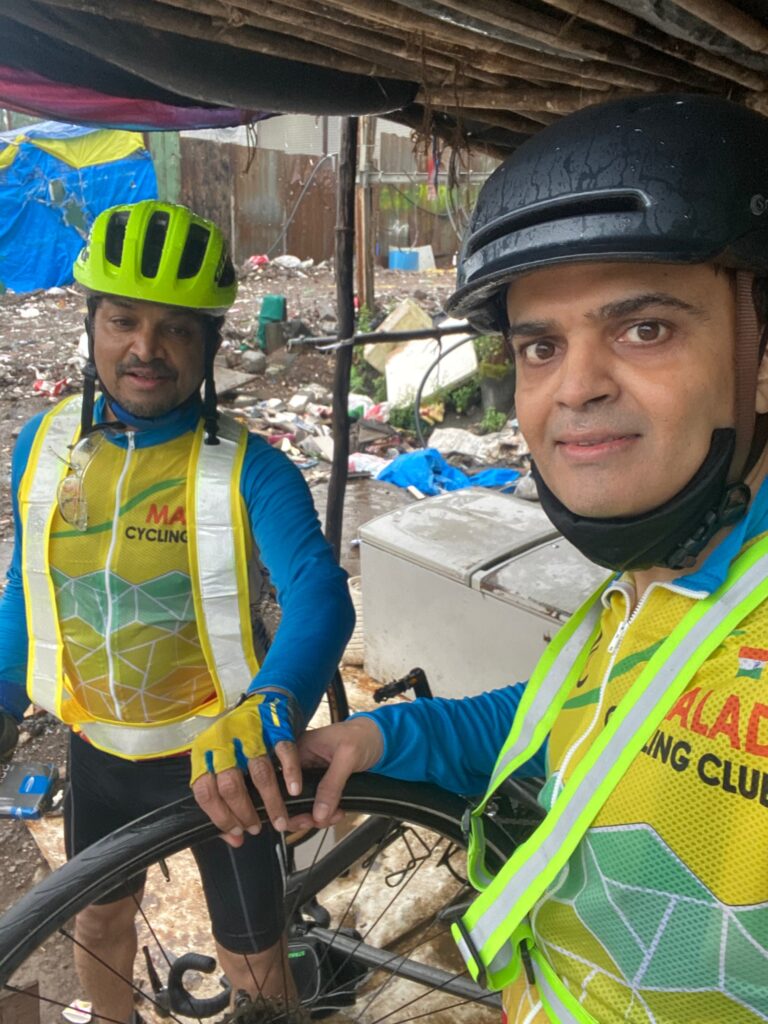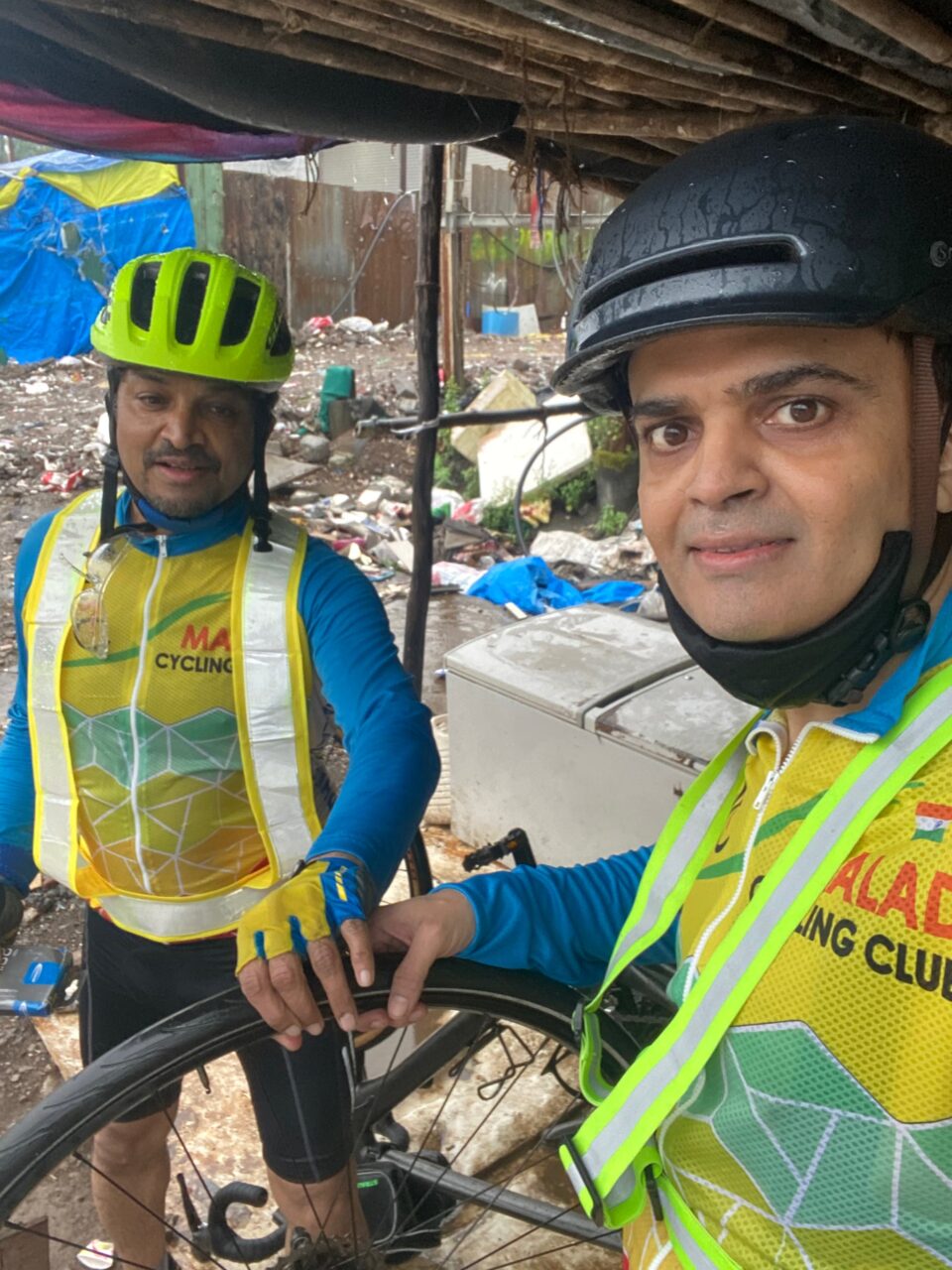 We started at about 7:45 am, we were pretty much together post-Chai break and were enjoying the ride as we sang old songs on the way. At some point I lost track of Sukumar and could not see him anywhere behind, I waited for him for a few mins at a couple of stops but still could not see him. We spoke over the phone and planned to meet at the checkpoint (At Atithi Hotel, Charoti which was at 101 km).
I reached Atithi Hotel at 11:01 am (05:00 hours) while Sukumar reached at 11:28 am, we had some snacks and a little chat with Anil Uchil (organizer of this Brevet). I also met and spoke to a few riders at the hotel.
We started at 12:00 pm and headed back to the start point, around 1:15 pm I was at 130kms and stopped at MacD for a coffee and again started at 1:40 pm.
Now I started getting back pain and a little neck pain, but I rode well and reached Virar toll which was at 150 kms by 2:40 pm. I met Sukumar at the toll. Post Virar Toll, I took pace, however, I halted every 10 to 12 kms for back and neck stretches.
We all were lucky to have such pleasant weather, it was a little humid but no sun/heat which, gave us a boost.
I reached close to Vasai Creek at 4:00 pm and was at 175.8 km. I knew post-Ghodbunder road, the road would be a tough ride due to potholes and local traffic. I reached the end point at 5:30 pm and submitted my Brevet card at a designated place.
Summary
I rode 201.82 km in 11 hrs 30 min @ 24.6km/h with a moving time of 08 hrs 12 min and completed the Brevet 200 in a decent time. The first 100 kms is always easy thereafter it is never an easy ride. Luckily the weather was on the rider's side, however, the only hindrance was my lower back and neck pain.
Special thanks to Malad Cycling Club riders, who supported me throughout the ride.