Uttarakhand, a state in northern India, is often referred to as the "Land of Gods" or "Dev Bhoomi" in Hindi. This nickname is due to the state's rich spiritual and religious heritage, as it is home to several important pilgrimage sites and revered temples.
Uttarakhand is nestled in the Himalayan region and is considered a sacred land in Hindu mythology. The state is known for its breathtaking natural beauty, with snow-capped peaks, lush valleys, gushing rivers, and serene lakes. Many of its towns and cities are situated at high altitudes, providing a peaceful and spiritual ambiance.
We planned our trip to a few places in and around Uttarakhand, though when it comes to Uttarakhand one place which everyone talks about is Kedarnath and when Kedarnath comes to mind the next thing is Char Dham.
The Char Dham of Uttarakhand refers to a sacred pilgrimage circuit comprising four major Hindu pilgrimage sites in the state of Uttarakhand, India. These four sites are considered highly revered and attract millions of devotees and tourists every year. The Char Dham Yatra, or the pilgrimage to these four shrines, holds significant religious importance for Hindus. The Char Dham of Uttarakhand includes Kedarnath, Badrinath, Gangotri, and Yamunotri
Our journey of planning and preparation began back in January, as we eagerly looked forward to our trip scheduled for the end of May. With ample time on our hands, we engaged in extensive discussions and brainstorming sessions to create the perfect itinerary.
Grateful for the dedication and efforts of two individuals in our group, Mehul and Paresh, who collaborated closely with a trusted travel agency to craft an incredible plan for our adventure. Allow me to take you through the intricacies of our meticulously designed itinerary, ensuring an unforgettable experience.
The itinerary was set for a memorable week-long adventure spanning seven nights and eight days, commencing on the 27th of May. Some of our enthusiastic members couldn't contain their excitement and began planning their shopping lists, essential items, and outfits for the trip. We even designed custom T-shirts and Bhagwa Kurtas, which we proudly wore during our visits to Kedarnath and Badrinath.
Day-1 Haridwar
We embarked on our journey by catching a flight from Mumbai to Dehradun, arriving in the afternoon. After reaching Dehradun, we checked into a hotel in Haridwar. Taking a moment to unwind and refresh ourselves, we eagerly made our way to the iconic Har Ki Pauri around 5:00 pm.
It was here that we had the privilege of partaking in a sacred bath in the holy Ganges, followed by the enchanting Ganga Aarti as the sun began to set. The Ganga Aarti, a mesmerizing daily ritual, takes place at the revered Ganga Aarti sthal in Haridwar, a specific location along the banks of the sacred river Ganges. The spiritual ambiance and the harmonious chants created an ethereal experience that left an indelible mark on our souls.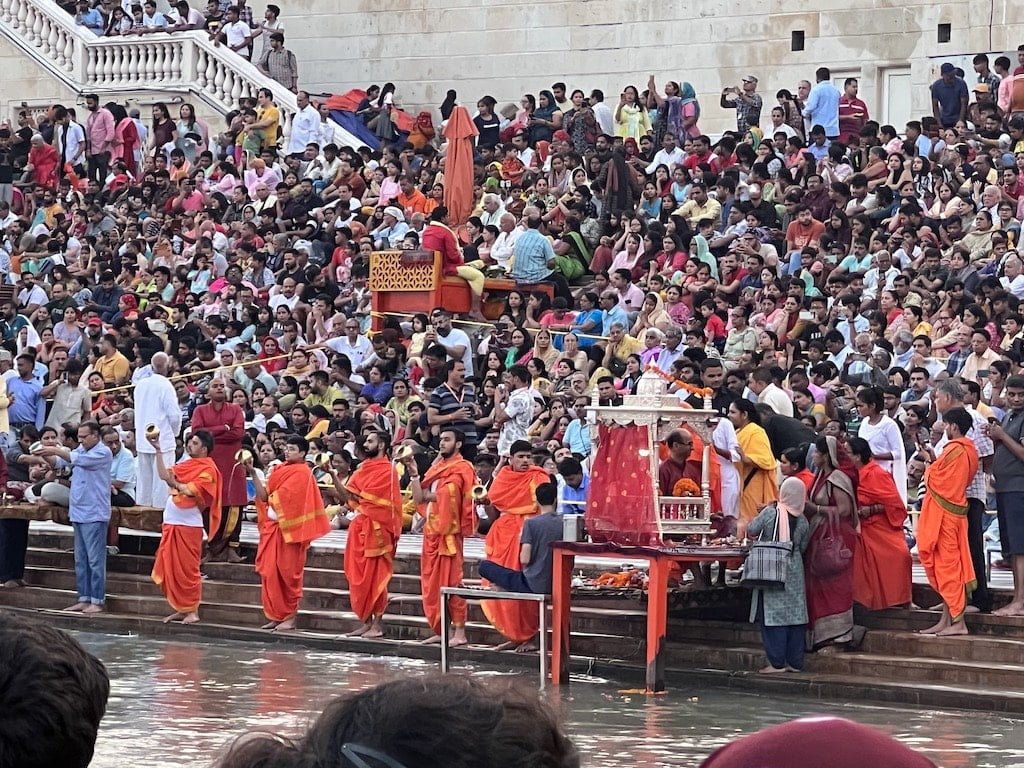 Har Ki Pauri is the most famous and significant Ganga Aarti sthal in Haridwar. It is a sacred ghat located on the banks of the Ganges, and it holds immense religious importance for Hindus. Every evening, as the sun begins to set, the Ganga Aarti ceremony is conducted at Har Ki Pauri, attracting a large number of devotees and tourists.
After an unforgettable experience at Har Ki Pauri, we made our way back to the hotel, and our hearts and spirits were uplifted. However, our culinary adventure was far from over. We couldn't resist the temptation to indulge in the mouthwatering delights of Mohan Ji Puri Wale, a renowned and highly recommended restaurant.
The aroma of the delectable dishes wafted through the air as we eagerly sampled various types of mouthwatering delicacies. The restaurant's popularity was evident by the bustling crowd, but the wait was worth it. If you ever find yourself in Haridwar, a visit to Mohan Ji Puri Wale is an absolute must. Don't miss out on this culinary gem that will leave your taste buds craving for more.
Day-2 Journey to Guptkashi
The following day, we embarked on an early morning journey from Haridwar to Guptkashi, which involved a drive of approximately 200 kilometers. Given the hilly terrain and potential traffic conditions, we estimated that it would take us around 6 to 8 hours to reach our destination.
Guptkashi is a small town located in the Rudraprayag district of Uttarakhand, India. Situated on the route to Kedarnath, Guptkashi holds religious significance and serves as a base for pilgrims embarking on the Char Dham Yatra.
The name "Guptkashi" translates to "Hidden Kashi" in Hindi, as it is believed to be a hidden replica of the ancient holy city of Kashi (Varanasi). According to Hindu mythology, Lord Shiva eluded the Pandavas during their search for him after the Mahabharata war and concealed himself in Guptkashi before ultimately appearing in the form of a bull in Kedarnath.
After arriving at Guptkashi in the late evening, we proceeded to our hotel and checked in. Following a swift dinner, we returned to our room to rest, preparing ourselves for an early start the next day. Our plan was to commence our journey to Kedarnath at 2:30 am in the morning.
Day-3 Journey to Kedarnath
Our expedition commenced at 2:30 am as we made our way to Sonprayag, where our yatra passes needed to be verified. Subsequently, we joined the queue for a taxi to Gaurikund.
Due to the unfortunate incident that occurred at the Kedarnath Mandir in June 2013, local authorities imposed restrictions on vehicular movement beyond Sonprayag. For the Sonprayag to Gaurikund route, the taxi fare is approximately INR 50 per person, and shared taxis are readily available.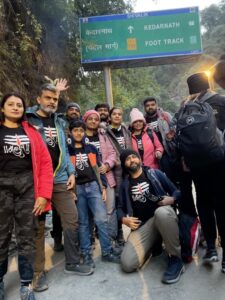 At the break of dawn, precisely at 5:00 am, we reached Gaurikund and commenced our trek towards the sacred destination of Kedarnath. Our group was composed of thirteen individuals, including ten adults and a spirited 9-year-old child, all eager to embark on this divine adventure. However, three members among us chose a different path, opting for a helicopter ride that would transport them directly to Kedarnath, with an estimated arrival time of 2:00 pm. Though our paths temporarily diverged, we knew we would reunite at our destination and share in the spiritual experience that awaited us.
As we embarked on our trek, we soon found ourselves shedding our warm clothing within an hour, as the temperature started to rise.
As we continued our journey together, our group gradually divided into smaller clusters due to varying walking speeds and the need for breaks. After covering a distance of 8 kilometers, a few members of our group opted to ride ponies or use pittus (a mode of transportation).
By the time I reached the 10-kilometer mark, hunger had set in, prompting me to have a satisfying meal of Dal Rice, which provided me with a much-needed energy boost. Walking alone at this point, I picked up my pace with the aim of catching up to a few friends who were approximately 1.5 kilometers ahead. Through effort and determination, I managed to reach them.
Around 1:30 pm, while we were together, a sudden hailstorm surprised us. Seeking refuge from the weather, my friend and I found shelter in a small establishment, where we treated ourselves to a steaming cup of strong coffee to warm up and rejuvenate.
After a wait of nearly 20 minutes, we began our ascent. I had been walking briskly, trying to catch up with my friend, and even took a few shortcuts along the way. As a result, I started feeling the effects of the high altitude and the lack of oxygen. However, my friend had camphor, which I inhaled to alleviate my discomfort, and it helped me reach the summit without much difficulty.
While waiting for my friends, I found shelter from the drizzle in a cozy little restaurant, where I sat and passed the time.
There was still more to go after reaching the summit; Kedarnath was another 2 kilometers ahead, but this time the road was mostly flat rather than ascending.
Upon our arrival at around 4:00 pm, I caught a glimpse of the majestic Kedarnath Mandir while ascending the steps. I then proceeded towards the hotel, where I took some time to rest and rejuvenate.
Day-4 Kedarnath Mandir Darshan and Descend to Gaurikund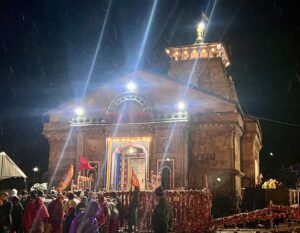 At 3:00 am, the entire group gathered and prepared for the early morning darshan and pooja scheduled for 3:30 am. Despite the chilling temperature of -3 degrees, everyone was punctual and arrived at the mandir on time.
In the serene ambiance of the mandir, we collectively offered our prayers and performed the pooja rituals dedicated to Lord Shiva. Following that, we proceeded to perform pradakshina, circumambulating the mandir as a mark of reverence. After the mandir visit, we made our way to Bhim Shila.
Bhim Shila, also known as "God's rock," holds the significance of being the savior that prevented the revered Kedarnath Mandir from being swept away by the raging floodwaters. On June 16, 2013, Kedarnath faced an unprecedented flood disaster, causing immense devastation to lives and property. In the face of this calamity, people sought refuge inside the mandir, enduring several hours of uncertainty until the Indian Army arrived to airlift them to safety.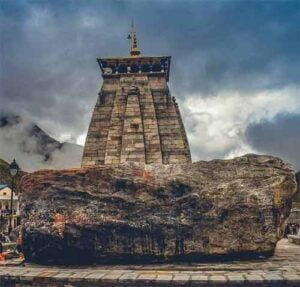 As the turbulent floodwaters surged with alarming speed from Chorabali Tal towards the Mandakini River, a colossal rock became lodged behind the mandir, acting as a natural barrier that intercepted the debris and prevented further destruction. This fortuitous occurrence played a pivotal role in safeguarding the mandir from the devastating forces of nature.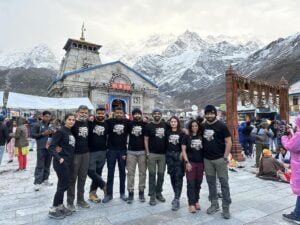 We captured photographs and recorded videos of the magnificent mandir and its surroundings. The captivating sight of the mandir against the backdrop of snow-capped peaks left us spellbound, making it difficult to depart from the place.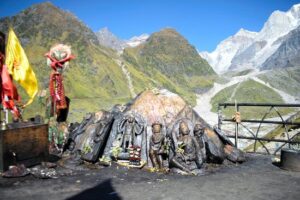 Bhairavnath Mandir which was about 500 meters ahead and is a quite easy trek from Kedarnath Mandir. I missed visiting the mandir, only a few fellow members from our group visited the mandir.
After enjoying a satisfying breakfast at a nearby restaurant, we prepared our belongings and commenced our return journey to Gaurikund at around 7:30 am.
The descent was notably easier as we embarked on our journey together. The weather had become pleasantly mild, and by 8:30 am, we found ourselves removing our warm clothing and setting a brisk pace. My friend and I even broke into a run for short stretches, enabling us to reach Gaurikund by 12:45 pm.
At Gaurikund, we patiently waited for the rest of the group, who joined us by 2:30 pm. Afterward, we formed a queue to secure a taxi, which took approximately an hour. Once we were in the taxi, we made our way to the hotel in Guptkashi, where we enjoyed some refreshments before setting off for our next destination, Chopta.
Upon reaching our destination, Chopta, it was already late in the night, around 10:30 pm. We promptly checked into our accommodations and freshened up. Later, we gathered at a restaurant within the resort for a satisfying dinner. Exhausted from the day's journey, I quickly ate my dinner and retired to my room, falling onto the bed in exhaustion.
Feeling utterly worn out, I had made up my mind not to visit Tungnath Mandir the following day. The original plan was to depart at 6:00 am, which meant waking up at 5:00 am. However, when I returned to my room, the group had a discussion and decided to postpone the departure to 8:00 am.
Day-5 Pandukeshwar
As two members of our group embarked on their journey to Tungnath Mandir at 8:45 am, the rest of us got ready for the day ahead. We enjoyed a delightful breakfast before checking out of the resort. Meeting up with the two members at the starting point of Tungnath Mandir, we prepared to move on to our next destination, Pandukeshwar.
After our stay in Chopta, we had a journey of approximately 200 kilometers ahead of us to reach Pandukeshwar. By around 7:00 pm, we checked into our hotel in Pandukeshwar, and after having a satisfying dinner, we retired for the night by 10:30 pm.
The following morning, we had an exciting plan in store as we prepared to visit the renowned Badrinath Mandir.
Day-6 Badrinath Mandir and Mana Village
Today was a day of leisure, and after getting ready, we gathered at a restaurant for breakfast at 7:15 am. Once we finished our meal, we checked out from the hotel and embarked on our journey to Badrinath Mandir, which was approximately 50 kilometers away.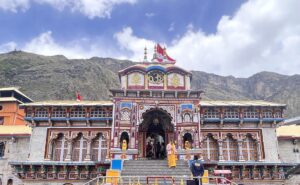 Upon reaching our destination, we arrived at Badrinath Mandir around 11:00 am, eager to offer our prayers. However, due to the heavy crowd, I found myself unintentionally pushed out of the mandir premises. Undeterred, I took the opportunity to explore the surrounding mandirs and sites. We spent a good 30 minutes within the mandir premises before exiting.
Later, my friend Mehul and I went to the front entrance of the mandir, capturing a few pictures and videos to preserve the memory of our visit. Gathering at the parking space, our group then proceeded towards Mana Village.
Mana Village, located approximately 5 kilometers from Badrinath Mandir, is a picturesque and significant destination in Uttarakhand. It holds great cultural and mythological significance as it is believed to be the last village on the Indian side before the border with Tibet. The village is known for its stunning natural beauty and warm hospitality.
Mana Village is home to various attractions and points of interest. One of the notable sites is the Vyas Gufa (cave), believed to be the place where the sage Veda Vyasa composed the epic Mahabharata. Visitors can explore the cave and experience a sense of reverence for the ancient scriptures.
There is a small cave known as Ganesh Gufa (cave) where it is said that Lord Ganesha himself resided while transcribing the Mahabharata. Visitors can visit this sacred cave and pay their respects to Lord Ganesha. It is considered an auspicious site and devotees often offer prayers and seek blessings here.
Another prominent attraction is the Bhim Pul, a natural rock bridge over the Saraswati River, associated with the epic tale of the Pandava prince Bhima. The bridge is a popular spot for tourists to take photographs and enjoy the scenic views.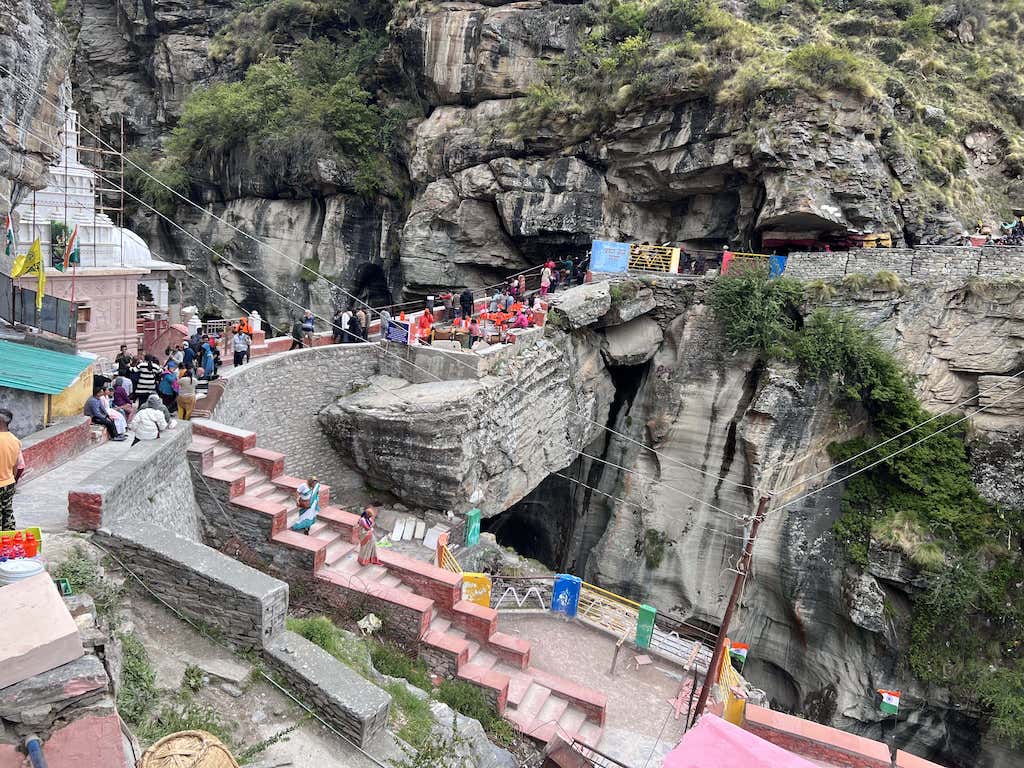 Next attraction point is Swargarohini, Swargarohini is believed to be the path taken by the Pandavas, the heroes of the epic Mahabharata, on their journey to heaven (Swarga). The mountain is considered a sacred site and holds a prominent place in Hindu religious beliefs.
Overall, Mana Village serves as a delightful blend of natural beauty, mythological significance, and cultural heritage, making it a must-visit destination for travellers exploring the region.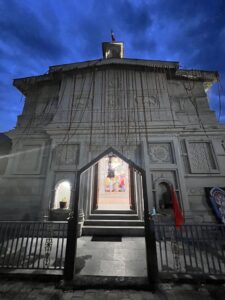 After dedicating approximately 2 1⁄2 hours to exploring the various attractions, we indulged in a refreshing tea break at Hindusthan's First Chai Stall. Energised and content, we then proceeded towards our next destination and place of accommodation, Josimath.
We reached Josimath at around 7:00 pm and few of us directly visited Narsingh Mandir. Narsingh Mandir in Josimath is a revered Hindu mandir dedicated to Lord Narasimha, an incarnation of Lord Vishnu. Located in the picturesque town of Josimath in Uttarakhand, the mandir holds significant religious and cultural importance for devotees and visitors.
We arrived at the hotel where our friend had already completed the check-in process. After enjoying a satisfying dinner, we took the opportunity to rest and rejuvenate for the evening. The following day, our plan was to return to Rishikesh, which was approximately 290 kilometers away.
Day-7 Dhari Devi Mandir, Devprayag and Rishikesh
After having breakfast at 7:15 am, we embarked on our journey, which involved covering a distance of 290 kilometers and exploring two points of interest along the way. One of our stops was the renowned Dhari Devi Mandir. We reached the mandir around noon, at approximately 12:00 pm.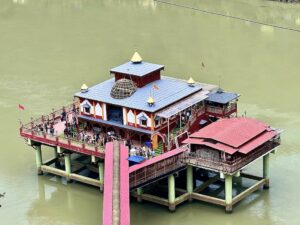 Dhari Devi Mandir is a sacred Hindu mandir located in the Uttarakhand state of India. Situated along the banks of the Alaknanda River near Srinagar, the mandir is dedicated to Devi Kali, a form of the goddess Shakti.
The mandir holds immense religious significance for devotees and is believed to protect the region from natural calamities. The idol of Devi Kali is enshrined in the form of a rock, and it is believed that the goddess grants blessings and fulfils the wishes of her devotees.
After visiting the mandir we headed towards Devprayag, Devprayag is a sacred town located in the Tehri Garhwal district of Uttarakhand, India. Situated at the confluence of the Alaknanda and Bhagirathi rivers, it marks the beginning of the holy river Ganges (Ganga). The name "Devprayag" translates to "Godly Confluence" in Hindi.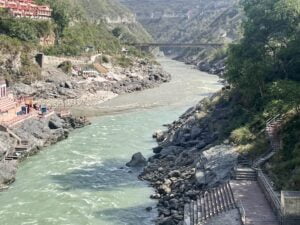 After our visit to Devprayag, we encountered heavy traffic as we continued our journey towards Rishikesh. Despite the delay, we were determined to visit Triveni Ghat, known for its magnificent Ganga Aarti ceremony.
We arrived a little late at Triveni Ghat in Rishikesh, Uttarakhand and got to see some part of Ganga Aarti. It was a mesmerising experience, as we witnessed the beautiful ritual of offering prayers to the river Ganges. After the aarti, we immersed ourselves in the devotional atmosphere, enjoying soulful bhajans (devotional songs) and spending quality time at the ghat.
As we made our way back to the hotel, we couldn't resist the temptation of trying the delectable street-side food. We indulged in the local delicacies, savouring the flavours and experiencing the culinary delights of the vibrant streets of Rishikesh.
After a long day of exploration and spiritual experiences, we finally reached our hotel at around 9:30 pm. Eager to unwind and relax, we quickly freshened up and gathered together in the hotel's restaurant for a well-deserved dinner.
To add a special touch to the evening, we celebrated wedding anniversary of one couple in our group. In a joyous celebration of love and togetherness, we surprised them by presenting a beautiful cake. Amidst laughter and heartfelt wishes, we shared in their happiness and created lasting memories of this special occasion.
Day-8 Hemkund Sahib Gurudwara and Journey back to pavilion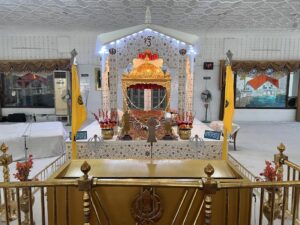 After getting ready and checking out from the hotel, my wife, Meher, expressed her desire to visit Hemkund Sahib Gurudwara in Rishikesh, Uttarakhand, which we had noticed the previous day while returning from Triveni Ghat. I informed our group about our plan and arranged to meet them at a designated spot. My wife and I hopped into a local auto-rickshaw and made our way to the gurudwara. We performed our prayers and also partook in the langar (community meal). Following our visit, we returned to the meeting point where we were supposed to join our group. Together, we proceeded to the airport to catch our flight back to Mumbai.
Our group, in collaboration with our tour operator, Shiva Adventures Uttarakhand India, meticulously planned the entire trip.
My friend skilfully documented every cherished moment of our trip, skilfully capturing the essence and spirit of our journey. The culmination of their efforts is a captivating video that beautifully showcases the highlights of our adventure. You can watch the stunning visual narrative of our trip by watching the videos below.
Kindly share you comments in below comment box on website, we would love to hear you comment and if you have your experience to share.