Andharban simply means Dark Dense Forest, situated in the Pimpri region of Maharashtra. It is located about three and half hours (132 km) via Mumbai -Pune Expressway and is one of the best trail regions in the southern part of India. Andharban Trek is ideally a stop-off during monsoon. The best part of this trail is that it leads through dense forests. Unlike other treks, this is a descending trail all the way, so one has to walk down rather than climb up.
Andharban Trek is part of the Sahyadri range which connects the Tamhini Ghat to the famous Konkan region where you can witness greenery and encounter misty and dreamy forest landscapes. There are plenty of huge cascading waterfalls that many visitors capture for their backdrop or selfies. The foliage is very thick here and one treads on soft grass or dense fallen leaves. While trekking the spectacular view of adjourning Kundalika valley is breathtaking and also encounters a number of unique flora and fauna as well, indigenous to this place. Many trekkers who are up for the adventure quotient also plan for a night trekking, however, a company of a local professional guide is a must.
The Andharban trek is located at an altitude of 2160 feet in the Tamhini Ghats. The trek time is about 5 to 6 hours to cover 13 kilometers of trail. The time also depends on the activities one does and the number of halts during the trek for eating and/or photos/selfies. Andharban trek is a relatively easy trail so the first time can complete this with ease.
Best Time
Andharban Trek is best visited during the monsoon season to experience the full beauty of the lush green valley and wonderful cascading waterfalls. Pre-monsoon and right after monsoon is also an ideal time to take up this trail, i.e. June to September. On the other hand, one can visit the winder to experience morning mist and dreamy landscape.
Ways to Reach
Road: The trek starts from the Pimpri village in Maharashtra and the best way to access is from Khopoli or Lonavala. Just go to Google Maps and type 'Andharban trail start point and you will be pointed to the start point of the trek.
Train: Lonavala station is where one needs to get off, and the best options for trains are the Deccan Express, Pune Intercity, and the Udyan Express. If you are coming from the north, then one of the trains is Hazrat Nizamuddin Express.
This is a different trek as the start and end points are different, so make sure you have a driver who can get the car to the endpoint.
Flight: If one is visiting from another part of India, just fly to Mumbai or Pune and then do a road trip to the starting point.
The entry fee is at two points, one if you enter from a private plot and the cost is Rs. 50 and another while entering the forest and the fee for that is Rs. 60.
PS: Since this is a forest region so smoking and liquor are strictly prohibited.
The Teak.
As usual, my trekking group plans for really awesome places, and as a group, we have covered many places during this season. I had heard a lot about the Andharban trail and it was on my to-do list.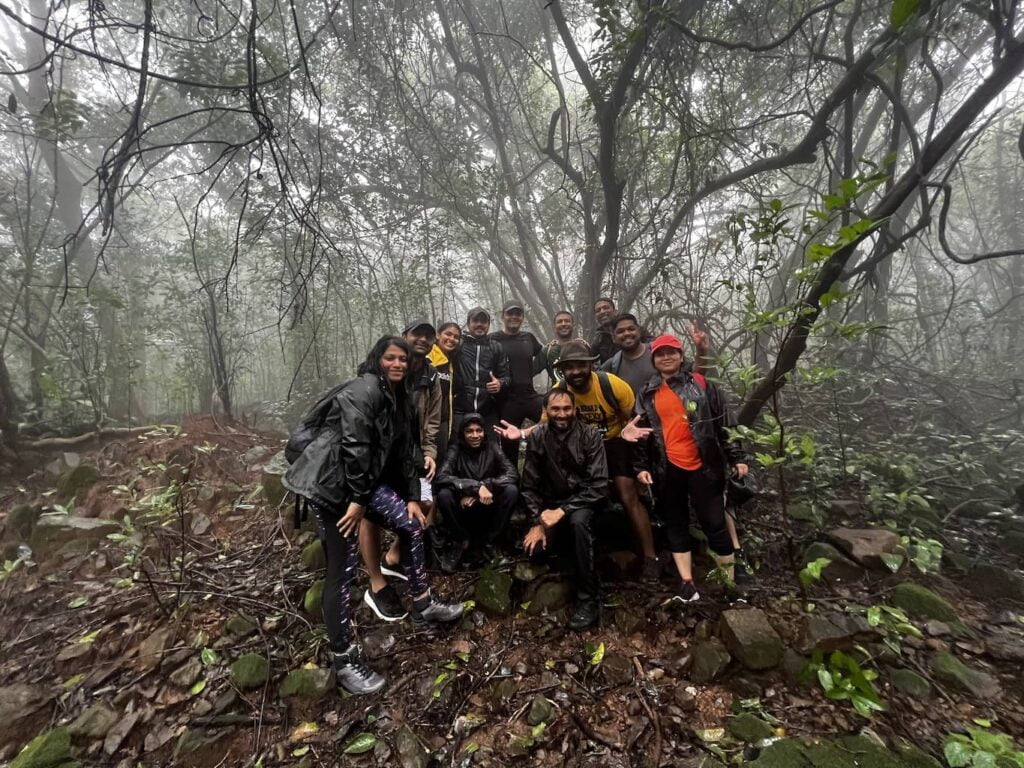 The Andharaban trek was also planned well by the group. We assembled at Oberoi Mall, Malad, and started sharp at 5:00 am and started our journey towards Andharban, we picked up a couple of friends on preplanned routes.
We reached Vali Village at 8:20 am where we had hot vada-pav and chai. We also carried breakfast which we had along with chai and post that we drove towards Andharban Trek Start Point.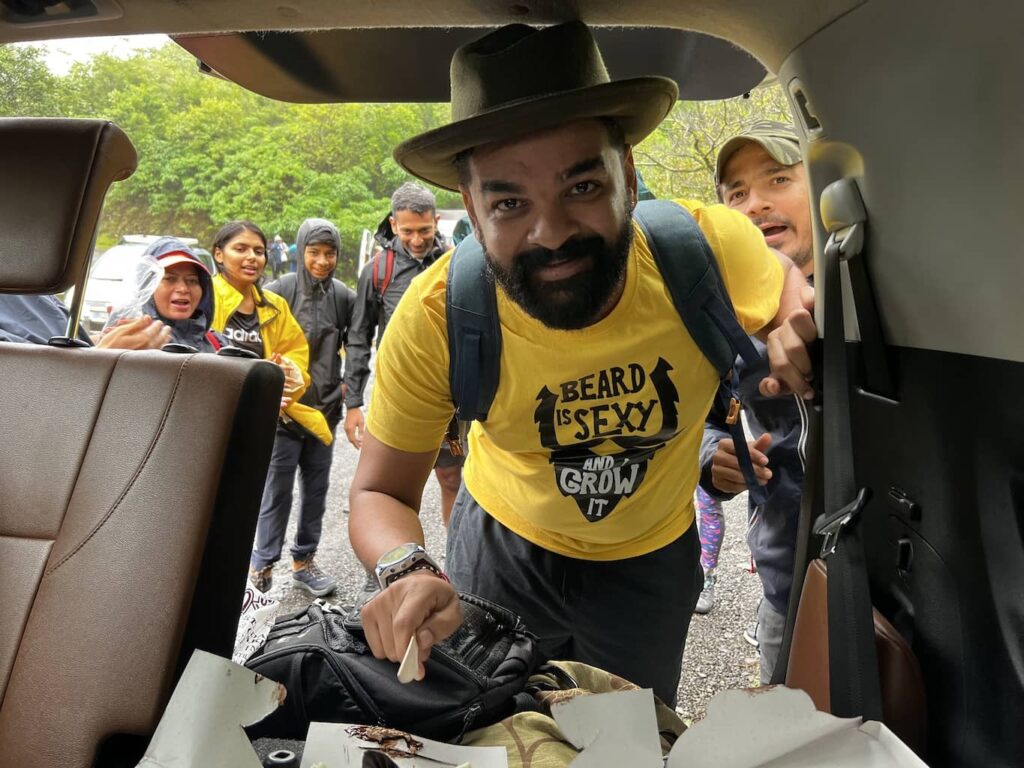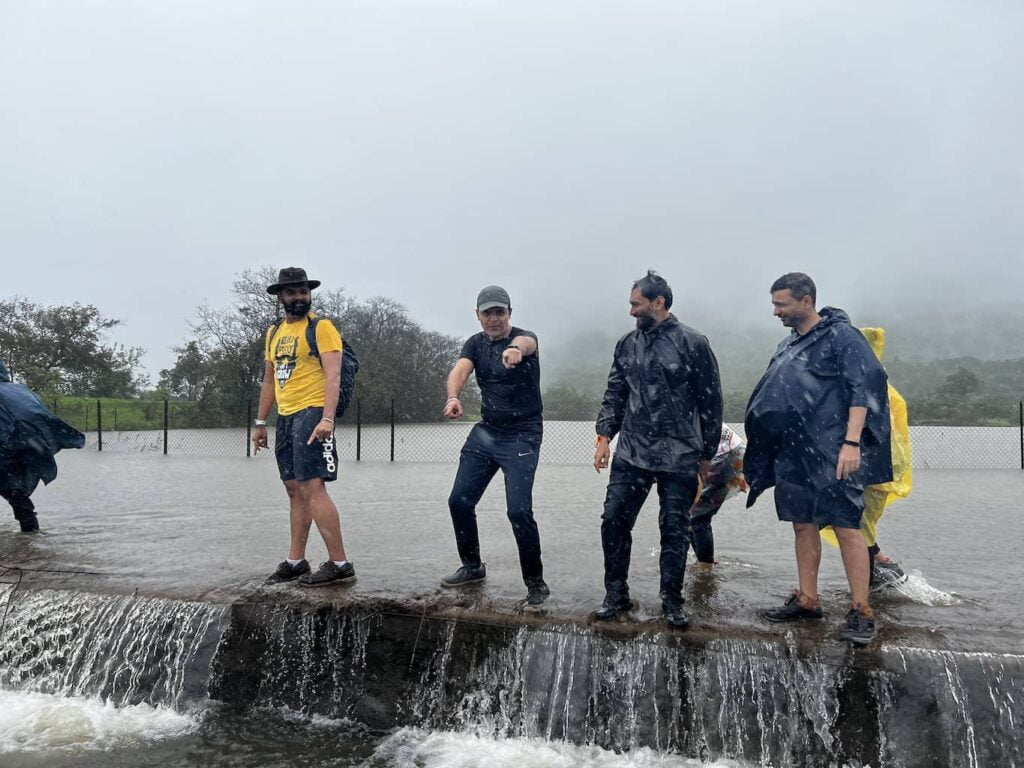 We had a cake cutting for one of our friends and one of the organizers, Lord PC, though his birthday falls on Independence Day we did pre-celebration as we all assembled for this thrilling trail.
We reached the starting point at 9:50 am and started our trek. We had a few people in the group who had done this trail and were good help to cover the trail without getting lost. We started our journey by passing a dam and entering the trail. The start of the trail gave all of us a wow feeling as the weather was just right for experiencing the awesome trails. The mist in the dense forest along with the rain was just perfect and we were lucky to experience it all.
We saw many waterfalls small and big, we did not miss taking showers at every possible waterfall. The dense forest was so mesmerizing that we kept looking at it, we could not stop capturing the moments in our camera.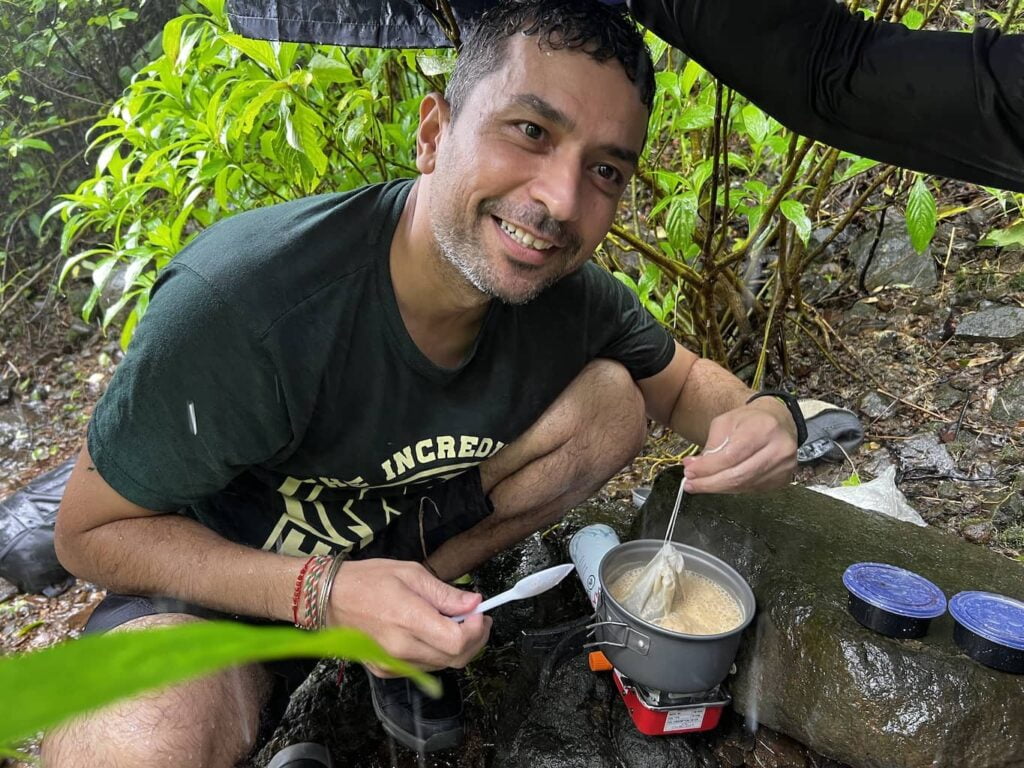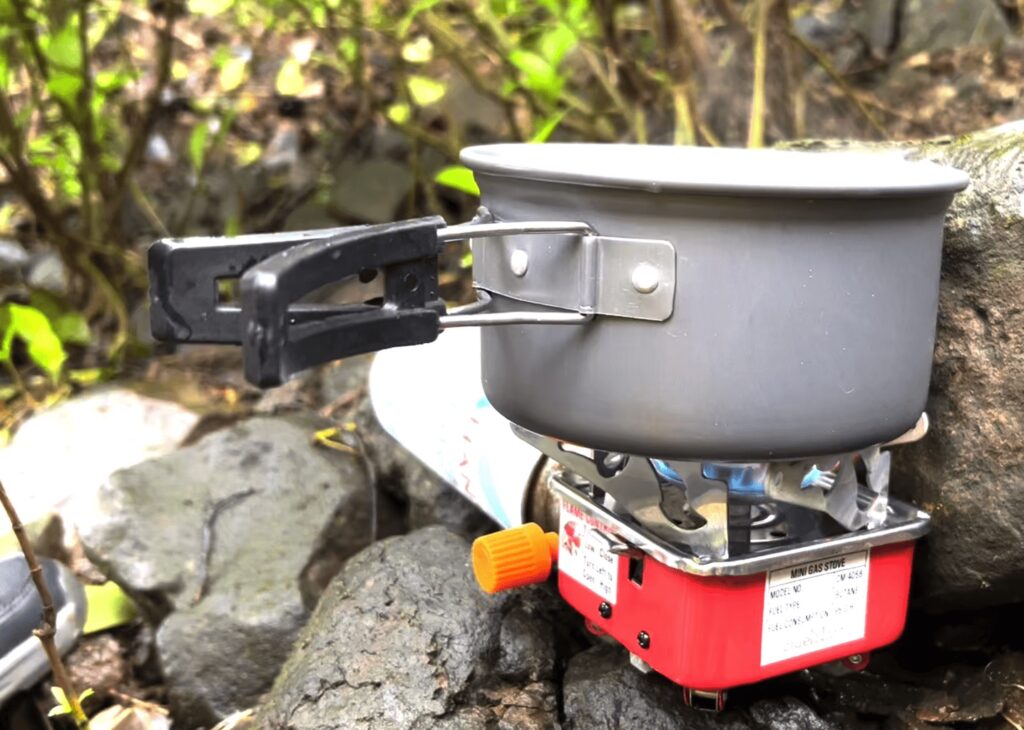 There are three main waterfalls that one will experience during the trial and we all spent a good time and took showers as well. One of the fellow trekkers, Sagar, took portable gas and utensils to make chai and coffee. He had coffee first and while making chai, the rain started pouring and a few other trekkers quickly took a raincoat and made a roof so the chai could be ready. We all had chai/coffee along with snacks and posts that continued towards our trek.
Post that we stopped at a huge flat green field where we had awesome Bhel for lunch. Bhavesh and his sister Manish got all the ingredients in his backpack for an entire group of 13. All trekkers assembled to prepare the Bhel. We did not miss the dessert as Sailesh got Cadbury Dairy Milk and Paresh got mini protein bars. We made sure there was garbage left over and clean the place before continuing with the trek.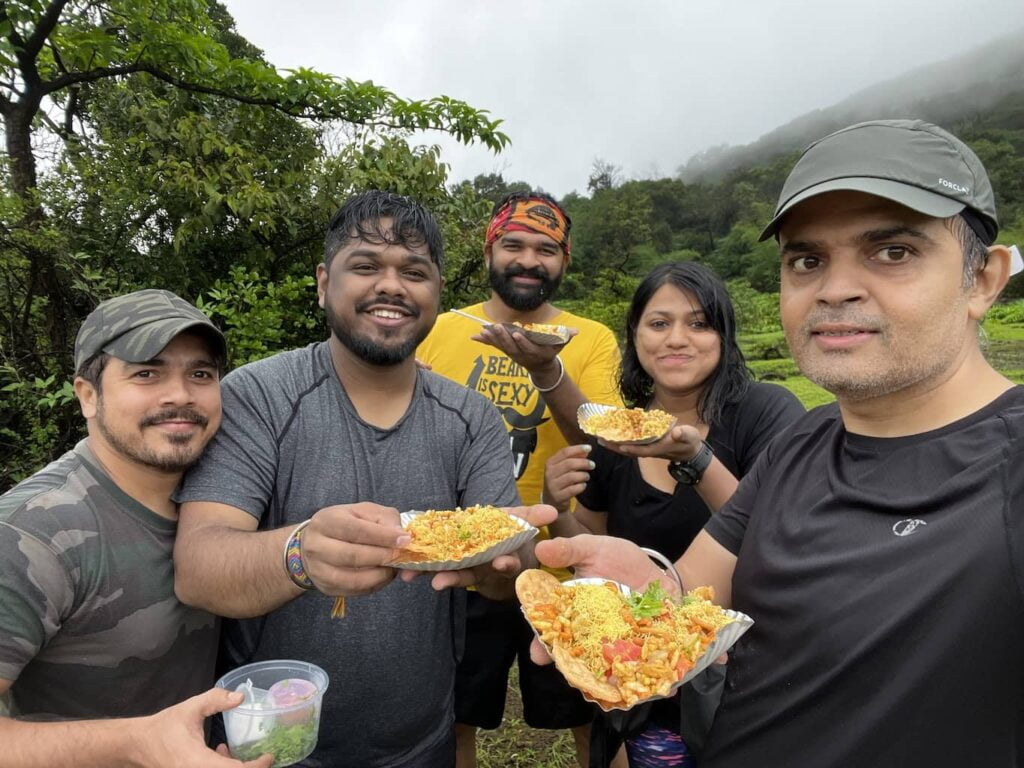 We continued with the trek a little faster as we had only covered 5 of 13 km and the time was already 2:30 pm. We had planned to complete the trek before the dark.
We had a little ascending trail at around 9th km and then descended for almost 2 km. We then directly stopped at a place where we could see good cascading waterfalls and on the other hand Kundalika Lake. We clicked a few pictures and then headed towards Andharban Trek End Point.
I personally recommend everyone to visit Andharban Forest Trail, one that a star or a regular trekker can enjoy.
Avoid carrying heavy weight for the trek.
Sports shoes or trekking shoes of good quality are preferred
Use repellents to keep bugs away
There is no washroom / Toilet facility on the trail, the one is available at the Base Village. The endpoint also does not have a washroom.
The start and end points are different so make sure you have planned transport at the endpoint. The nearest village is about 5 km away from the endpoint.
Always be with a group and do not stray away
Keep a sign to call out in case someone is missing
Keep family & friends informed about your whereabouts
Try to complete the trek before it turns dark.
Carry enough water as there is no stall.
Carry polythenes so you can keep clothes, money, camera, phone, etc.
Food items as the trek is about 5 to 7 hours long
Glucon D / ORS / Tang / Gatorade sachets
There is nice place at Vale Village, HOTEL SAURABH, we halted here for sometime before heading to start point
There are few stalls when you start just near forest ticket counter, post that there is nothing available until you reach about 12kms of trail.
There are few eateries about 5 kms away from end point