The Aadrai Jungle Trail is the most beautiful trail to explore in one of Sahyadri's lovely Jungles. The visit to this trail will bring you profoundly into the core of green and rich woods, while exploring the trail one can discern cascades, valleys, Shiv temple, caves, and shepherd trails.
The Aadrai Jungle contains bottomless valleys and elevated peaks, and this place is home to many different kinds of flora. One can keep walking and walking into rolling meadows. The Huge green mountain contrasting with the blue-grey monsoon clouds mesmerize anyone who walks this path.
The plan to trail into Aadrai Jungle was a last-minute decision as we had planned to go on another trek. Post discussion in the group we picked this trail.
Aadrai Jungle Trail – The Journey
Our journey started at 5:00 am from Dahisar Check Naka where we all trekkers gathered. We took two cars and drove about 123kms from Malad to base station Khireshwar village.
We had a nice Poha and later had Chai at a small village restaurant before the ghats started. We drove through the ghats and the view on the way was just awesome, we witnessed many cascades around the mountains and we also had one waterfall just between the road where we stopped our car for some time.
We arrived at the base station at 9:45 am which was late due to bad roads and traffic. We parked our cars at a shop where we had tea and biscuits. While discussing with the shopkeeper, we asked for a local guide and he got a local guide named Narayan. Narayan, a cool young chap, was too quiet but knew the trail very well. We were glad to take him along as we could cover the trail easily and returned back on time.
Aadrai Jungle Trail – The Start
We started our trail at 10:15 am which was too late but I believe in better late than never. Since the weather was good we had no problem hiking in the afternoon as well.
We started walking through the road for a few minutes and took a right to off-road which led us to the start of Aadrai Jungle Trail. The first thing we saw was Shiv Temple named Nageshwar Temple after crossing a small stream.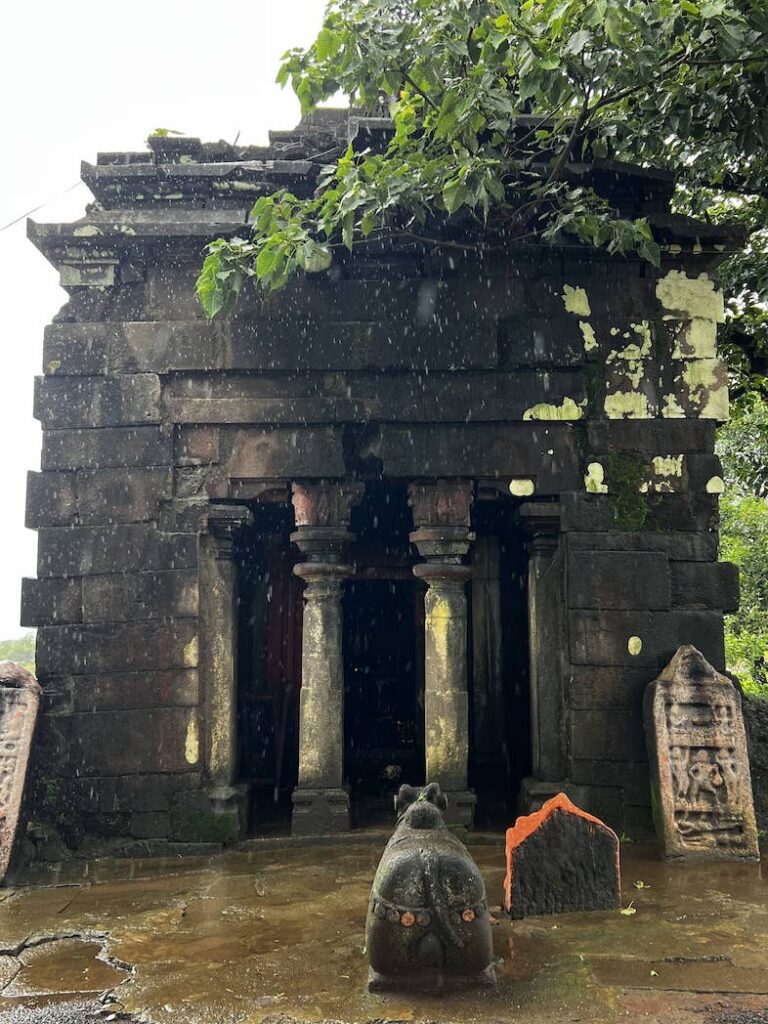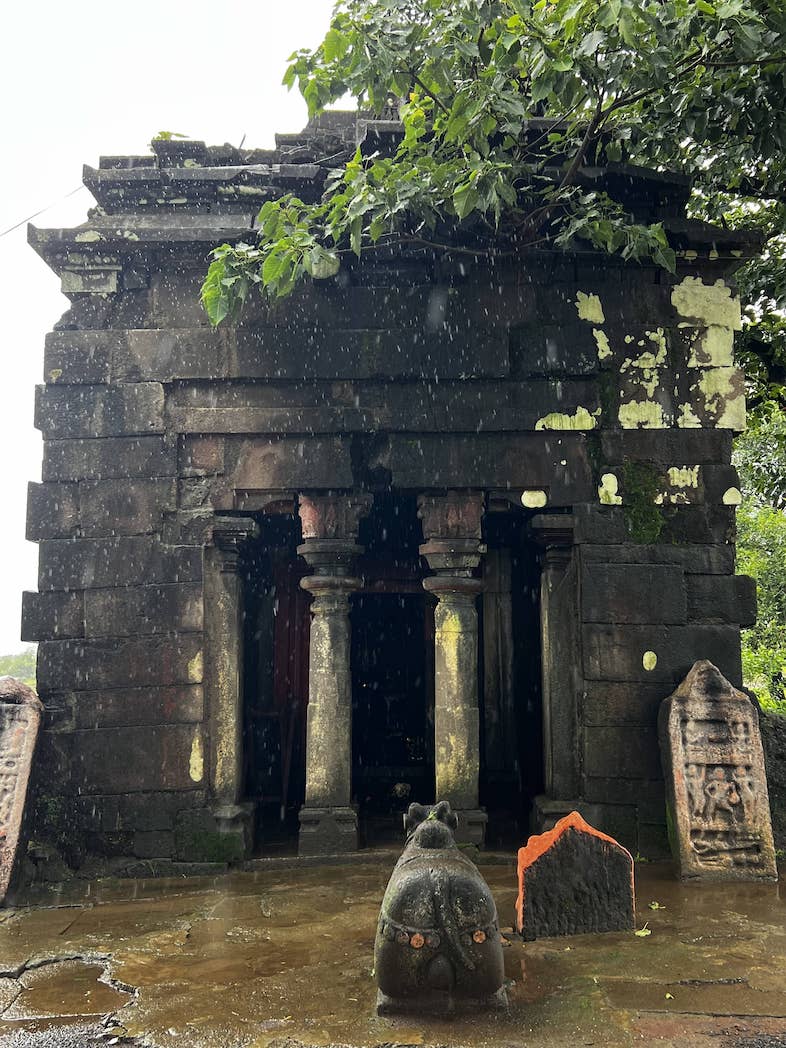 Nageshwar temple was built in the 9th century by Shilahar King Zanj. Diverse artistic work can be seen in this. On the ceiling of the temple are beautiful carvings. The main attraction of the carvings here is the long sculpture of Lord Vishnu in the sleeping posture, popularly known as "Shesh-Shayi Vishnu" in Marathi. It is rare and hence holds a lot of importance. There are a lot of legends told about this sculpture.
After that we started walking through rolling meadows, we reached a place where we could see a huge green field nicely collage with the mountain and the view took our breath away, the air was so pure and minty, in a few minutes rain started showering but we kept walking. We witnessed Kalu waterfalls from one of the peaks and took many pictures. We all were stuck there for a long and we did not feel like leaving that sight.
We headed towards the waterfalls walking through the dense forest and witnessing huge trees, ant holes, bees, fallen trees, and trees eaten by termites. The trail was really good, one could go on walking and walking. We crossed a few streams to reach the main cascade.
Aadrai Jungle Trail – The Cascades
The waterfall was just awesome. We could not stop ourselves and enter the water and get drenched. The water was very cold and it took a few minutes to enter the cold water. Everyone was enjoying the waterfall and no one wanted to leave the place. We had hot Maggie and Tea from the stall nearby.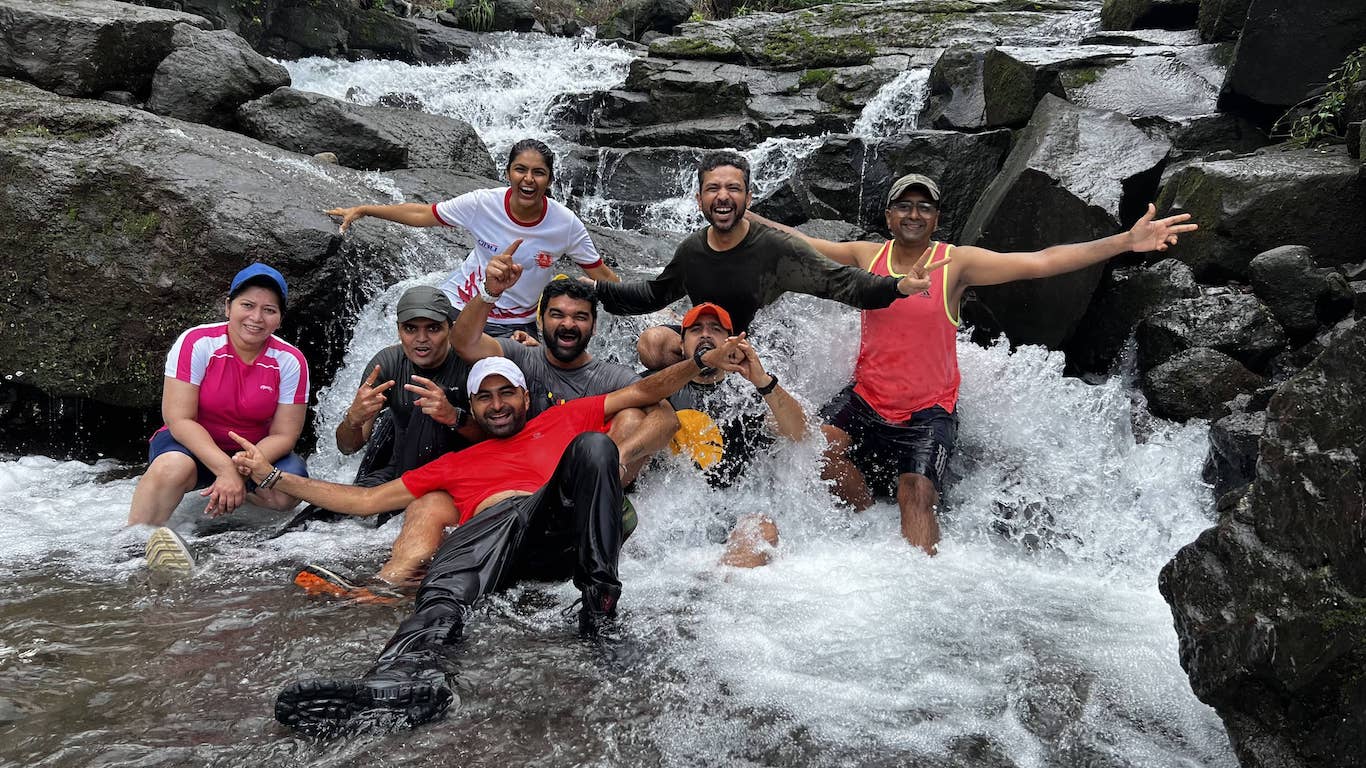 We then headed to the next waterfall which was just a few minutes away. We sat on a big stone near the bank and had snacks. My fellow trackers got all the ingredients to make a sandwich. We all together started making sandwiches, one person was applying butter, the second was cutting cucumbers and tomatoes and the third making them. We also had other snack items trekkers carried in the bag.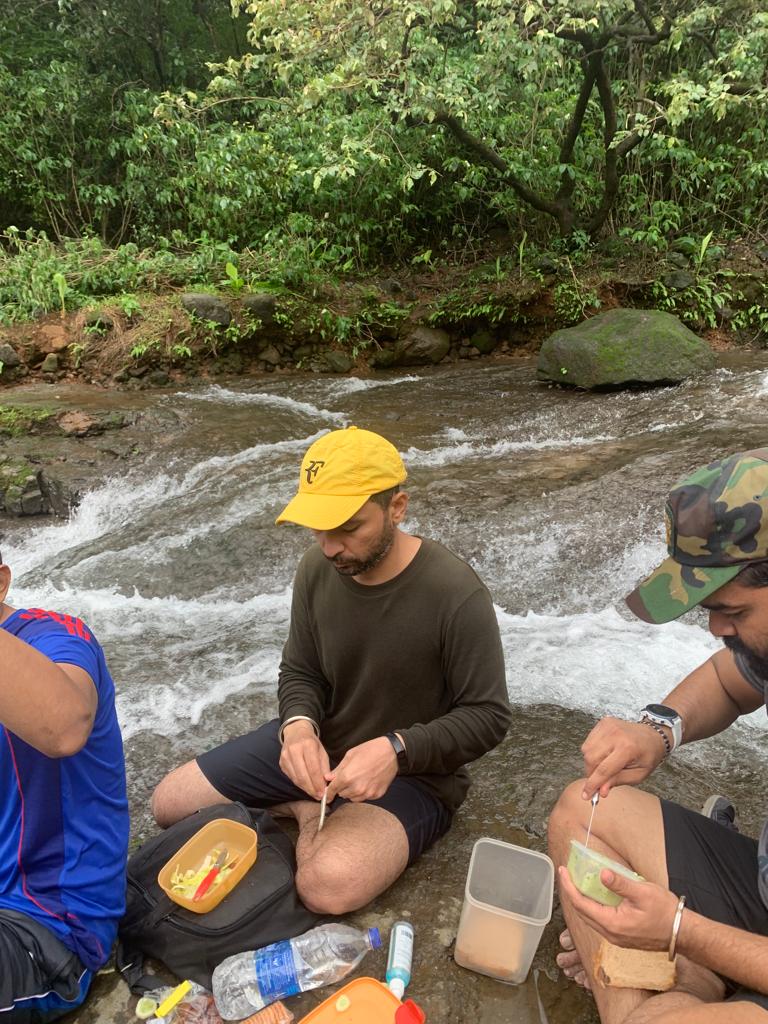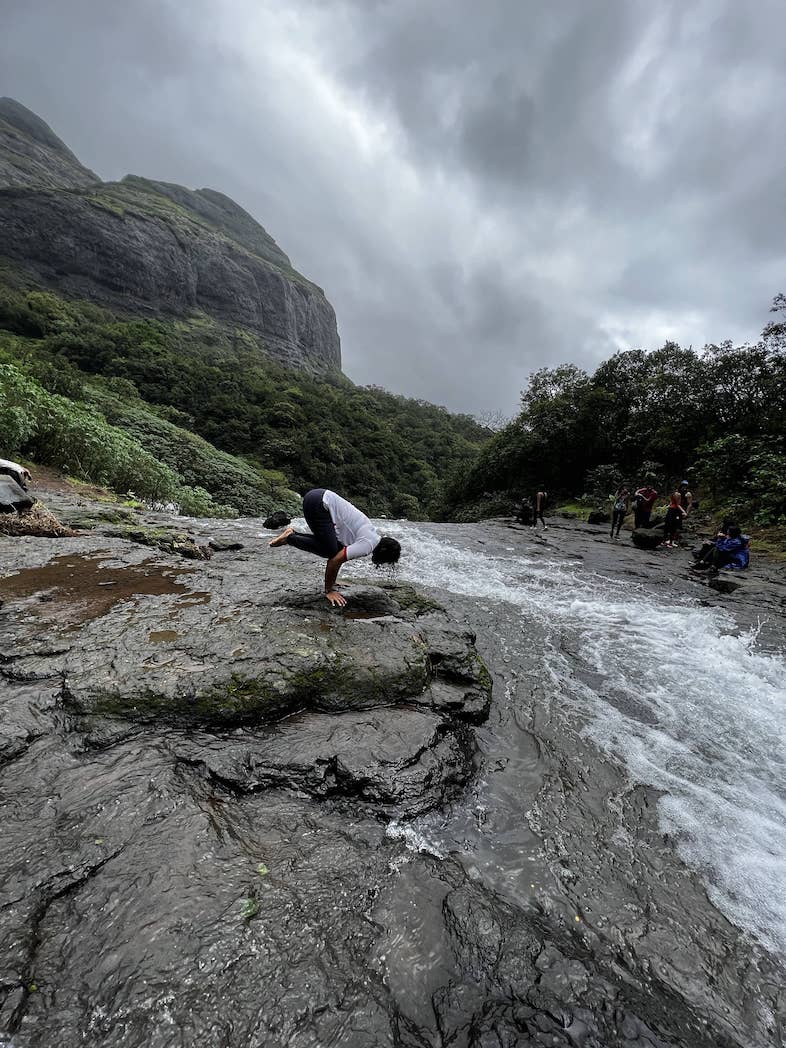 As usual, we made sure there was no littering and we made sure to clean the area before we headed back to the Aadrai Jungle Trail base station.
We reached the Aadrai Jungle Trail base station at 4:00 pm. We got fresh and changed with a pair of dry clothes. We again had Poha and Chai before we headed towards Mumbai.
Aadrai Jungle Trail was a good decision and we all really enjoyed and added the trail to our memories along with dozens of pictures and this blog to remember.
Image Courtesy: Bhavesh Rakhasia, Bhavesh Doshi & Devanshi Shah