Hemkund Sahib, positioned at an elevation of around 4,329 meter (14,202 feet) within the Himalayas of Uttarakhand, stands as one of the world's highest gurdwaras. Its name is derived from the Hemkund glacial lake, which adds to the spiritual aura of this sacred site. This gurdwara holds deep historical importance as a revered Sikh shrine, rooted in the teachings of Guru Nanak Dev Ji, emphasising unity and selfless service. Its significance surged in the 20th century through the dedicated efforts of Sant Sohan Singh Ji, who rediscovered and revitalised the site.
Dedicated to the tenth Sikh Guru, Sri Guru Gobind Singh Ji (1666-1708), Hemkund Sahib is also mentioned in the Dasam Granth, a work dedicated to Guru Ji himself. Today, this high-altitude Gurdwara serves as a testament to faith, drawing devotees from across the globe, embodying devotion, determination, and Sikh heritage.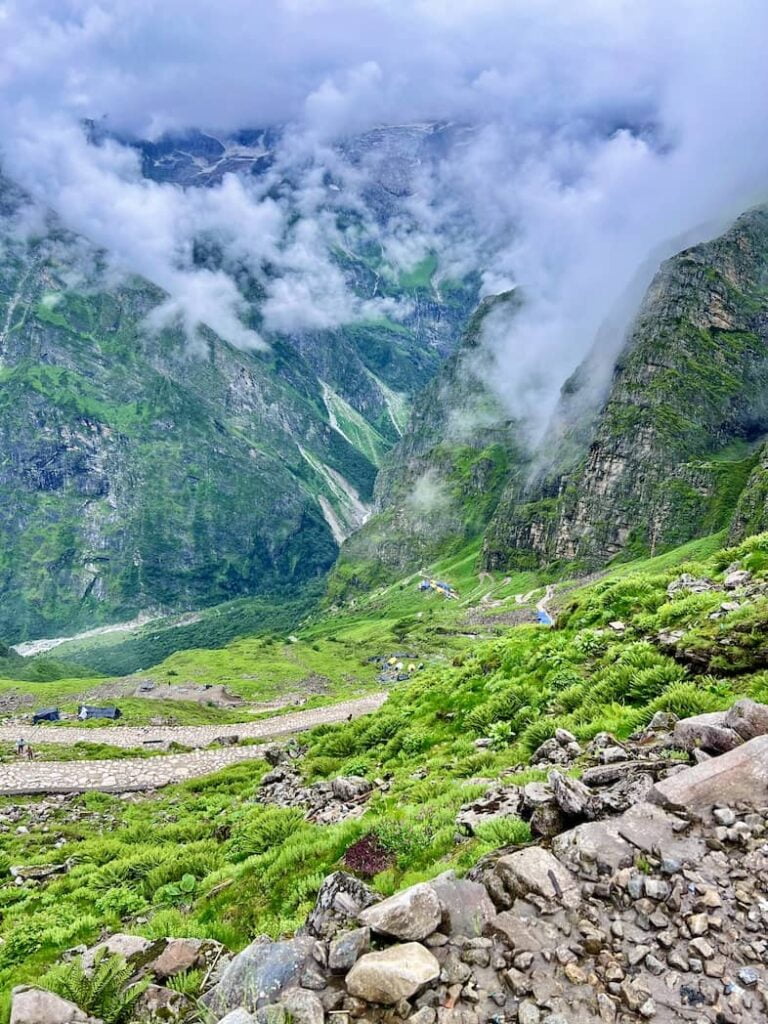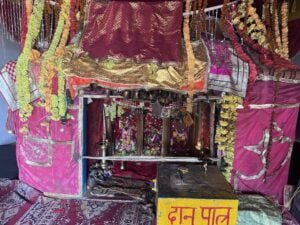 Nestled on the edge of Hemkund Lake, a modest temple dedicated to Lakshman, renowned as the Lokpal Temple, stands adorned. Enriched by ancient lore, this temple's origins are intertwined with the story of Lakshman, the brother of Lord Rama. The annals of legend recount that this temple has been erected upon the very ground where Lakshman embarked on a tapah (penance and austerities) journey to reinvigorate his strength. This quest for rejuvenation followed his valorous feat of vanquishing Meghnad, the son of the demon king Ravana, as chronicled in the Hindu epic Ramayana.
Over time, Lokpal Lake earned the appellation Hemkund or Himkund, drawing its nomenclature from the amalgamation of "hima," signifying snow or ice, and "kund," denoting pool. The crystalline expanse of the lake is revered for its sanctity, believed to possess potent medicinal and curative attributes. Taking a dip in the frigid waters of this consecrated lake, regardless of its chilly temperature, comes strongly recommended, reflecting the profound significance it holds.
Planning and Journey
We meticulously organised our Uttarakhand trip ahead of time, ensuring that all necessary arrangements were in place. Within our group, a couple (Raju and Smita) took the lead in crafting a fantastic itinerary that encompassed several captivating destinations in Uttarakhand. These included Srinagar, Auli – Gorson Bugyal, the Valley of Flowers, and the revered Hemkund Sahib. Along our journey, we also had the opportunity to witness the scenic beauty of Panch Prayag.
Following our exploration of the Valley of Flowers, we returned to our tents for a rejuvenating break before indulging in refreshments at the restaurant area. Here, we shared delightful conversations, recapping the highlights of our day's adventure. As the day transitioned into evening, we gathered once more for a comprehensive briefing led by Pankaj Rawat of Trek Paradise of Himalayas, eagerly preparing ourselves for the challenging journey ahead to Hemkund Sahib. With all our questions addressed, we retreated to our tents, anticipating an early start the next morning for what promised to be our most demanding trek yet, our ascent to Hemkund Sahib.
The strategy involved forming two distinct groups: one opting for a mule-assisted departure at 7:00 am, while the other chose to embark on foot at 5:30 am. Adhering to this schedule, we commenced our expedition punctually, fully aware of the challenging landscape that lay ahead. Given the steep inclines, we wisely adopted a deliberate and steady pace, navigating the terrain with caution and employing zigzags or switchbacks to negotiate the abrupt slopes. Recognising that the most direct path may not always be the most efficient or comfortable, we proceeded with an understanding of the importance of a well-considered approach.
Another important aspect to be mindful of is that although the path is adequately wide, it is frequently marred by horse excrement, necessitating careful footing. I observed multiple instances where dedicated cleaners were diligently clearing the way, ensuring that trekkers could move without hindrance. Additionally, there are several sections undergoing road construction, causing the path to narrow temporarily. Navigating through such areas requires caution and attentiveness.
Beyond the glacier, there are two routes leading to Hemkund Sahib. The first involves ascending 1182 steps (approximately 1 km), while the second is a relatively direct path spanning around 2 km. It's recommended to opt for the longer route, as ascending the stairs at such a high altitude might not be suitable for everyone unless you possess excellent fitness levels.
Gurdwara Hemkund Sahib
The entire group arrived at Hemkund Sahib in excellent timing. As I entered the shrine, a rush of emotions enveloped me, causing goosebumps to form on my skin. This was the very place that my wife and I had been eagerly anticipating, and the sight of the gurdwara right before our eyes was almost unbelievable.
As I explored the gurdwara's surroundings, an urge to immerse myself in the sacred waters of Hemkund swept over me. Regrettably, I hadn't brought along the necessary attire for such an endeavour. Yet, as the saying goes, when one's desire is resolute, circumstances tend to align.
A compassionate sevadar (volunteer) at Hemkund Sahib noticed my longing and inquired if I wished to partake in the cleansing dip. I affirmed, albeit with the hindrance of lacking appropriate gear. To my surprise, he swiftly procured the required attire, and without a moment's hesitation, I found myself immersed in the holy water. The experience was so profound that I felt compelled to repeat it, returning for a second dip. With a sense of contentment from this ritual, I later entered the gurdwara alongside my wife, offering our prayers in this sacred space.
Following our prayers, we proceeded to the langar, which is the community kitchen of a gurdwara. The langar serves meals to all free of charge, irrespective of their religious beliefs, caste, gender, economic background, or ethnicity. This wholesome meal was accompanied by a comforting cup of steaming hot tea.
Brahma Kamal and Blue Poppy are two rare species of flowers one can find on the journey to Hemkund Sahib.
The Brahma Kamal, scientifically known as Saussurea obvallata, is a rare and revered flower found in the Himalayan region, including Hemkund Sahib. Renowned for its captivating beauty and distinctiveness, the Brahma Kamal holds cultural, spiritual, and ecological significance. This high-altitude flower blooms in the alpine meadows during the monsoon season, usually from July to September. Its intricate white petals form a star-like shape, surrounding a central cluster of purple florets. The Brahma Kamal is not only aesthetically enchanting but also holds symbolic importance in various cultures, often associated with tales of gods and deities. Its presence in places like Hemkund Sahib adds an extra layer of spiritual and natural wonder to these already extraordinary locations.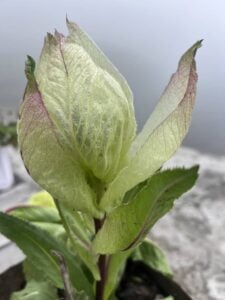 The Blue Poppy (Meconopsis betonicifolia) is a rare and captivating flower found near Hemkund Sahib. Its striking blue colour stands out against the alpine landscape, blooming in summer and adding a unique charm to the area's flora. The delicate petals and vivid hue create a mesmerising contrast with the surroundings, making it an awe-inspiring experience for visitors fortunate enough to witness its bloom.
We enjoyed a short duration within the gurdwara, capturing cherished moments. Our descent towards the basecamp commenced approximately at 12:30 pm, coinciding with the onset of rain. Equipped with our rain gear, we embarked on the journey, navigating the descent. While the downward path was relatively straightforward, the rain had rendered the roads slippery, and certain sections were undergoing construction, demanding cautious steps. Throughout the descent, we walked together, engaging in conversation and sharing stories along the way.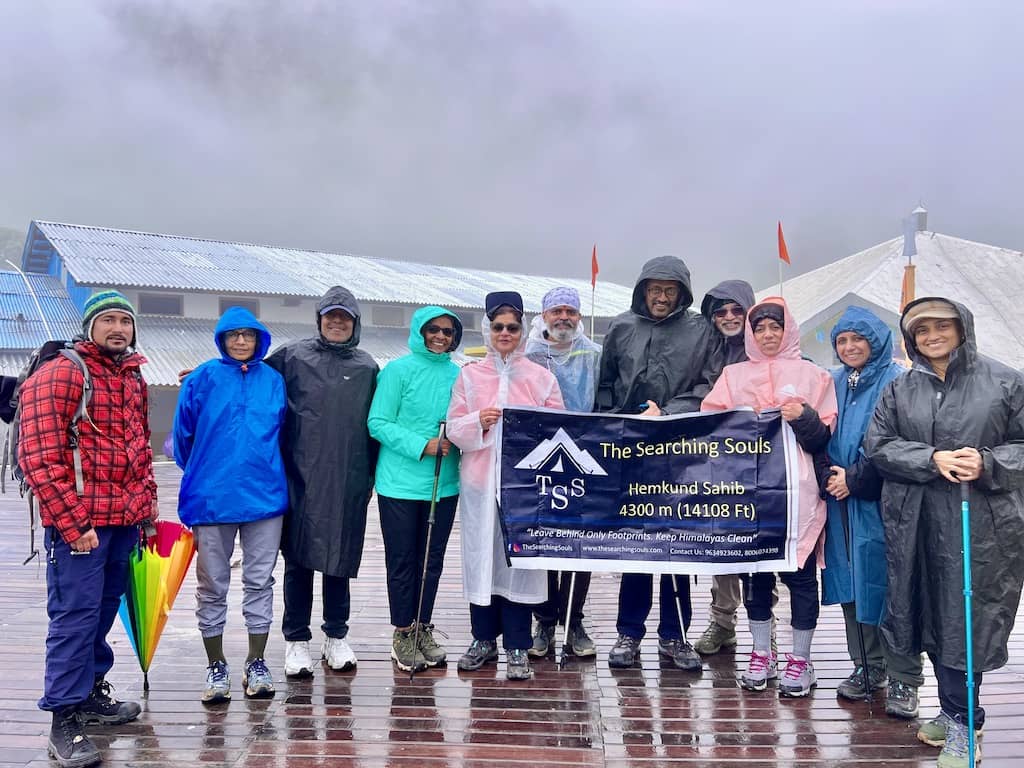 Arriving at the basecamp around 4:30 pm, we took some time to rejuvenate before making our way to the dining area for refreshments and to reminisce about the exciting highlights of our day's adventure. After a hearty dinner, we retreated to our tents for the night.
How can I plan a journey to Hemkund Sahib?
Hemkund Sahib can be reached through a trek starting from Govindghat, passing through Ghangaria. It's essential to plan your trip in advance, ensuring suitable trekking gear and acclimatisation.
What is the experience like at Hemkund Sahib?
Visiting Hemkund Sahib offers a spiritual and awe-inspiring experience. Pilgrims are welcomed to the gurdwara with devotion and unity, and they can participate in langar, a community kitchen offering free meals.
Can I take a dip in Hemkund Sahib's holy water?
Yes, taking a dip in the sacred waters of Lokpal Lake at Hemkund Sahib is a common practice for spiritual purification. Make sure you carry extra pair of clothes.
How is the trekking experience to Hemkund Sahib?
The trek to Hemkund Sahib involves steep terrain and cautious navigation. It is recommended to walk at a steady pace, considering the challenging landscape.
What is the best time to visit Hemkund Sahib?
The best time to visit Hemkund Sahib is during its opening season from June to October when the weather is suitable for trekking and the shrine is accessible.
What amenities are available at Hemkund Sahib?
Hemkund Sahib offers Langar, and there are arrangements for prayers and meditation. One can take dip in holy water in Hemkund Lake
How can I contribute to preserving the sanctity of Hemkund Sahib?
Visitors can contribute by respecting the environment, following local guidelines, and participating in sustainable tourism practices to protect this sacred and natural heritage site.
Is the trekking path to Hemkund Sahib free from obstacles?
While the path is generally wide, it's important to be aware that it often contains horse excrement, which requires careful walking. Dedicated cleaners work diligently to ensure a clear path for trekkers. Additionally, certain sections of the path might be undergoing road construction, leading to temporary narrowing. Navigating such areas demands caution and attentiveness.
What kind of weather can be expected in Hemkund Sahib?
The exclusive and optimal period for visiting Hemkund Sahib is from June to October, the only time it opens its doors to tourists. Given its elevated location, Hemkund Sahib experiences a consistently cold climate that can swiftly shift throughout the year. It is essential to check the weather forecast beforehand and ensure you pack waterproof and warm clothing. It's important to note that travel in August is not recommended due to heavy monsoon rains, so if possible, it's advisable to avoid this month.
ATM facilities in Hemkund Sahib?
Unfortunately, Hemkund Sahib does not have ATM facilities. To access cash, tourists should make withdrawals at nearby locations such as Govindghat and Joshimath, where a number of ATMs are conveniently accessible. Due to Network issue even UPI will not work there. The only known Network that works is Jio and Airtel
Which is the nearest airport to Hemkund Sahib?
The closest airport to Hemkund Sahib (Govindghat) is the Jolly Grant Airport in Dehradun, situated at a distance of approximately 303 kilometers from Hemkund Sahib.
Which is the nearest railway station to Hemkund Sahib?
The Haridwar junction serves as the nearest railway station to Hemkund Sahib, located approximately 314 kilometers away. This well-connected railway hub links with various major cities, including Delhi, Lucknow, and Kolkata, through a network of numerous trains.