Valley of Flowers in Uttarakhand, India, is a mesmerising alpine meadow known for its stunning natural beauty and vibrant array of wildflowers. Situated in the Chamoli district of Uttarakhand, It is a part of the Nanda Devi Biosphere Reserve, a UNESCO world heritage site that has earned its reputation as a botanical wonderland.
History
Prior to 1931, the term "Valley of Flowers" was not a familiar one, yet intriguingly, this very locale finds its roots within the ancient Hindu epic Ramayan. According to legend, it is recounted that Lord Hanuman retrieved the divine Sanjivani herb from this very valley to restore Lord Lakshman to health. Often referred to as Nandan Kanan, signifying the garden of Lord Indra, by the local populace, its true potential lay largely dormant.
However, it was the intrepid explorer British mountaineer Frank S Smythe who, in 1931, breathed new life into its identity, "The Valley of Flowers" as we recognise it today. In 1980, when the Indian government bestowed upon it the distinction of a National Park, subsequently renaming it Nanda Devi National Park in 1982, firmly embedding it within the very core of the Nanda Devi Biosphere Reserve.
Today, it stands renowned for both the Nanda Devi and the Valley of Flowers National Park, capturing the essence of its dual significance. In a monumental stride towards global recognition, UNESCO, in 2004, elevated its status to that of a revered World Heritage Site, etching its legacy even more indelibly in the annals of time.
Planning and Journey
We meticulously organised our Uttarakhand trip ahead of time, ensuring that all necessary arrangements were in place. Within our group, a couple (Raju and Smita) took the lead in crafting a fantastic itinerary that encompassed several captivating destinations in Uttarakhand. These included Srinagar, Auli – Gorson Bugyal, the Valley of Flowers, and the revered Hemkund Sahib. Along our journey, we also had the opportunity to witness the scenic beauty of Panch Prayag.
Embarking on our journey from Auli in the early hours after a hearty breakfast, our destination was Govindghat. Our initial plan included a visit to Vishnu Prayag en route, but unforeseen circumstances led us to a temporary halt due to a landslide further ahead. After a brief waiting period, the road was cleared, and we resumed our course towards Gobindghat.
Upon arriving at Govindghat, the next leg of our adventure required a local taxi ride to Pulna, covering a distance of approximately 4 kilometers. Once at Pulna, we commenced our trek to Govind Dham (also known as Ghangaria), which spanned approximately 10.5 kilometers. This part of the journey demanded around 5 to 6.5 hours of trekking, taking us from an altitude of 6,200 feet to an elevation of 10,500 feet.
Our tents were meticulously arranged and positioned approximately 500 meters ahead of Govind Dham. Upon our check-in, we settled in and took a moment to unwind. Later, during dinner, our guide Pankaj Rawat from Trek Paradise of Himalays provided us with a comprehensive briefing about the upcoming trek to the enchanting Valley of Flowers the following morning. Following dinner and some engaging conversations, we retired to our tents, eagerly anticipating the early morning trek that awaited us in the Valley of Flowers.
The Valley Of Flowers Trek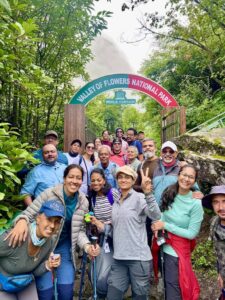 We woke up at 5:30 am and by 6:45 am, we were prepared to make our way to the entrance of the mesmerising Valley of Flowers, situated approximately 1.5 kilometers from basecamp. Once we obtained our permits, we embarked on the trek to the Valley of Flowers, a journey that spans around 4 kilometers and presents a medium to challenging level of difficulty. It's worth noting that there are no amenities along the route—no stalls, shops, or restroom facilities. The pathways themselves are also somewhat rugged, and the total elevation gain over the 4-kilometers stretch amounts to approximately 1,500 feet.
I once came across a quote that resonated deeply with me:
"Over every mountain, there is a path, although it may not be seen from the valley."

Theodore Roethke
Embracing these words, I embarked on my journey and was left utterly awestruck by the sheer magnificence and splendor of the untouched valley.
Every direction you glance offers a scene of sheer perfection, compelling you to pause instantly and become entranced. After traversing a few kilometers, you'll find yourself standing before the most vibrant and diverse tapestry nature has ever woven. A mesmerising array of pinks, purples, and yellows will greet your eyes, evoking a sense of wonder and awe. It's a realm that seems straight out of a dream!
As you stand there, you'll be torn between gazing at the majestic snow-capped peaks that frame the horizon or fixing your gaze upon the richly coloured earth beneath your feet. The contrasting landscapes merge seamlessly, creating an otherworldly spectacle that's almost beyond comprehension. This natural botanical masterpiece defies imagination, and every step forward reveals a new facet of its breathtaking beauty.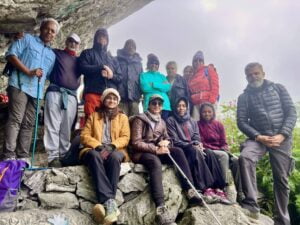 As there were no water vendors, we replenished our water bottles with the pristine and chilly spring water. The group became separated along the path, but we eventually convened at a huge rock, taking a moment to gather and reunite before progressing toward the water body situated approximately 1.5 kilometers ahead.
After covering just a few hundred meters, we settled down for lunch. However, our meal was accompanied by a sudden downpour, compelling us to retreat to our initial point due to deteriorating weather conditions. Following the guidance of our guide, we promptly reversed our course.
The trails in various segments were noticeably irregular and scattered with rocks, creating difficulties for numerous hikers. Negotiating certain water streams required careful navigation, as makeshift sheet coverings were the sole means of crossing. The absence of signboards or informative indicators added to the challenge for those potentially straying within the valley. A positive aspect I observed was the remarkable cleanliness of the valley, devoid of any litter, and every individual was well-informed about maintaining its pristine condition.
Commencing our expedition to basecamp as a united group, we ensured that no participant ventured alone. Consequently, we proceeded in smaller clusters of 2 to 4 people, adapting to each individual's pace.
Summary
The Valley of Flowers proves to be an excellent haven for trekkers, photographers, and enthusiasts of landscapes and floral beauty. The valley boasts a plethora of diverse flowers, creating captivating layers of vibrant, colorful carpets. However, it's advisable to approach with caution if you're not accustomed to navigating steep terrains. The valley features a single, discernible path, making it unlikely for anyone to become disoriented within its confines.
Explore the captivating beauty and diverse flora of the Valley of Flowers, and immerse yourself in a truly enchanting natural wonderland.
Here are the photographs I took with my mobile phone. I've also included some stunning shots from Hiral and Shashi's phone cameras, showcasing the beauty of the Valley of Flowers.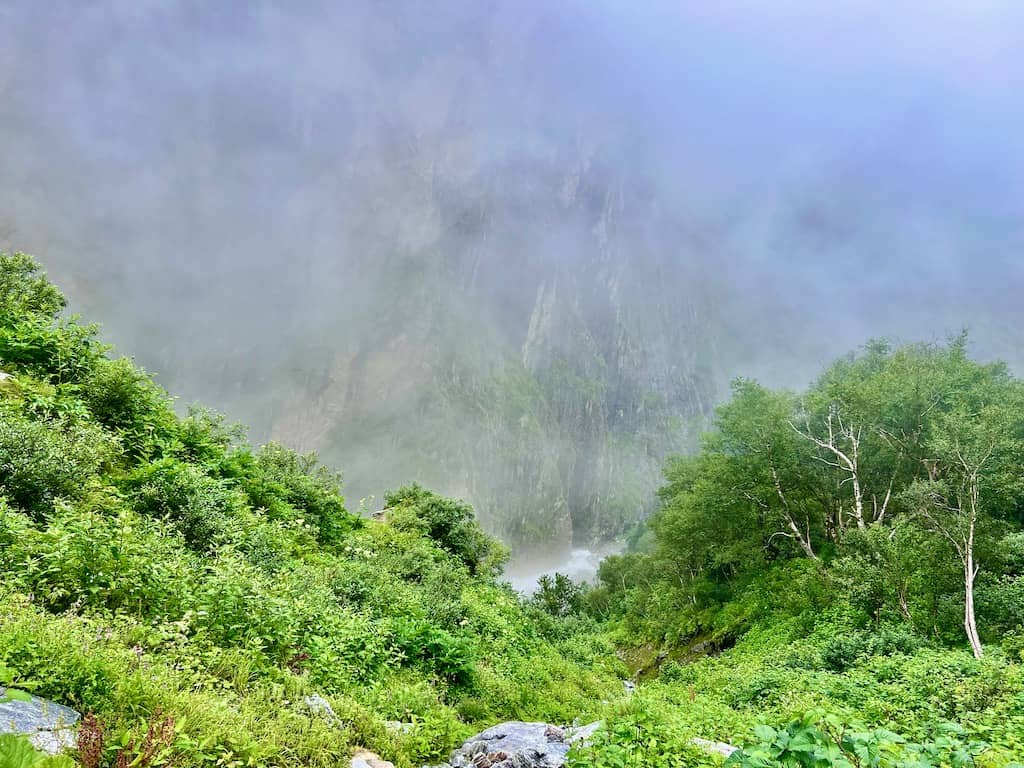 Frequently Asked Questions (FAQ) – Valley of Flowers Trek in Uttarakhand, India
How should one plan for Valley of Flowers trip?
Planning is crucial. Organise your trip in advance, considering necessary arrangements and permits. Craft an itinerary covering other attractions like Srinagar, Auli, Joshimath and Hemkund Sahib. Be prepared for trekking and varying weather conditions.
How to reach the Valley of Flowers trailhead?
Embarking from Auli, head to Govindghat. A visit to Vishnu Prayag en route is recommended. From Govindghat, a local taxi takes you to Pulna. Start your trek to Govind Dham from Pulna.
What is the trekking distance and difficulty level to the Valley of Flowers?
The trek from Pulna to the Govind Dham covers around 10.5 kilometers, taking approximately 5 to 6.5 hours. From Govind Dham the path for Valley of Flowers spans about 4 kilometers (one side) within the valley, presenting a medium to challenging difficulty level.
Are there amenities along the trekking route?
No, there are no stalls, shops, or restroom facilities along the route. Be prepared with essentials like food, water, and appropriate clothing.
What can one expect in terms of natural beauty in the Valley of Flowers?
The Valley of Flowers is a paradise for nature lovers, boasting a vibrant tapestry of colorful flowers against the backdrop of majestic snow-capped peaks. The contrasting landscapes create an awe-inspiring spectacle.
Is there a water source along the trek?
Spring water is available along the route. Carry reusable water bottles to refill and stay hydrated.
What precautions should one take during the trek?
Stay with your group, especially in challenging sections. Be cautious while crossing water streams with makeshift sheet coverings. Follow your guide's instructions and respect the pristine environment.
Is the Valley of Flowers suitable for all types of travelers?
The Valley of Flowers is ideal for trekkers, photographers, and nature enthusiasts. However, those unfamiliar with steep terrains should exercise caution. The well-defined path minimises the chances of getting lost within the valley.