Night Bicycle Ride was planned on 30th Oct 2020 and the route was Mumbai – Lonavala – Mumbai
Cycling is always fun, be it a casual ride, ride to work, ride at events, or be it for shopping. It has been pretty much part of my life. I usually ride twice or thrice a week.
So, I joined a group for doing group rides and I have been part of the Malad Cycling Club (MCC) for more than two years now.
We at MCC have really good rides planned almost every day and anyone from the group can join the ride.
So, One member of the group, Nimesh Thakar initiated a Night Bicycle Ride to Lonavala and that was planned initially for 23rd Oct, however, for weather conditions the ride got canceled. The new date was planned for 30th Oct and this time the group grew bigger.
This time the initiative was taken by Vishal and Nimesh. A number of members grew so fast the moment the ride was posted in the group. There were 4 names on the 21st Oct and the number of riders increased to 21 on Night Bicycle Ride event day.
Night Bicycle Ride – Ride Day
A few members met at Mith Chowki and at 10:00 pm and we headed toward the second meeting point, Oberai Mall, to my surprise there were more than 25 people apart from the riders to see us off and cheer all the riders. Most of them were spouses and MCC group members.
We had a small gathering and started around 11:00 pm from Oberai Mall towards our journey to Lonavala.
We were on our way and about 5kms away one of the fellow riders had punctured his tire. We stopped to fix it and after about 15 mins we found that his tire was out of order. He has no option but to quit the ride. I really felt bad for him however it is part of the rider's life.
Most of the riders went ahead while we four were fixing tires, Dillon took an auto back home and we three started riding a little fast to catch up with fellow riders. However, the road was bad post-Speez so we took a little time. All the fellow riders were waiting for us at Eastern Express Highway (EEH), we three reached EEH and started riding together.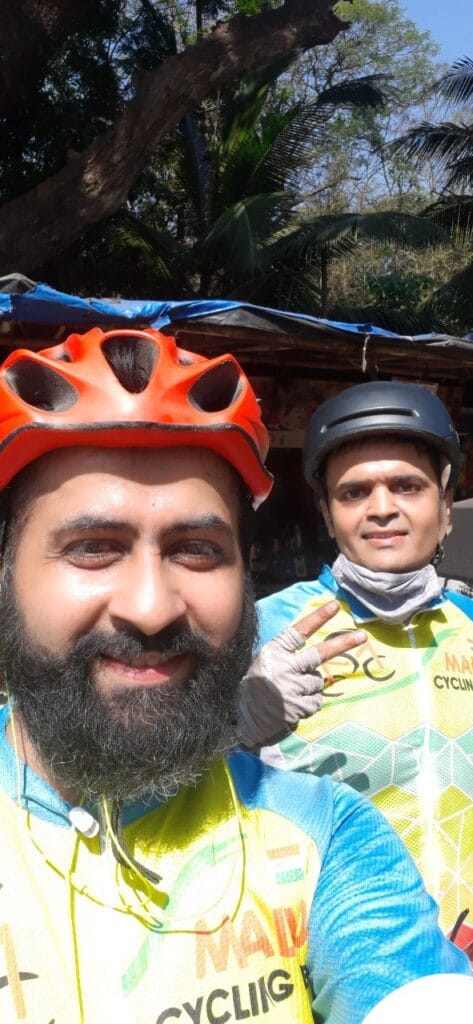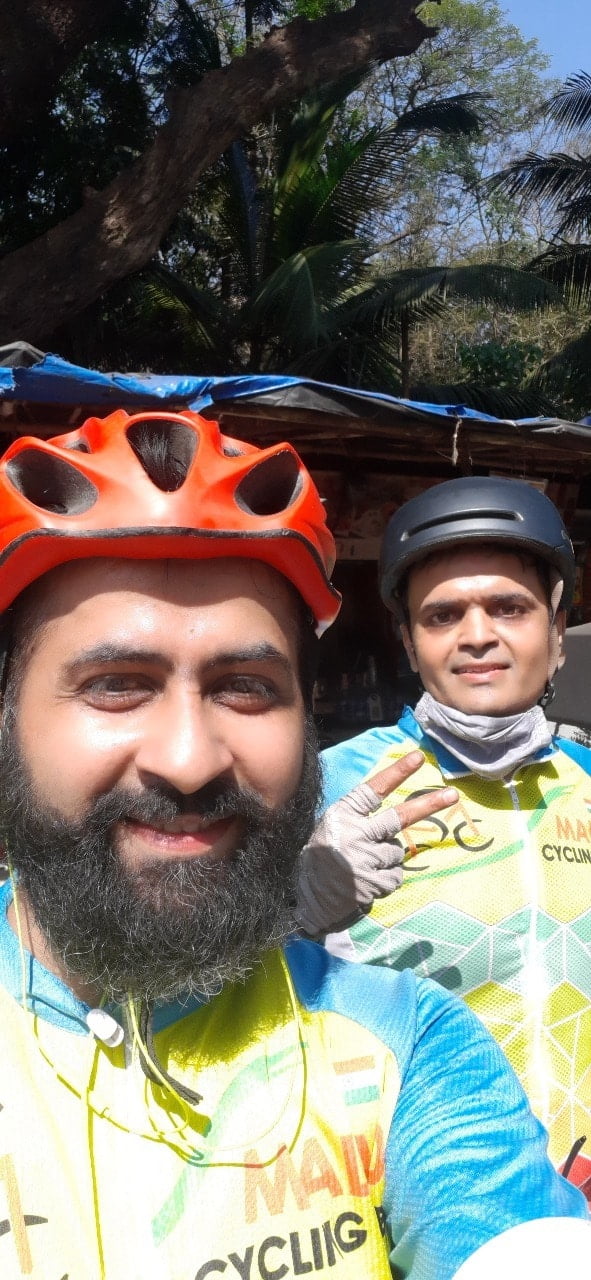 Our next halt was near MC Donald, Panvel. I had a fall about 200 meters before the meeting point. My front tire hit the uneven surface between paver blocks and concrete joints. I was off balance and tried to balance however I fell flat on the road. Luckily my speed was slow as I was chatting with fellow rider Mehul.
From nowhere I saw all MCCians around me, one picked me up, another picked up my cycle, one took my water bottle, another one made me sit on the footpath and I saw one rider start fixing my cycle chain (it came out due to falling).
We resumed our ride in 5 minutes and moved towards our next halt i.e. MC Donald, Panvel.
We started cycling at a good pace and reached Khololi. Our next halt was a little before Bhor Ghat which was at about 90kms. We relaxed as we had to climb the Ghat.
We all climbed the Ghat, I had thought to complete the ghat without stopping in between or dragging my cycle. However, I stopped for a brief 30 seconds as I had back pain. I started from where I stopped and finished the climb.
We sat for about 45 mins once we reached on top of Bhor Ghat and started our back journey. We rode down the Bhor Ghat and assembled at a place for breakfast.
We had a good breakfast and post breakfast we started our ride full-fledged. We all were segregated and were in smaller groups while riding back as per the capacity of every individual.
I was left behind and I was riding with Sukumar, we rode until Vashi and met a fellow rider Abdul who had a puncture, he replaced the tube but did not have a pump so we quickly filled the air and started moving ahead.
On the way we met another rider Sanjay who is a good Ultra Runner as well, we had our first ride together and we had a little chat. We stopped at Airoli for refreshment and refilled the water bottle.
Post that small break, I picked up the pace and started riding fast, since I had stamina, I rode at my best so that I could reach Powai and head towards aarey as it was getting hotter.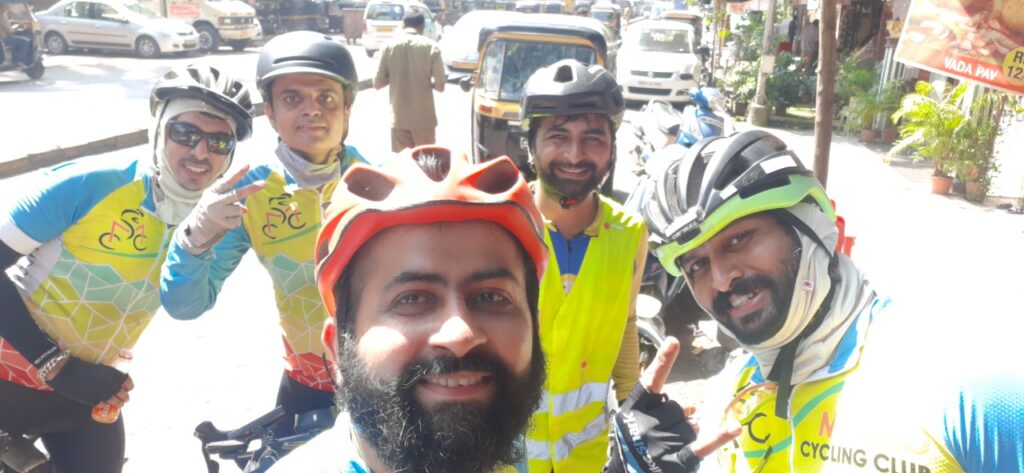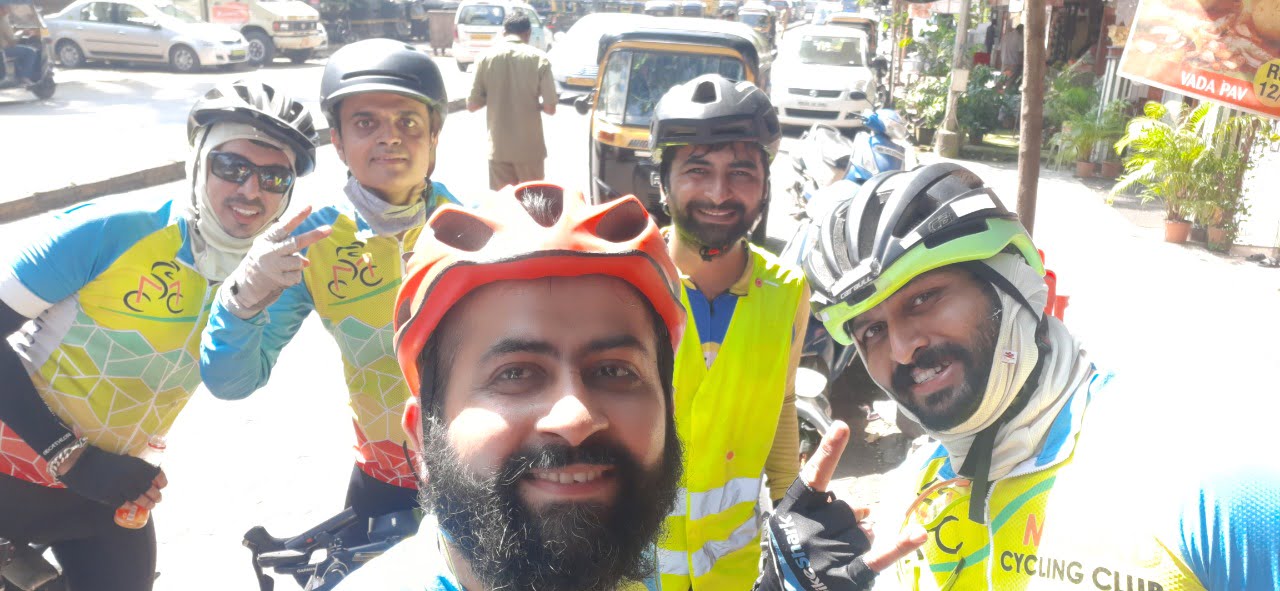 To my surprise, all pro riders were standing aside near L&T Powai for a short break. I had a brief chat with them and we had some snacks near L&T.
We started riding together and I finished my ride at 11:30 am.
This was the first longest ride I had ever done and that too a Night Bicycle Ride. This is one of my best rides and will always be in my memories.