Commemorative BRM – 200 Ride is a special BRM celebration of 100 years of Audax (1921-2021). Audax had arranged a special medal as well, shown in the image here, for every participant who finished the ride within a qualified time.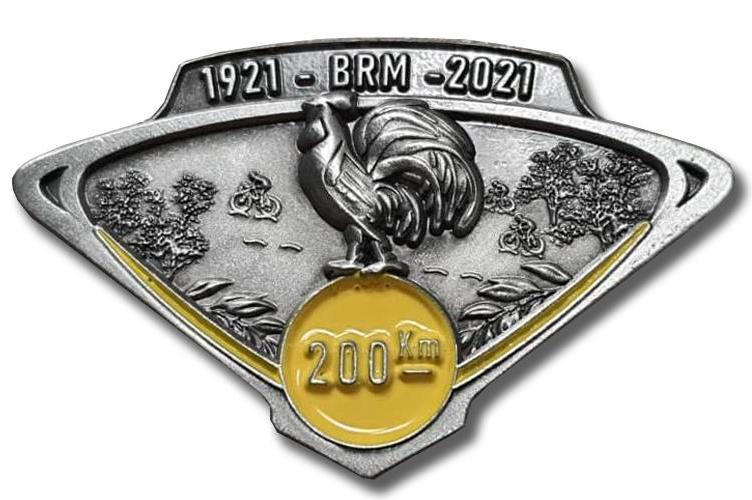 I had done BRM 200 on the same route in Oct '2020 and I wanted to book this Commemorative BRM – 200 because it was a special BRM however I was reluctant since I had recovered from a hairline fracture on my wrist. The main reason was that I did not do a 100km ride for over four months and I also had a little pain in my wrist. I had only done a few small rides. The first ride post fracture was to Pagoda.
I booked this event on the third day of booking. I thought of doing a few 50kms and one 100kms ride prior to the BRM. However, I never got time to ride even a few km.
I had plans to take my friend Vishal's MTB (Scott Scale) which he had purchased sometime back. The reason I took his MTB was that the cycle had a flat bar and it would help me to put less pressure on my wrist and also rest my hand on a flat handlebar.
Sat 11th Sep 2021 (One day prior to the Event)
I picked the cycle from Vishal's place in the evening and brought it home. I had planned to go to the event start point in my car and I had two of my friends joining me in my car. One of my friends, Nimish Thakkar, came in the evening to put his cycle in the car. He also helped me to set up my cycle (because of his help I could get my cycle ready in 15 mins) and put it in the car so we could easily leave in the morning. My third friend Sukumar Shetty planned to meet in the morning and load his cycle in the car.
I made the entire kit and all the accessories ready so I spend less time in the morning.
Commemorative BRM 200 – The D-Day
I had set up a 3:15 am alarm and had plans to leave at 4:15 am so we could reach the venue by 5:00 am.
We all met on time and left at 4:20 am after picking up Sukumar. We reached the endpoint which was about 3kms away from the start point. I parked the car and we started setting up our cycle and accessories. There were a few other cyclist friends from our club.
We all left from the endpoint towards Tip Top Hotel which was our start point. We reached there at 5:40 am and the flag-off was set for 6:00 am. We did our bike check and waited at the start line for the flag-off. We started at 6:00 am.
I started slowly as I had never done 200km on an MTB. I was riding with a few of my friends until 10kms and after that one by one everyone started riding fast and I was left with one of my friends whom I rode until Ghodbunder and he also took off from there, after that, I was riding alone.
I rode for about 38.5kms and Sukumar stopped me as he had a puncture. We fixed the puncture in 20 mins and started moving forward. We started riding together to Virar Toll and planned to have chai, however, we had little to eat and left from there as we planned to reach the first control point ( Athiti Restaurant which was at 97kms) before 11:00 am.
I was riding at a normal pace and at around 70kms I met my fellow rider Ganesh who was struggling to ride, thinking it was one of those days where one just can't ride. He narrated the story. Since I targeted to reach the control point at 11:00 am and I was running late. I told Ganesh that I was going to stop for chai at 75kms and he could meet me there for his bike check.
I met him at a chai place where I checked his bike and found that his front wheel was not fixed properly and was getting stuck with disks. I fixed the cycle and we started riding together. He was so happy to ride his bike after fixing the issue. He rode like a champ and the last I met him was at the control point.
I started riding with a target to reach by 11:00 am which was looking tough however I started riding a little fast and reached the control point at 11:15 am. First thing I got my brevet card stamped.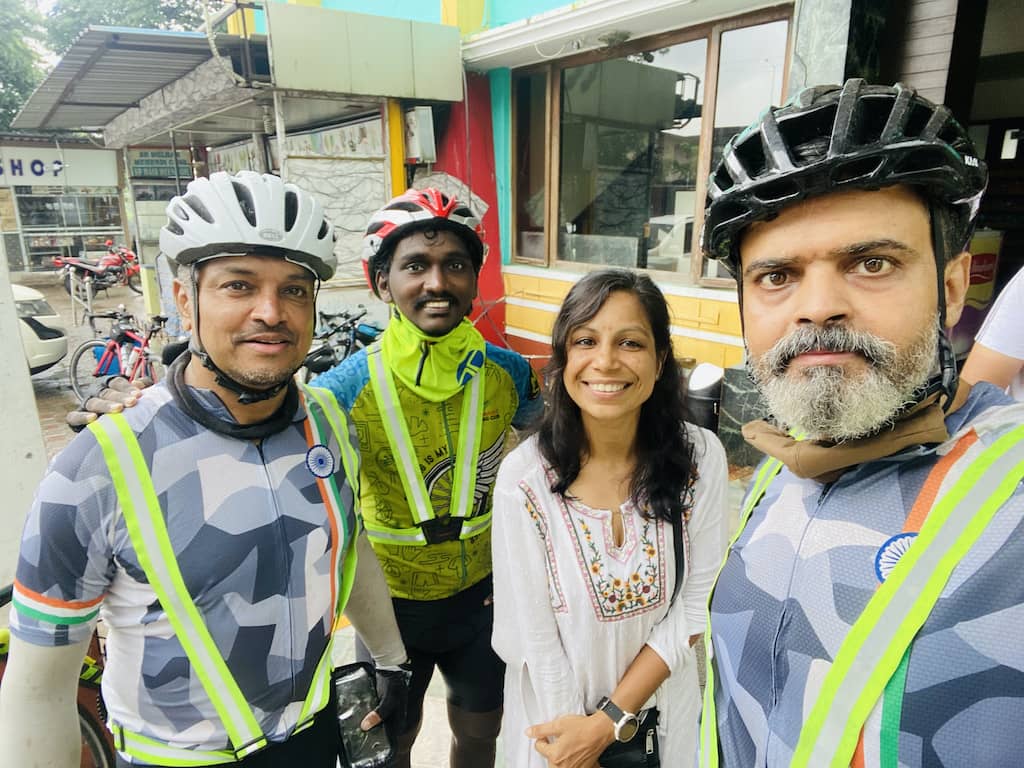 I had breakfast arranged by the Club, met a few fellow riders, clicked a few pictures, and started moving towards control point 2 which was about 3kms to make 100kms. I got my brevet card signed at control point 2 and took a U-Turn and started riding back to the End Point (the place where I had parked my car).
Time was 12:15 pm (6:15 hours passed) and I had to complete the next 100kms in 7 hours and 15 mins. I had sufficient time to complete it, however, there are always unknowns like afternoon heat, punctures, and traffic.
I started developing a little backache so I stopped every few km for a minute or two and did a little stretching. I was riding at an expected pace of an average 20kmph.
At 2:00 pm I had completed 135kms. I met one of the riders from my club, Malad Cycling Club, Jayesh Karkera who was struggling with punctures. I worked with him to fix his puncture and started riding.
At 2:48 pm I had completed 144kms. I met other riders from my club, Malad Cycling Club, Dr. Priti Selukarand her husband Dr. Amit Selukar who is an Ironman and was riding along with Dr. Priti. He was fixing Dr. Priti's cycle and I helped him fix the front wheel alignment. We all started riding together. And Sukumar had planned to take a short break at Virar Toll and refill the water as well.
We reached Virar Toll at 3:24 pm and had completed 155kms. I spent a lot of time (almost 20 mins) as I met a few fellow riders. I spoke to Sukumar and told him we should try and reach Fountain by or before 5:00 pm. This was doable since we had about 1 hour 20 mins for 25kms to complete Commemorative BRM

I started riding at a good pace of about 22 to 25 mph however while riding on Vasai Climb I developed cramps on both thighs. I stopped at Vasai Climb and started massaging my legs. Dr. Priti stopped to check on me and I told her about back pain and cramps. Dr. Priti gave me a Salt Capsule to get rid of cramps and a mild pain killer. I had those capsules and within a few mins my cramps were gone and I again started riding at about 22 to 25 mph.
I reached the fountain at around 5:20 pm and had completed 184kms, I thought that I had a good 2 hours 10 mins to complete 16kms which was pretty easily doable. However, to my surprise when I took a left from Fountain towards Ghodbunder, there was bumper-to-bumper traffic. I tried riding but could not as I had to get off the cycle every few meters. I get maximum pain in my wrist getting on and off the cycle. So, I preferred walking. I walked for about 3kms until I saw the road was clear. I started riding fast as I knew there would be more traffic ahead.
I reached the end point at 7:15 pm and rode a total of 206 km. I tried two ATM machines but could not get the printed receipt. I was lucky that Anil Uchil (the organizer) just came at 7:25 pm and punched my Brevet Card for this Commemorative BRM
My Special Thanks for thisCommemorative BRM
Vishal Nail for helping me with MTB
Dr. Priti for giving salt capsules, without which finishing BRM on time would have been difficult.
Sukumar for accompanying me for most of my ride.
Last but not least, Anil Uchil for organizing the Commemorative BRM event so well.
Learning from this Commemorative BRM
The first 100 km is always easy, however, the challenge starts from the next 100 km
There is never enough time to complete BRM without taking uncertainty in mind.
Even 2 hours in the end with 15km in hand can be as hard as doing 30kms in 2 hours.
Never take a new cycle for BRM.